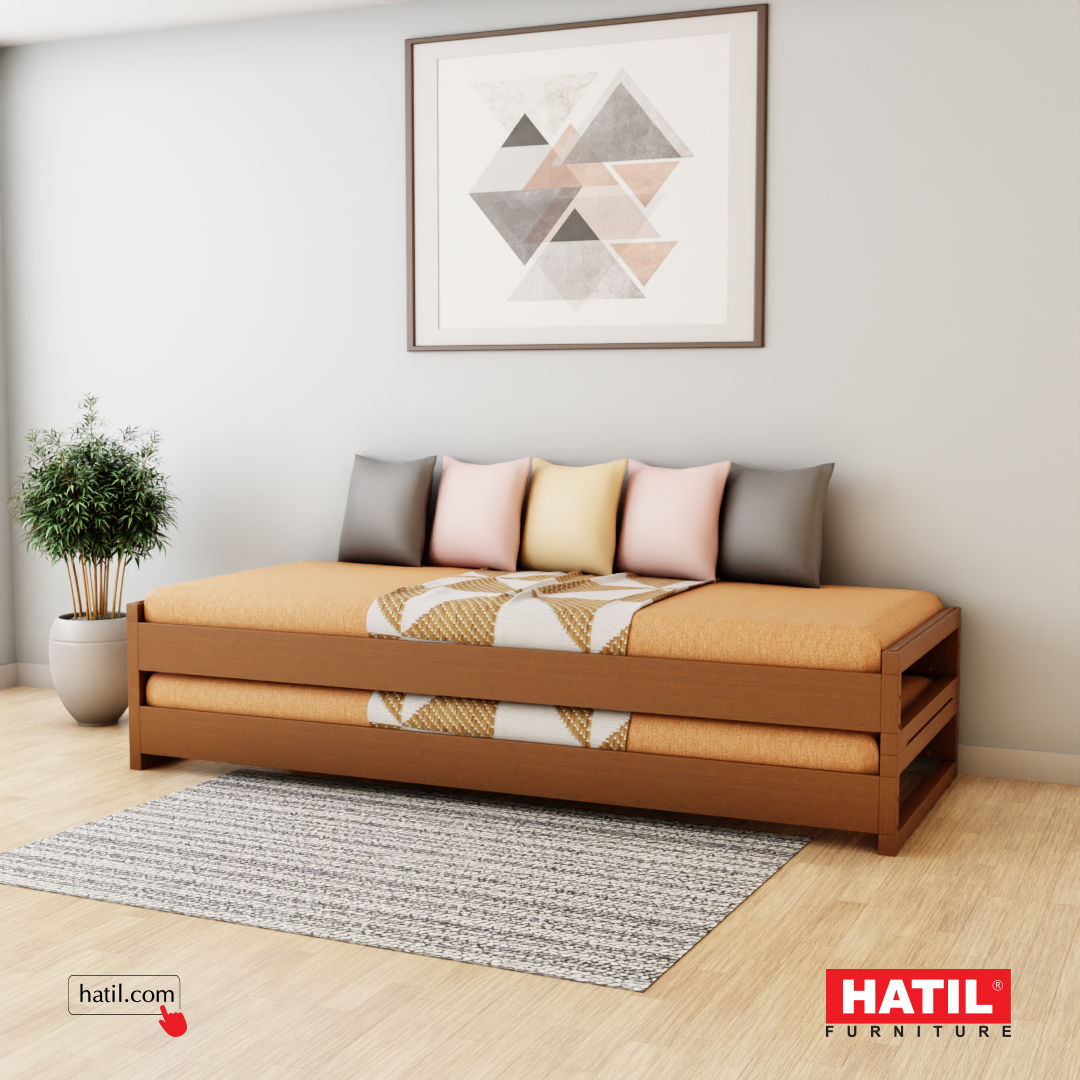 Multifunctional Sofa | Divan | Reading Table
A sofa set is a significant and necessary piece of furniture in a drawing room, and its importance cannot be explained in words for decorating the drawing room. So an attractive and comfortable sofa set for the drawing room is preferred by everyone. Now, it is often observed that people are showing interest in different styles or multifunctional furniture instead of traditional furniture to meet their needs. Today's blog is for those who are interested in multifunctional furniture. Today, we are going to share with you the features of five phenomenal multifunctional furniture that will not only help you to save space in your home but also will turn the furniture into a center of attraction for the guests. 
Multifunctional Sofa Cum Bed
When guests come to the house, sometimes we need to compromise our bed for our guests and sleep in the drawing room. Having Niger-305 sofa cum bed at home will provide you relief from this kind of problem. Moreover, sitting on the sofa in the drawing room and watching the TV series on Netflix or the game of your favorite team on TV, if you get bored, this sofa can be easily transformed into a bed and you can pass the time watching TV with a little luxury.
Although it looks like a plain two-seater sofa, the mechanism to transform this sofa into a bed is quite durable and really nice. It's modest look makes it a perfect match in any drawing room. Plus, there is an option to select any fabric of your choice. Check out the functionality of this multifunctional sofa-cum-bed in this video.
Multifunctional Sofa Cum Bed with Storage Facility
With three options in one, the Salamander-244 sofa-cum-bed will be one step ahead compared to any other furniture in any drawing room. The sofa can be converted into a bed whenever you want, and the interior of the sofa can also be used as storage. Blankets, bed sheets, or pillows at home can be easily stored here. For those looking for a multifunctional L-shaped sofa-cum-bed for their drawing room, this sofa-cum-bed can be a perfect choice! Watch the video below for the special features of this sofa.
Multifunctional Divan Cum Bed
Many people now prefer to keep a divan in the drawing room along with the sofa. Any divan with a simple design goes well with the rest of the furniture in the drawing room. Moreover, a divan has space for two to three people to sit easily. So now many people are keeping divans on their list of favorites, along with sofas in the drawing room. Juvenile-198 is a multifunctional divan that can easily be converted into a bed, and the versatility of this divan will attract anyone. So if you are thinking of buying a divan for your drawing room, you can definitely put Juvenile-198 at the top of your wish list.
Multifunctional Space-Saving Reading Table
A reading table is an integral part of a student's life. It does not matter whether he or she studies at a school, college, or university. Therefore, this table must be strong and attractive, as students spend a long time using it. Dennis-101 is a smart, space-saving multifunctional reading table that is quite strong. The accompanying chair can be tucked inside easily, and the table can also be folded after use. Then the entire reading table will look like a cabinet and save space in your house. However, many books can be stored and organized in this multifunctional space-saving reading table.
Multifunctional Reading Table Cum Bed
Saga-203 is such a versatile reading table cum bed whose multi-functionality will impress anyone. Precisely, this table is a great solution for small spaces. Its build quality and multifunctional mechanisms are quite strong. Now, there is no problem even if guests come to the house suddenly. This multifunctional table cum bed will accommodate one person effortlessly.