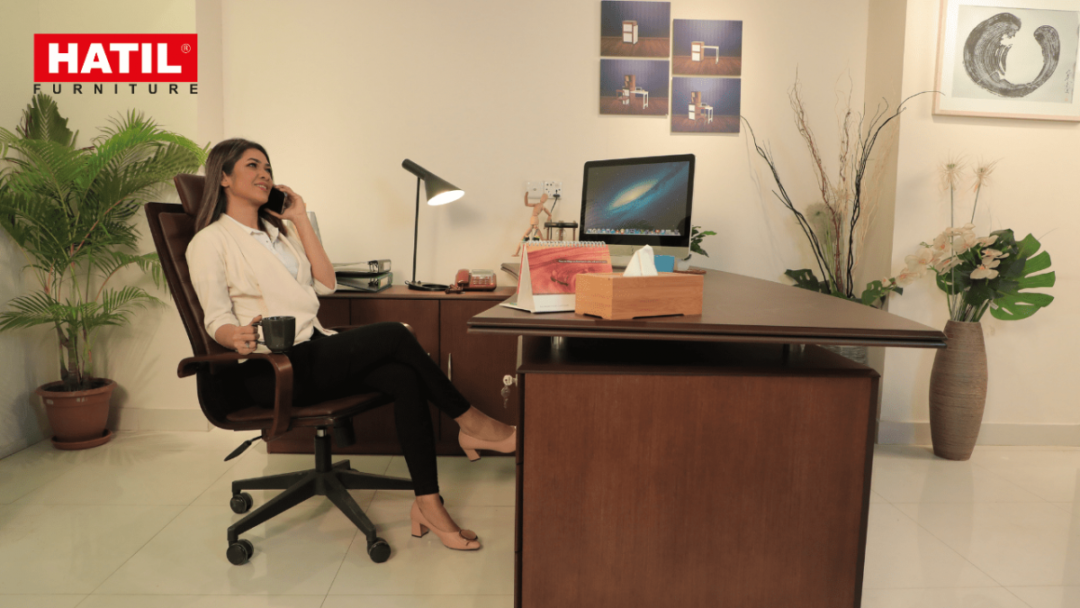 10 Tips to Pick the Best Office Chair: that Meets Your Needs
The advanced world has captivated people to sit in front of their computers, passing endless hours in the sitting position and working like a machine. In the office, finding the best office chairs that fit within your business' budget is an investment in the wellbeing and profitability of your employees as they have to invest a ton of energy in the sitting position. A good office chair is the only thing that can save you from various troubles. We are offering affordable office chair prices in Bangladesh. We have talked with doctors, state offices, and ergonomic furniture experts to discover what makes an ideal, best office chair. Do you want to see our top picks regarding this?
10 tips to pick the best office chair
1. Good office chairs should have a full back
"Office chairs are essential for productivity and reduction of lost hours due to injury," a quote by Dr. Scott Schreiber. Office chairs ought to have a full back and comfort. They ought to give a huge number of customizable positions, including lumbar help, height and lean back settings.
2. Body joints should be comfortable at 90 degree angles to the office chair
If the points of your hips, knees and lower legs aren't easily at 90 degrees, an office chair isn't an ideal choice for you. If these body parts are not at a 90 degree point, then the seat is either excessively tall or excessively short for you.
3. Breathable upholstery is a must
An office chair's upholstery must be comfortable to the touch in case you will sit on it the entire day. A breathable, medium surface upholstery is a must incase of choosing an office chair.  So you don't need it to be itchy, rough or something that may make your body overheat.
4. The best office chairs have waterfall seats
The office chair should have a seat pan with a waterfall front (one that curves down) that keeps the seat from getting you behind the knees. The back of the seat pan should offer comfortable support. The seat pan should be shaped to permit even weight distribution and it should be comfortable to sit on. The edge of the seat container should be soft and formed with the goal that it can't cause any compression to the individuals' thighs and buttocks.
5. Remember About Your Arms and Shoulders
Your arm and hand positions should offer a similar adaptability to avoid from creating pain in the shoulder, elbow, and wrist. Another basic sign an office chair isn't right is if you need to shrug your shoulders to get your elbows on the arm rests.
6. An office Chair should be movable
The key to the best office chair is that it must be movable in every possible way. This is important to accomplish proper posture when you're sitting the entire day. The seat must adjust all over, just as it tilts side to side.
7. The chair must fit you for the backrest to work
The best office chair must fit you for the backrest to work. Otherwise it can create pressure on the body spine due to your continuous sitting in the office chair which is injurious to health.
8. A good office chair always supports you
Your chair should uphold your back as you sit. You can lean back the seat back  slightly, but too much can strain the neck as you attempt to right your head to see the monitor if you are using a PC.
9. Top office chairs should encourage you to move
The best office chairs let you move as well as giving you the help that your body needs. So when you evaluate a seat, truly give it a test drive.
10. Changing your office chair should not require tools
Recognizing the significance of customizable best office chairs for employee's health, we suggest that chairs should be effectively flexible without using a tool. Try not to be hesitant before changing or buying a chair.
Instructions to pick the best office chair
What are the key highlights to look out for?
Adjustable height, back position and tilt – Adjust each of the three with the goal that when your bottom is pressed against the back of the office chair.
Customizable seat depth – Make sure that when you lean back in the seat, the backrest doesn't drop away. You need the edge of the seat and the back to remain similar whether you are sitting up standing or leaning back, much the same as an armchair.
Different size alternatives –Better quality seats will offer a scope of flexibility so they can be custom fitted to your accurate details.
Lumbar help – Make sure the backrest offers lumbar help that fits normally into the curve of your spine. Some office chairs give 'extra' lumbar help, yet others give an adaptable backrest that will form around your spine.
Arm rest adjustability– Avoid seats with arms except if they're movable as they can prevent you drawing near to your desk and affect your posture. Your keyboard should have around four to six inches in front where you can rest your wrists when taking a break from typing in the computer.
Best office chair price in Bangladesh
Now you may be thinking of leading furniture brands. Advantage, comfort and budget, Remembering these three things, Hatil is giving you an immense scope of office chairs' choosing option.
Hatil  is a service oriented e-commerce business which gives you the quality products and a-list client service. HATIL is considered to be the 'game-changer' in Bangladesh's furniture industry. Carefully-chosen raw material, environment-friendly business practice and client driven methodology is what made HATIL a beloved brand at home and abroad.
Hatil  joins the highest caliber and usefulness of office furniture with modern design and creative innovation. Currently, we are available in Bangladesh, India, Nepal and Bhutan at the present time and still, anybody from outside of Bangladesh can purchase products online giving a Bangladeshi shipping address. Be comfortable to encounter the best shopping experience from us.  HATIL's 48 years of accumulated experience with wood handling and furniture manufacturing guarantees that our furniture are stylishly satisfying, functionally superior and durable. HATIL has focused on exporting office chairs for a very long time, manufacturing and providing best office chairs. We have built up stable client organizations around the world, of which 80% of clients have collaborated for over 10 years, and over half of clients have helped out us for over 15 years.
HATIL offers the best office chair and the best office chair price in Bangladesh. While you are finding a chair, there are plenty of things to consider. It might look simple to simply go out and purchase a stunning office chair, yet finding probably the best quality and configuration can take a lot more effort.
HATIL is one of the best brands in Bangladesh for the furniture industry. HATIL offers a wide range of office chair prices in Bangladesh. We provide the most affordable budget-friendly office chair within your requirements.
Apart from using hand-picked raw materials, our office chairs are absolutely nail-free and made of basing on time-honored manufacturing techniques like tongue and groove, finger joints, mortise and join, dovetail joints.
Picking the "best office chair" is truly subjective. Not every person needs a similar chair, a few people organize being comfortable, while others need something that looks striking behind their work area. At that point there are individuals who keep their focus on price. Possibly they need the least expensive, best-esteem chair out there.
Outfitting your office with varieties of chairs, you can pay a visit to our website. On the off chance that you have a feeling that you're going throughout the day in your office chair, it's possible since you are. With a wide item extending for all zones and areas of the workplace living space; Hatil is offering budget-friendly office chair prices in Bangladesh. Don't risk your wellbeing and prosperity in an ineffectively planned or destroyed chair. Follow the tips above and locate the best office chair for you and your workers.