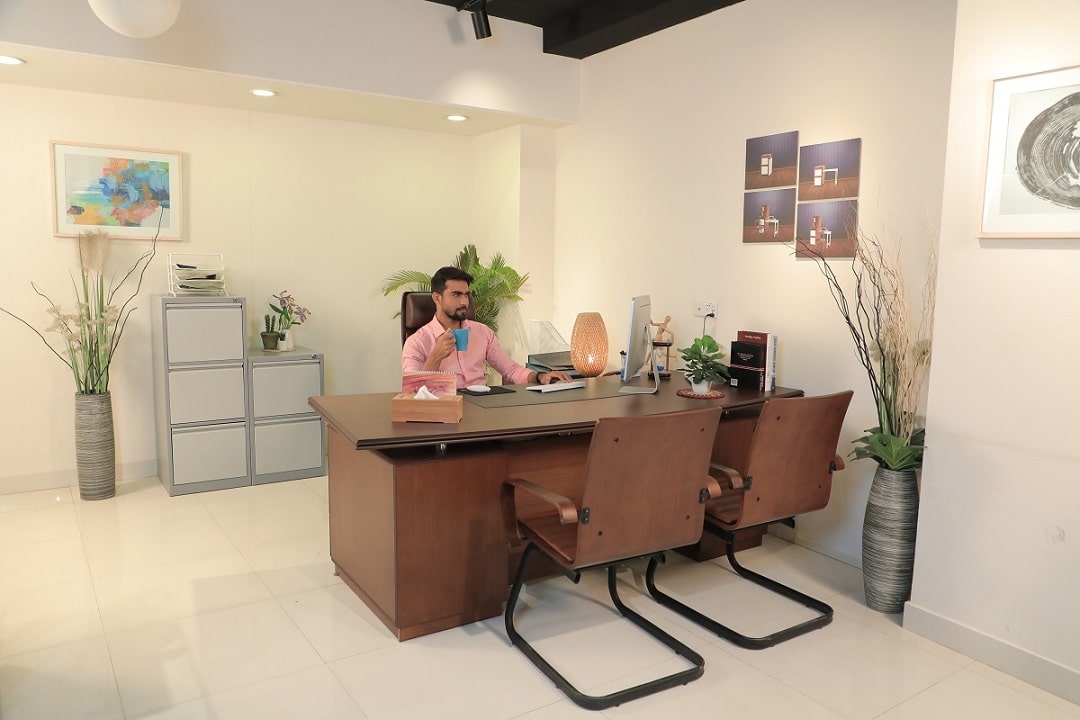 How To Find The Best Office Furniture In Dhaka At The Best Price In 2022
It is a major responsibility for buying office furniture for your company. Buying new furniture for your offices such as office wooden sofa, workstation table, and office computer desk and other office equipment can be a major decision not because of just contributes and also supports for well-being and the comforts of the office staff who are working hard. It can impact on office productivity and staff motivation as well. When the office staffs are happy about where they work, they are more productive. Your office workstation and the office furniture are adding factors to that level of cheerfulness and attainment! SO, how to find the best office furniture in dhaka at the best price.
Finding the best office furniture in Dhaka has never been so easy like finding living room furniture or dining or bedroom furniture or your kitchen accessories. HATIL is one of the leading furniture brands in Bangladesh, which made everything so easy to find. From there you can find all your dream office furniture, office wooden sofa, office computer desk, and best workstation table price in BD just within a blink of eyes.
There are some important factors to know while buying the best office furniture. Let's dive into deep.
How To Find The Best Office Furniture In Dhaka At The Best Price
Finding the perfect furniture for your office is not a matter to take it lightly. It can be an onerous process; especially you may have to take into concern a large number of ideas, special requests, and differing opinions on style and taste. Much more essential things to consider such as employee comfort, and efficiency, office space, flexibility, and long-term value with the price, etc. Your choice may have a big impact on the office environment and employee productivity.
Here is some useful information to help you to make the right decision for buying your office workstation tables, office wooden sofa, and all office furniture.
1. Set Your Budget
Though we always love to say that price is not everything but at the end of everything, price is the most important thing while you are going to buy something. It is an expensive task for stuffing your office with new furniture. Maybe some office furniture suppliers can offer you the best workstation table price in BD based on per square foot space. If you want to buy individual pieces of furniture such as an office computer desk or office wooden sofa for the waiting area then you may find a wide range of products at different prices.
Every penny you are spending is an investment and you must spend it wisely. How can make a plan with your budget like how much you can spend on the office computer desks, for the workstation tables, and the wooden sofa? Then you can make a list of how many of each item you want to buy.
Shaping your budget earlier can help you narrow down your choices without compromising with the quality. You shouldn't go for low quality in buying office furniture. If you have a low budget then buy just a few numbers of furniture but high-quality furniture always lasts for long.
You must find pieces of furniture that fit your budget but still comfortable and good in quality. The price of good things is always good.
2. Your Office Furniture Reflects Your Brand Identity and The Office Culture
This is another very essential thing to remember while choosing the style of your furniture. You may like to pick a style that reflects perfectly on your business.
A Good looking office can enhance the beauty of your office atmosphere, reduces stress, and increases staff productivity. While choosing your office furniture just don't choose furniture that you like the color or style, you must keep in mind, you should choose office furniture that complements your brand identity or your personality. Your office furniture reflects your company's brand identity and office culture.
At a glance, if you have a technology-based digital marketing agency you may like something modern style furniture.
Knowledge about the basics of the sensibility of colors can be an added advantage while choosing the best office furniture. For instance, if you want to give a view of freshness and peacefulness, you may use the color blue. If you want to give your office a creative look then you may prefer greenery shades. Perhaps you may not like to buy the furniture that is too colorful.
3. Think About Your Office Space
You want to buy furniture that will fit in your office space. Though just considering the overall dimensions of your office space is not enough while buying your office furniture.
Inaugurating large pieces of furniture can take a huge space in your office. With a congested space, your office employees won't be able to move around comfortably or freely.
You must take measurements of your office room before you come to the furniture showroom. It will help you to save your time and to know what is best for your space.
Before buying your office workstation or computer desk for your office, you should walk through the rooms and envisage the layouts of the rooms. Check where are the doors and where are the windows. Is the room has enough light? And also need to check where are the electrical sockets and phone cables? Where can be the best places for computer desks?
Organizing your office furniture proficiently can also help make your office look more generous. So always remember to provide your office with the right furniture and leave enough room for your team of staff to be comfortable and move easily.
4. Consider Employees' Comfort and Ergonomic Needs
Your office employees will be sitting and working the whole day, so it is essential to provide them a comfortable workstation table and a chair.  If you think about office furniture, here comfort is equal to productivity.
More significantly, ergonomic design desks and chairs are critical as they help to make working easier and healthier. Ergonomics concerns like lumbar backrest supports, adjustable seats, and armrests are important. These can help to minimize in-service injuries and absent workdays.
In order, these factors may help you to minimize costs for workers' recompense and medical insurance. Apart from ergonomic needs, you can enhance the beauty of your office interior design depending on your business type.
You should find furniture that is comfortable for your colleagues and also designed according to ergonomic best practices. It will be worth the investment.
You may want to have a cafeteria in your office where your employees can communicate with each other at their break time then you may choose a large table with a few comfortable chairs. Your furniture buying decision should make your office environment encouraging for work.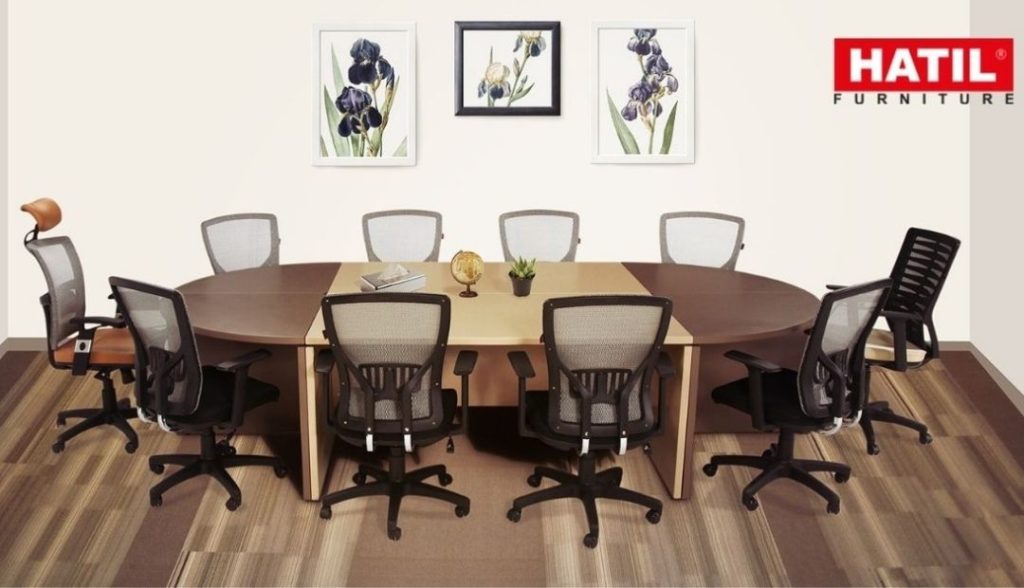 5. Consider The Flow of Your Office Design
In the past, the office design standard was cubicles and simple office furniture. These are still highly recommended smart design. While you are keeping each workstation table separated using the cubicle walls, it helps every single employee to focus. They are not abstracted by following what their adjacent colleagues are doing.
This is how the open flow office designs are becoming more popular day by day. On the other hand, open settings are also popular because there is no cubical wall so your office employees can work closer one to another and it helps to increase the collaboration and communication with the team and it helps to improve office relationships and your company's productivity. So the flow of your office design is very much important to consider.
6. Pay More Attention to Your Employees' Office Chairs
While it is a matter of buying office furniture, you need to pay some extra time and concentration to pick out the right chairs. You and your office staff are prone to sitting on the chair for long hours during the whole day. So you need the accurate type of chairs that can provide the necessary support and comfort to survive this monotonous activity all day long. By paying a little extra to the right chair you may be able for a long way in supporting your bottom line.
7. Supports From The Supplier
It is also important that what supports you will receive from your office furniture supplier. Are they offering any warranty? If any repair services are necessary how do they handle it? What services do they include for delivery assembly and installation? Most of the famous furniture retailers say they will provide full services and always will be there to help you throughout the life cycle of your office furniture.
Conclusion
There is a lot more that goes into buying office furniture. With the help of this guide, you may have gathered the knowledge to find the best office furniture in Dhaka to meet the needs of your company and its employees.