Simple Birthday Gift for Your Child: Smart-Fit Reading Table
Picking the perfect gift for your child can be as tricky as it gets. They are oftentimes picky and fickle when it comes to what products they want. One thing that is very common for every child to want is possessing something of their own. It gives them a sense of responsibility and encourages them to take care of it.
A child spends most of their time at their study table. But most of us, due to limited spacing in our apartments, cannot give them their dream study area. A study area can make lots of impacts on how often they will sit and study. So, if your child has that space, they will be more encouraged to spend their time there.
Looking for the perfect space-saving reading table for your child's room? Hatil got you covered! SmartFit Reading Table comes in a perfect combination and will be a perfect one for your adorable children. You can get their room all decked up with our high-quality smart fit reading table which takes up a little space. Be it storage drawers or tables with a shelf, find just the perfect one to blend with the decor in your child's room. Little ones will surely love to study in their own reading space.
Why SmartFit Reading Table?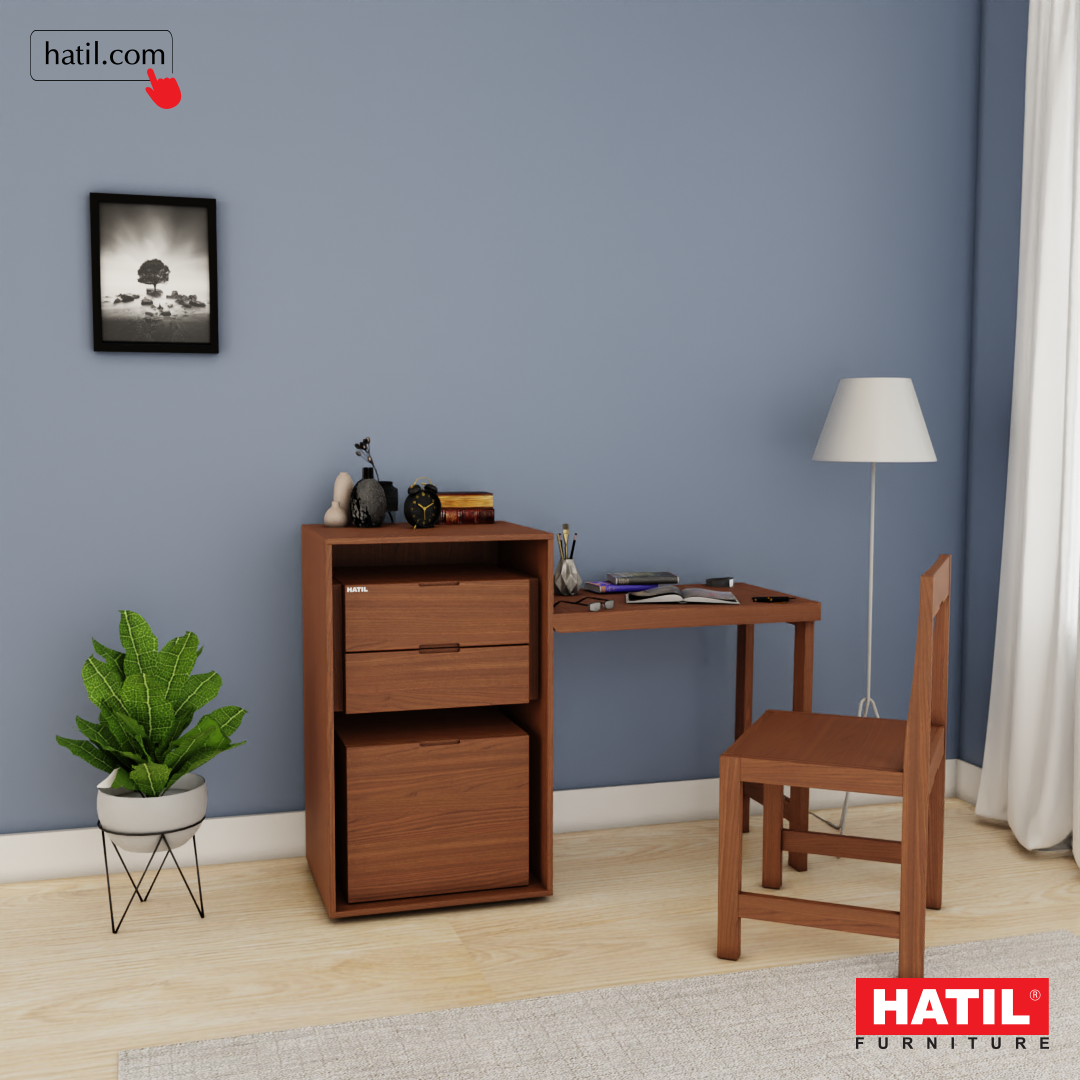 Modern Design
Smart fit reading tables are known for having multi-purpose and having plenty of open space. There typically isn't much in the way of unnecessary details. This reading table can add a vibrant spirit to your child's reading space and will make it more special. Sometimes, these tables also come in bright colors and designs of your kid's choice!
Smart Structure
The structure of the table is more focused on the clean straight lines and edges. It can grab anyone's eye with its sleek and smooth yet simple design.
Quality Material
It is made with kiln-dried beechwood and veneered engineered wood. The lacquer used is UV and PU, it is high quality and eco-friendly. This furniture has the perfect finish giving them a smart and expensive outlook.
Exclusive Features and Multi-purpose
Dennis-101 Reading Table is a combo of a drawer unit, a reading table, and a chair. If your child needs a shelf or rack to store books, Dennis-101  Olivia-101 set would be the perfect one! Your child can use their reading table in multiple ways with simple adjustments. They can store their books on the shelves, stationaries in the drawers, and study on the table. The features themselves will encourage your child to sit down at their table more and focus on studies. They will also grow the habit of arranging their own room from a young age and keep everything organized.
Space Saving
The best part of this reading table is not only the foldable table but also the in-built chair which will save tons of space! When your child is done studying he/she can simply put everything in its place. Moreover, the unit can be moved easily for it being lightweight. It will help you give your child's room a cleaner and more organized look. The extra space will allow them to play and study in the same room.
Affordable Price
Modern furniture can be quite expensive. But these reading tables with all the multi-purpose features will save space and your money! So, don't worry too much about the budget if you are looking for a SmartFit Reading Table for your young one.
Hesitate no more and surprise your child his/her dream reading space with our pocket-friendly SmartFit Reading Table.