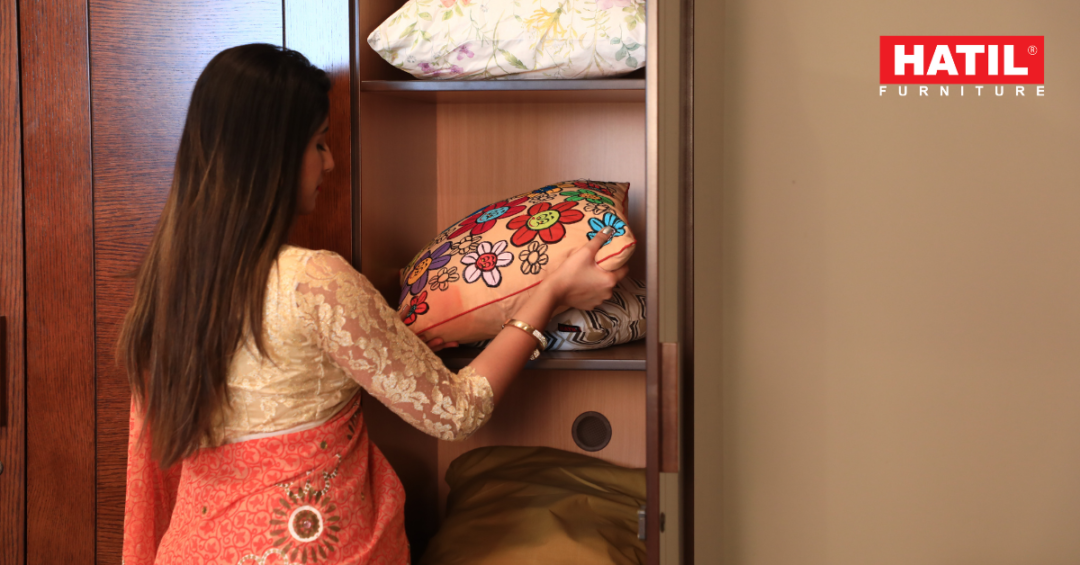 Bradshaw-141 | Wardrobe With Mirror
Whether you are looking for a classic wardrobe with enormous storage space or a contemporary dresser that serves multiple purposes and has a sleek look to it, Bradshaw-141 will surely provide you the best of both worlds. It is parted in three doors with a mirror indented in one of them, which gives you the luxury of a dresser within a wardrobe. The interior has huge storage space segregated in multiple shelves and drawers which makes it an ideal solution for anyone without large closet space.
Bradshaw-141 not only provides you with the convenience to store your clothes and essentials in an organized manner but is also exceptionally durable and will last for a long time. The sturdiness of the wooden frame through the use of Kiln-dried beech veneered wood, the creamy texture of Italian Ultraviolet (UV) lacquer finish, and imported hardware fittings are some of the features that make this wardrobe one of the best-manufactured goods by HATIL.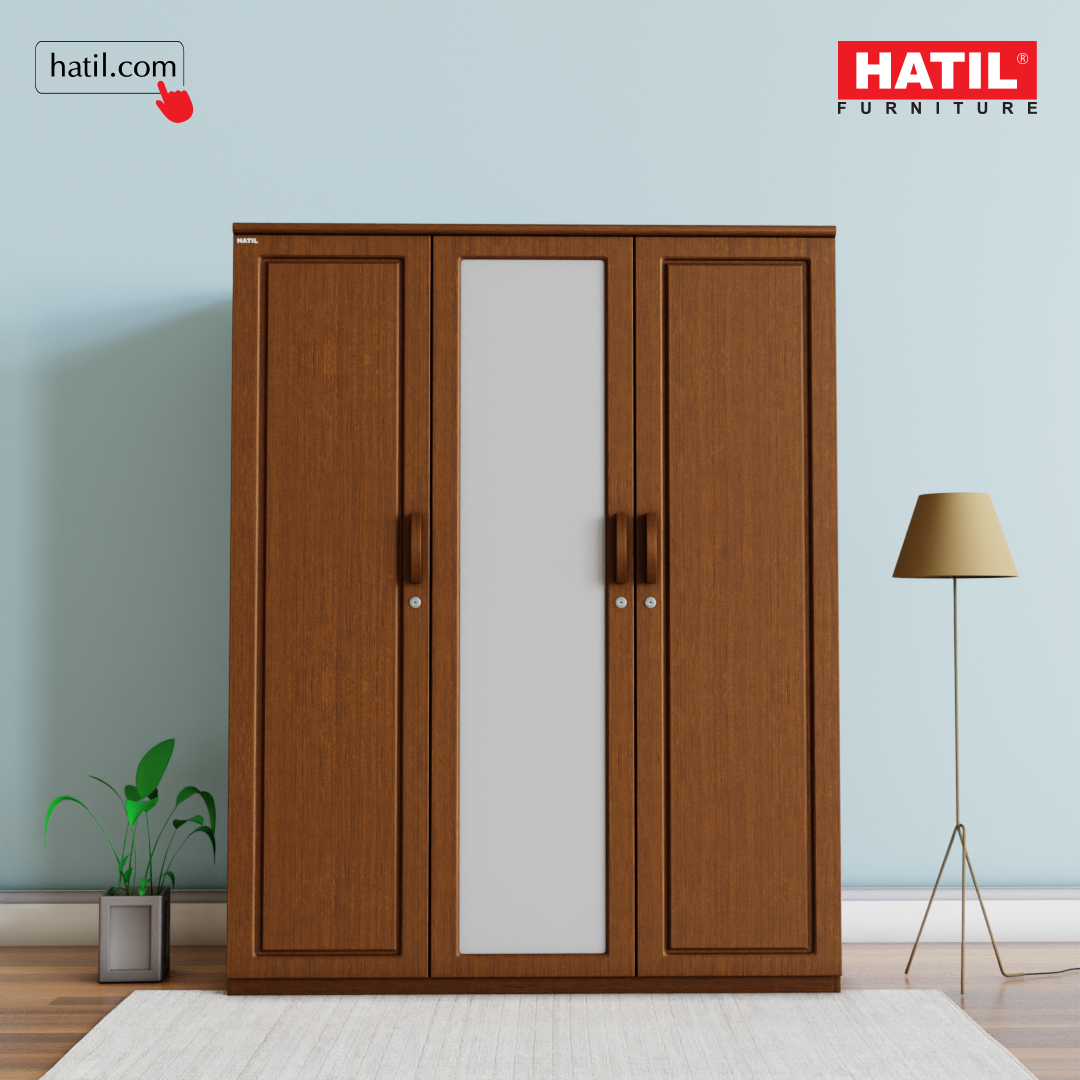 Key Features
Made from Kiln-dried imported beech wood, veneered engineered wood, veneered MDF, and laminated board.
High-quality environment-friendly Italian Ultra Violet (UV) Lacquer in antique (outside) and natural (inside) finish.
Imported high-quality hardware fittings.
Imported high-quality 5 mm thick Belgium mirror.
Weighs 148.00 Kgs.
It is made of natural components, which will have natural differences in grain construction and occasional minor blemish.
Indoor use only.
Taking Care of the Furniture
Any spillage on the wooden surface should be wiped dry with a soft cloth immediately to avoid staining.
For maintaining a good condition of furniture, it is important to dust it regularly with a clean, soft, lint-free cloth.
We recommend using a slightly dampened cloth for cleaning wood. Be sure to dry the surface after cleaning to avoid spotting.
While changing the position of a piece of furniture, it should be lifted rather than dragged across a finished surface.
Avoid exposing your furniture to strong sunlight. Unfiltered ultraviolet (UV) rays will discolor and damage wood, finishes, fabrics, leather, and rugs over time.
Controlling relative humidity and temperature is necessary to the long life of fine wood furniture, leather, and upholstery.
Do not put nail polish remover, hair spray, perfume, potpourri, and glass cleaner (or any other products that contain solvents) directly on a wooden surface as they can damage wooden finishes.
Do not put vinyl or cork placemats, coasters directly on a wood surface as these can damage lacquer finishes. To prevent damage, you may use a protective layer (cotton, linen, or felt cloth) between the object and the finish.
Avoid exposing the furniture finish to items (e.g. laptop, desktop, oven, etc.) that produce extreme heat, cold, or moisture. Use protective padding under these items to avoid damaging the finish.
Please follow the manufacturer's instructions carefully when using any product on your furniture.
Avoid placing/keeping wooden furniture in wet damp places as high moisture often attracts "white-ants" (উইপোকা). Our furniture is termite protected but not white-ants. Sufficient sunlight and airflow can save your furniture from white-ants. Besides, a damp environment attracts fungus to grow on your wooden furniture.
Size Options and Pricing
There are two size options of 6 feet height and 7 feet height for this antique lacquer finish wardrobe. For 3 doors and 6 feet height, the wardrobe is priced at 80,950 BDT and, for 3 doors and 7 feet height, it is priced at 93,650 BDT. There are also options for EMI starting at 13,491 BDT. Note that pricing will change according to size, color, and material changes.
Bradshaw-141's dynamic features and durability makes it an excellent wardrobe choice for anyone. You would not need to worry about the after-sales services as the product comes with a 12 months warranty (parts and labor) against any manufacturing defects and any other issues with the materials that have been used. On top of that, it can be exchanged in good condition within 3 days with a 5% service charge (not applicable for customized, set broken, and fabric products).