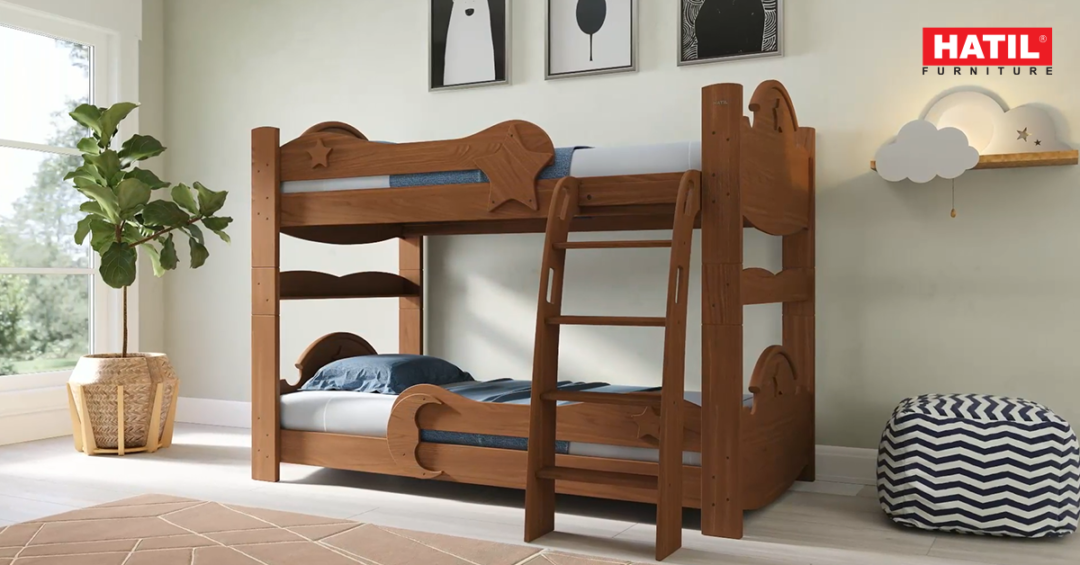 Illusion-144: One for the children
For many families, space in the room is at premium especially in a developing and densely populated country like Bangladesh. When you have more than one child, they often don't complain about sharing a common room but they might find it tough to accommodate each other when it comes to bed space. Bunk beds can be a beacon of light in that crisis. It can give your children a safe place to sleep and relax together, saving you tons of open space for storage and other extra furniture.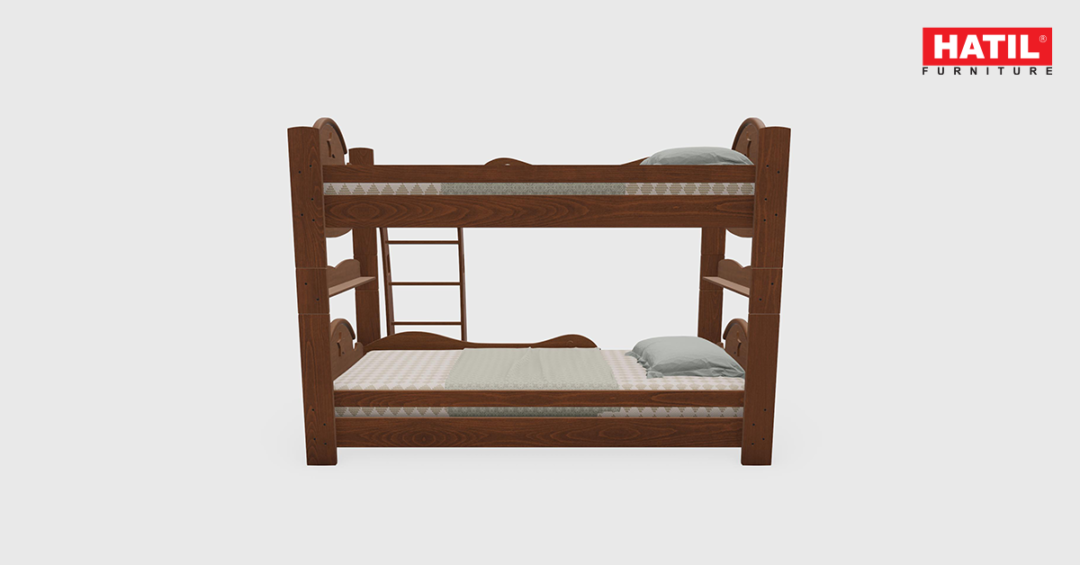 Bunk beds are great solution to limited space
Illusion 144 from Hatil is one of the top quality bunk beds for kids available among our country's furniture brands. It comes with artistic designs to meet your demands for aesthetics alongside providing real solutions to space limitations. This top-of-the-line bunk bed also comes with a strong & safe ladder to climb up to the top bunk and ensure your child's safety. It is sturdy, solid and comes at a really good value compared to other bunk beds for kids in the market.  
When it comes to materials, Illusion 144 is made from Kiln-dried imported Beech wood. The material and wood finishing is done with the best quality of Lacquer Finish of the Antique colour. It allows the paint of the furniture to be long-lasting and unprone to dust visibility. The Antique colour finishing also gives your children's bunk bed a vintage look & feel to complement well with all other furniture in the room. All in all, Illusion 144 is one of the best bunk beds for kids in the market that can stand the test of time, and the rigors of children.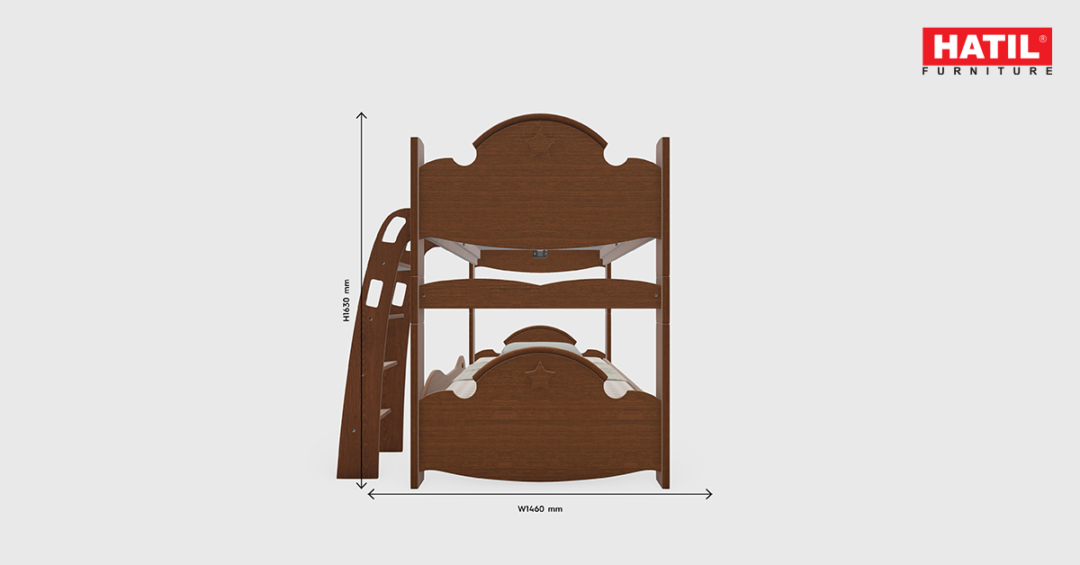 Illusion 144 comes with safety with high quality
Key Features:
Illusion 144 bunk bed comes with the following features:
Made from Kiln-dried imported Beech wood, veneered engineered wood and veneered MDF

High quality environment friendly Italian Ultra Violet (UV) Lacquer in antique finish

Assembly or product installation will be carried out by the HATIL team at the time of delivery

Imported high quality hardware fittings

Doesn't come with mattresses

Only for indoor usage

Weight 144.00 Kgs

It encompasses natural components, which will have natural differences in grain construction and occasional minor blemish.
Taking care of the furniture
You should keep the following instructions in mind to appropriately take care of the product.
You should wipe the surface dry with a soft cloth immediately in order to avoid getting the product stained

You should not drag the furniture across the surface while changing its position. 

Dusting the product regularly with a soft, lint-free cloth is a must. But, you should use a slightly dampened cloth for cleaning and assure drying the surface afterwards to avoid water spots.

It should be assured that any products containing solvents such as- nail polish remover, hair spray, perfume, glass-cleaner, potpourri etc. do not drip on a wooden surface as they can cause damage.

Avoid using any products like laptops, desktops, ovens, etc., which creates excessive heat, cold, or moisture as these can cause damage to the wooden finish. Try to follow the manufacturer's instructions and use a protective layer underneath to use such products. 

Do not get the furniture exposed to direct sunlight. The UV rays of the sunlight will damage the wood, color finishing, leather, fabrics, and rugs over time.

Rubber and plastic footpads can react with a lacquer finish, so putting cork, vinyl, telephone, clock, and other electronics with rubber and plastic foot pads on the surface directly should be strictly avoided. A protective layer of cotton, linen, etc., to avoid damage should be used.

The table is well-protected by termite, but white ants can still cause damage to the furniture. So, avoid putting the furniture in wet places as high moisture often attracts white ants and fungus. Sufficient sunlight and airflow are suitable for the structural integrity of the table.

Controlling relative humidity and temperature is essential for prolonged furniture service along with leather and upholstery.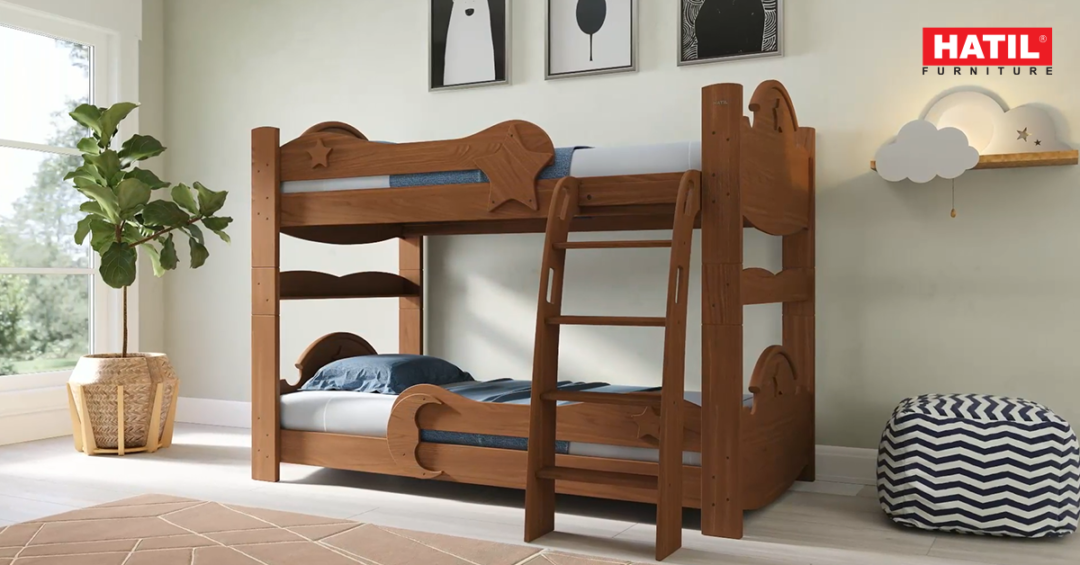 Bunk beds add fun to your children's bedroom
Color Option & Pricing
The bunk bed comes in only one colour- antique with Italian lacquer finishing. It is originally priced at 91,500 BDT but you need to keep in mind that the price will change according to the size, fabric, color or material changes. There is also EMI availability and it starts from 15,250 BDT. 
Illusion 144 is one of those top value furniture that you get shelling out a reasonable amount of cash. It will age really well due to its solid construction and be a part of your children's fun memories.