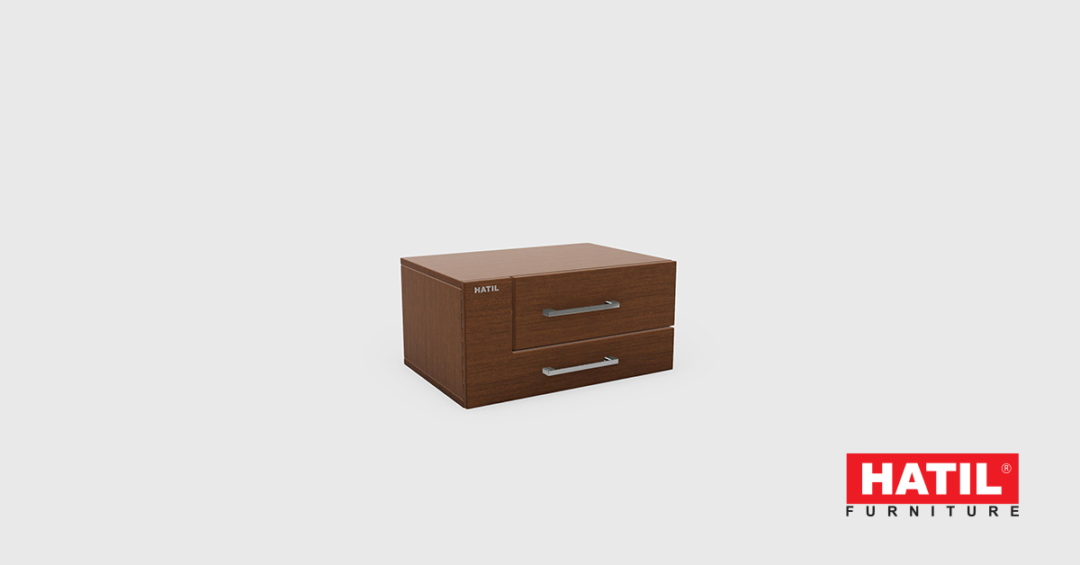 Orchid-126: Keeping Necessities Within Reach!
We always want all of our necessities within reach, be it after waking up first thing in the morning or before calling it off for the day. Bedside tables are those unsung heroes in our lives to assure that. And if you are looking for one that can bring vogue & elegance alongside seamless functionality in your modern house, Orchid-126 from Hatil is the perfect fit.
It is made from Kiln-dried imported Beach wood. This stunning piece of furniture will be a great addition because of its extra storage and sleek finish. It will fit all of your files, jewelry, perfumes, and many more as It encompasses two drawers featuring eye-striking silver handles. The low height adds to the overall appeal, especially since it appears wider than most bedside tables. All in all, Orchid 126 oozes magnificence and class. It is crafted with passion for the ones who want something extra from a standard bedside table.
Crafted with just the right measurements and material for your convenience
Key Features:
Orchid-126 bedside table comes with the following features:
Made from Kiln-dried imported Beech wood, veneered engineered wood and veneered MDF.
High quality environment friendly Polyurethane (PU) Lacquer in antique (outside) and natural (inside) finish
Assembly or product installation will be carried out by the HATIL team at the time of delivery
Imported high quality hardware fittings
Indoor use only
Weight 11.00 Kgs
It encompasses natural components, which will have natural differences in grain construction and occasional minor blemish.
Taking care of the furniture
You should keep the following instructions to appropriately take care of the product.
You should wipe the surface dry with a soft cloth immediately in order to avoid getting the product stained
You should not drag the furniture across the surface while changing its position.
Dusting the product regularly with a soft, lint-free cloth is a must. But, you should use a slightly dampened cloth for cleaning and assure drying the surface afterwards to avoid water spots.
It should be assured that any products containing solvents such as- nail polish remover, hair spray, perfume, glass-cleaner, potpourri etc. do not drip on a wooden surface as they can cause damage.
Avoid using any products like laptops, desktops, ovens, etc., which creates excessive heat, cold, or moisture as these can cause damage to the wooden finish. Try to follow the manufacturer's instructions and use a protective layer underneath to use such products.
Do not get the furniture exposed to direct sunlight. The UV rays of the sunlight will damage the wood, color finishing, leather, fabrics, and rugs over time.
Rubber and plastic footpads can react with a lacquer finish, so putting cork, vinyl, telephone, clock, and other electronics with rubber and plastic foot pads on the surface directly should be strictly avoided. A protective layer of cotton, linen, etc., to avoid damage should be used.
The table is well-protected by termite, but white ants can still cause damage to the furniture. So, avoid putting the furniture in wet places as high moisture often attracts white ants and fungus. Sufficient sunlight and airflow are suitable for the structural integrity of the table.
Controlling relative humidity and temperature is essential for prolonged furniture service along with leather and upholstery.
Comes in an antique natural color combination with a lacquer finishing at a reasonable price
Color Option & Pricing
The bedside table comes only in one color combination- antique natural. The finishing of the material & wood is well done with lacquer too. It is originally priced at 9,600 BDT but you need to keep in mind that the price will change according to the size, fabric, color, or material changes. There is also EMI availability and it starts from 1,600 BDT.
Orchid-126 is an exquisite piece of furniture with classic designs and made of quality materials. With the yearlong warranty service provided, you never have to worry about the product's after-sales service too!