All About Dressing Tables
Mira is a young teenager who likes to play dress up in different ways like her mother. She often goes to her mother's room and sits in front of the dressing table to dress up as she likes. While she enjoys doing that, she does not like that she has to come to her mother's room every time she gets ready for going out. She keeps thinking about how great it would be if she had a dressing table of her own where she could dress up any time of the day. While her parents understood her need, they could not find a dressing table that matched their budget and fit in Mira's room. 
Going out without seeing yourself one last time in the mirror feels incomplete. In the past when the use of heavy design furniture was prevalent, the dressing tables used to be quite bulky as well. But now most people prefer lighter, sleeker designs with smart storage options. The modern designs are more affordable, functional, and elegant looking.   
Imagine finding a dressing table at an affordable price that you can fit into your small space and is multi-purpose as well. Hatil's range of dressing tables offers you just that. Catered towards every customer's needs, here are Hatil's some of the most popular, cost-efficient, and aesthetically designed dressing tables for you.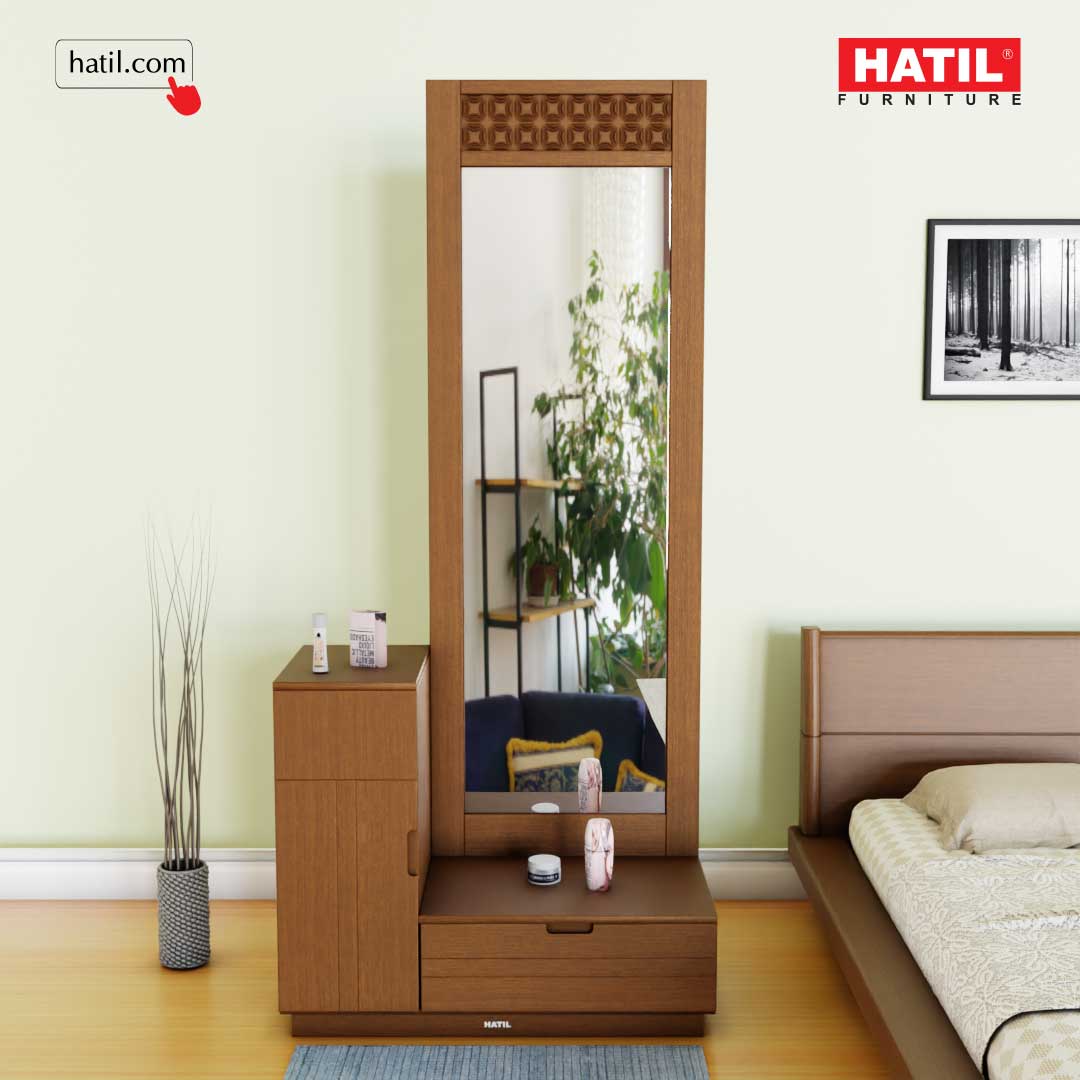 Craze-132
Craze-132
If you are searching for a dressing table that would be simple and functional, and at the same time will not take a lot of space in your room, Craze-132 could be the perfect one for you. Craze-132 has a high-quality 5mm depth full-sized mirror and several high and low drawers that give it an aesthetic impression at first glance. It makes the dressing table quite different from the traditional dressing tables with a very convenient height of 5feet 10inches. In addition, almost all of Hatil's dressing tables are made of clean-dried beech and veneered engineered wood which makes the dressing table more sustainable. This beautiful dressing table comes at a cost of twenty-six thousand six hundred and fifty BDT.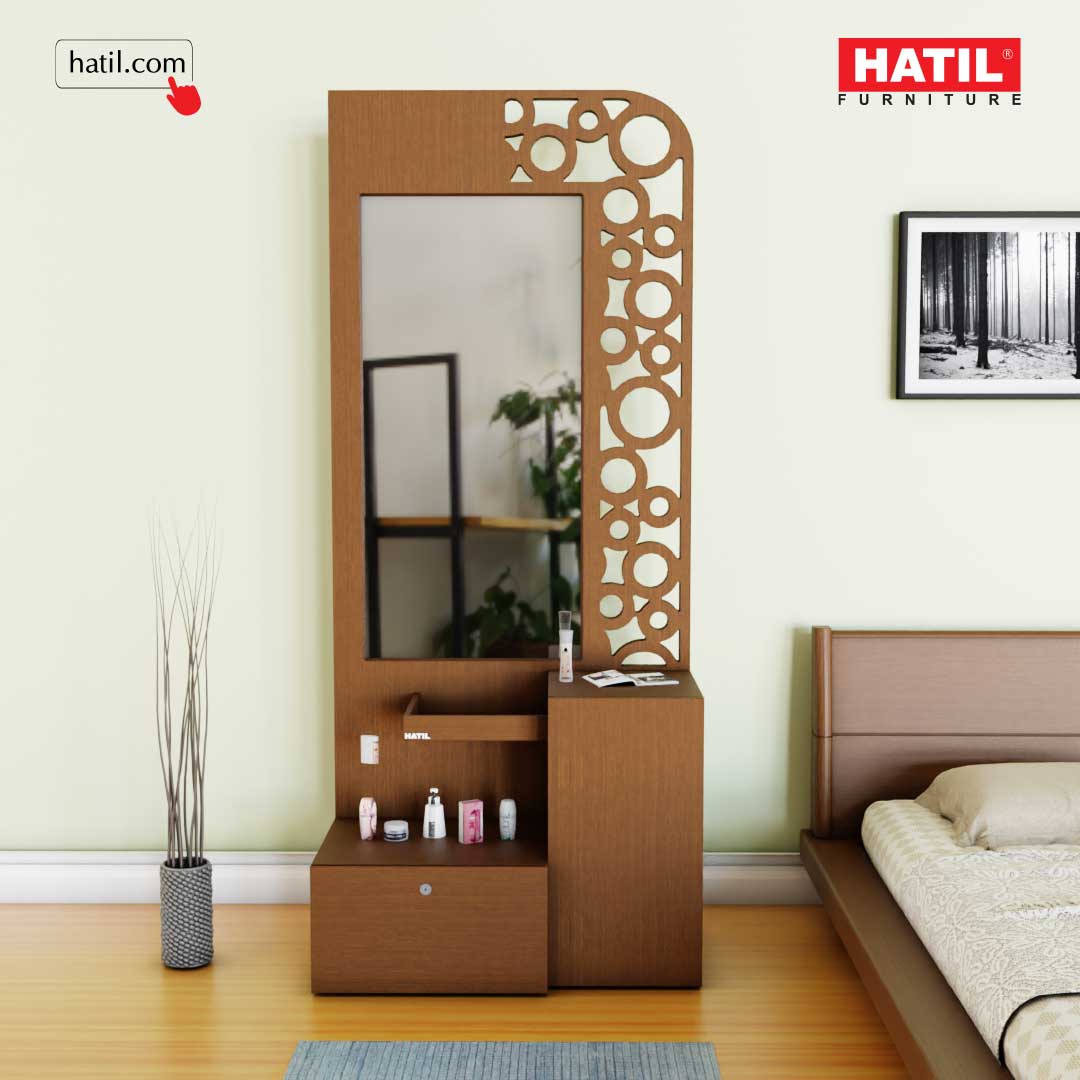 Proto-150
Proto-150:
The main feature of the Proto-150 is its exceptional design. In addition to the realistic structure, it has a wood-carved artistic design, which can hardly be seen on the other average dressing tables. Although it has high and low drawers like Craze-132, the Proto-150's mirrors are a bit smaller. A closer look at its perfect finish reveals that it will undoubtedly be your favorite roommate for many years to come. You will get this attractive dressing table weighing 56.00 kg for thirty-three thousand seven hundred and fifty BDT.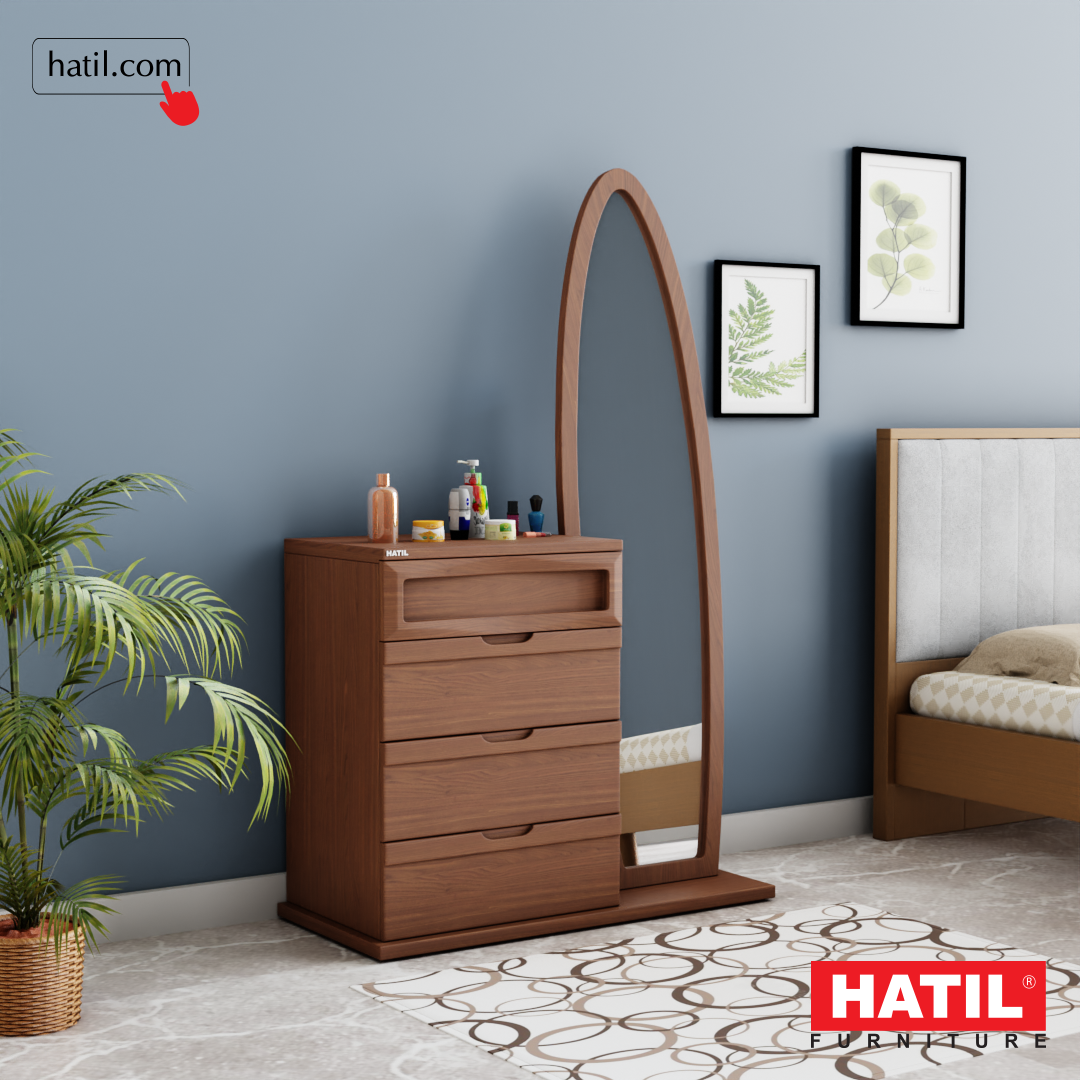 Crown-152
Crown-152:
If you are a fan of minimalist decor, then this dressing table might just be "the one" for your home. Crown-152 offers you a mirror, much like an oval, with a small wardrobe of four drawers. It can be called smart fit furniture as it can be used as a dressing table and a small wardrobe at the same time. This durable piece of dressing table will only cost you only thirty-six thousand six hundred BDT.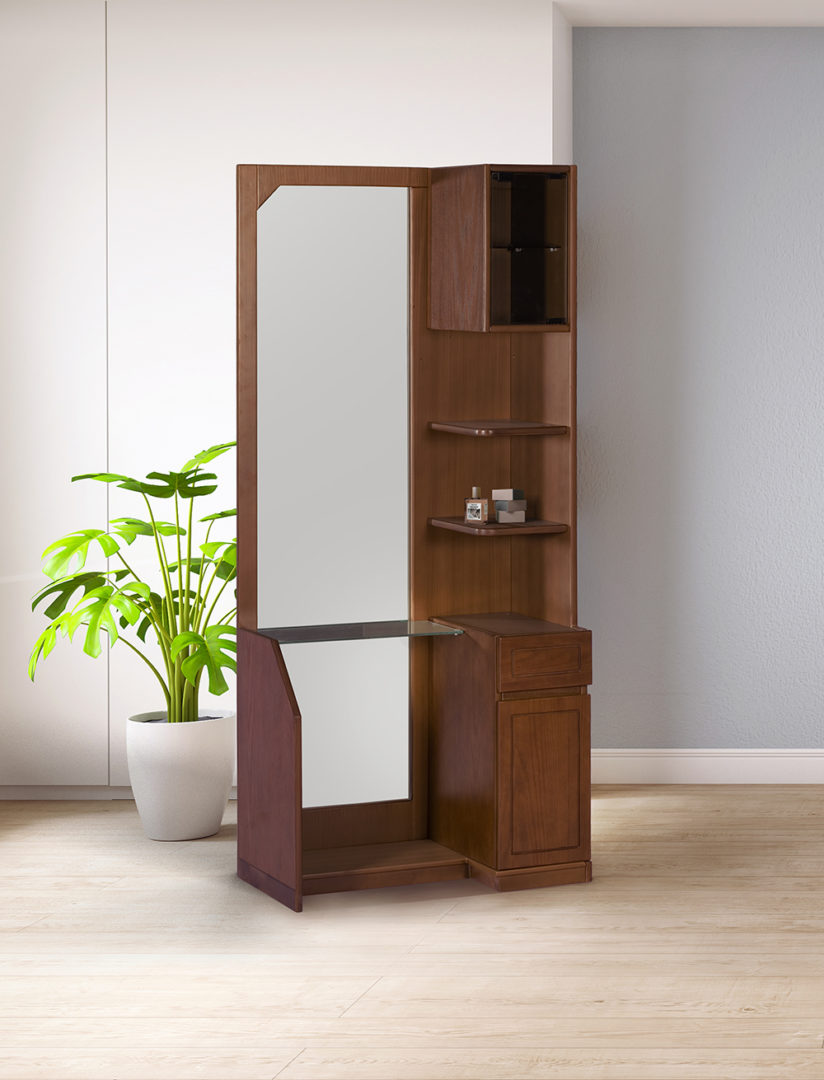 Angelic-107
Angelic-107:
This dressing table will look like a pretty basic dressing table to you until you see its storage arrangements. It can easily accommodate your necessary makeup, accessories, and other essentials as there are several shelves and drawers beside a full-sized mirror. Made with a combination of antique and natural colors, Angelic-107 is undoubtedly one of the best dressing tables available. You will get this wonderful dressing table for only twenty-nine thousand one hundred and fifty BDT.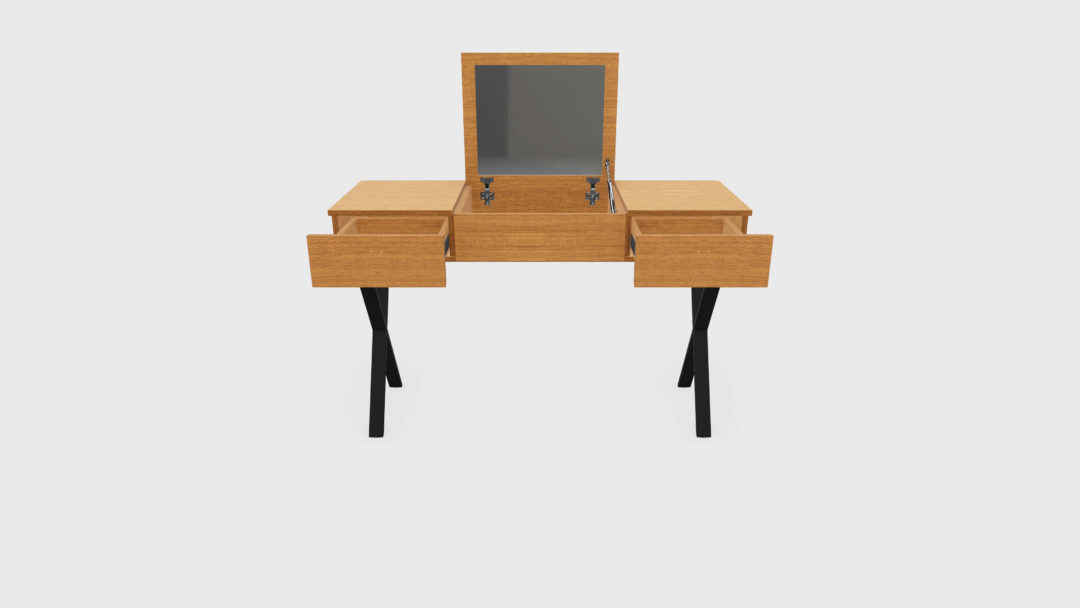 Sardine-154
Sardine-154:
With a small mirror in the middle and two drawers on either side – this uniquely designed dressing table will add a touch of modernity to your home. Sardine-154 looks a lot like vanity and does not occupy a lot of space. It is made with a melamine-faced particleboard and mild steel and is available in multiple colours like Natural texture and American tick. This piece is priced at only eleven thousand five hundred and fifty BDT.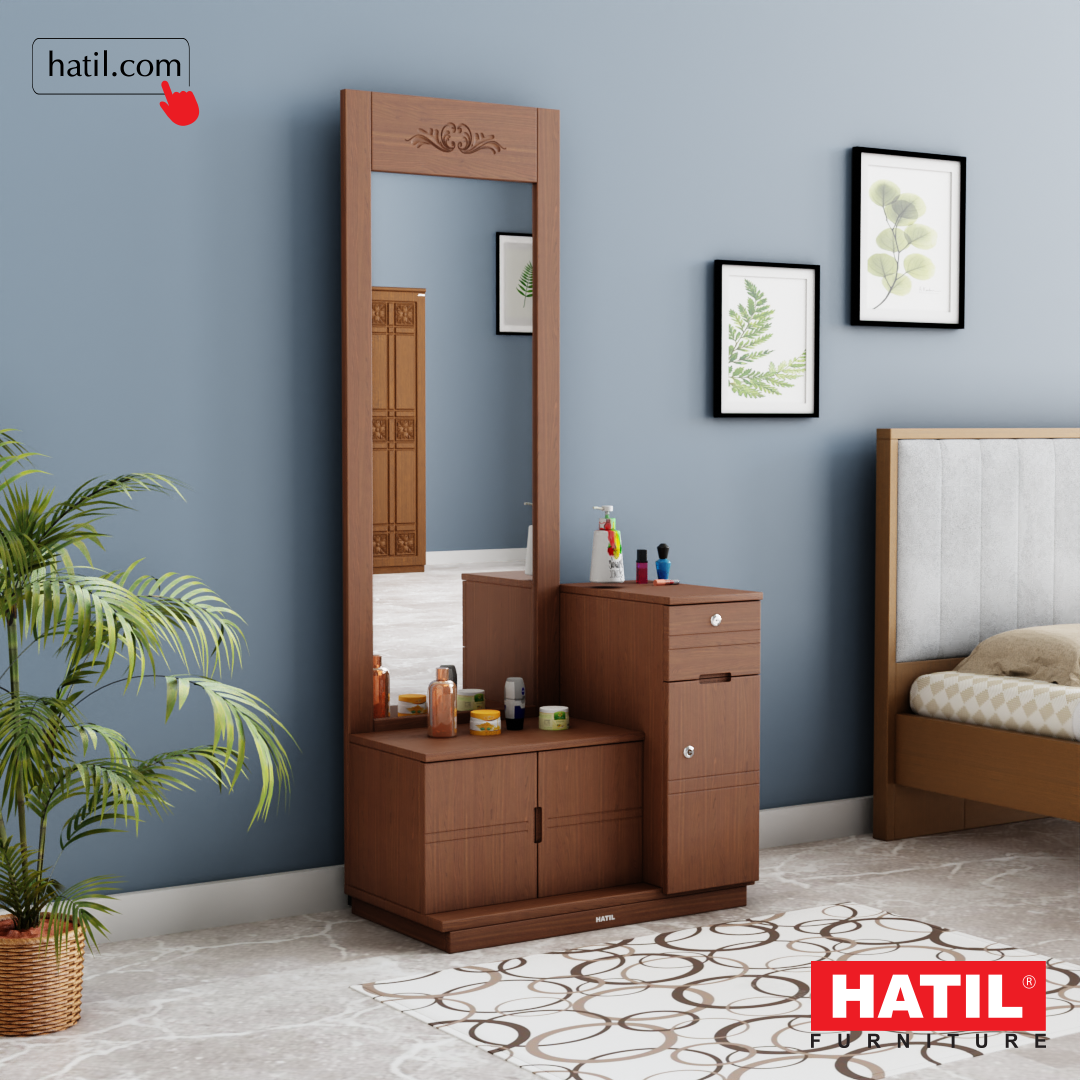 Chic-145
Chic-145:
If you are looking for something with ample storage capacity, Chich-145 will certainly satisfy you. This dressing table with a five millimetres thick mirror has a massive storage consisting of two shelves as well as three large drawers. With its minimal look, this piece of furniture will add to your room's aesthetics. This wonderful looking dressing table is available for only twenty-six thousand five hundred BDT.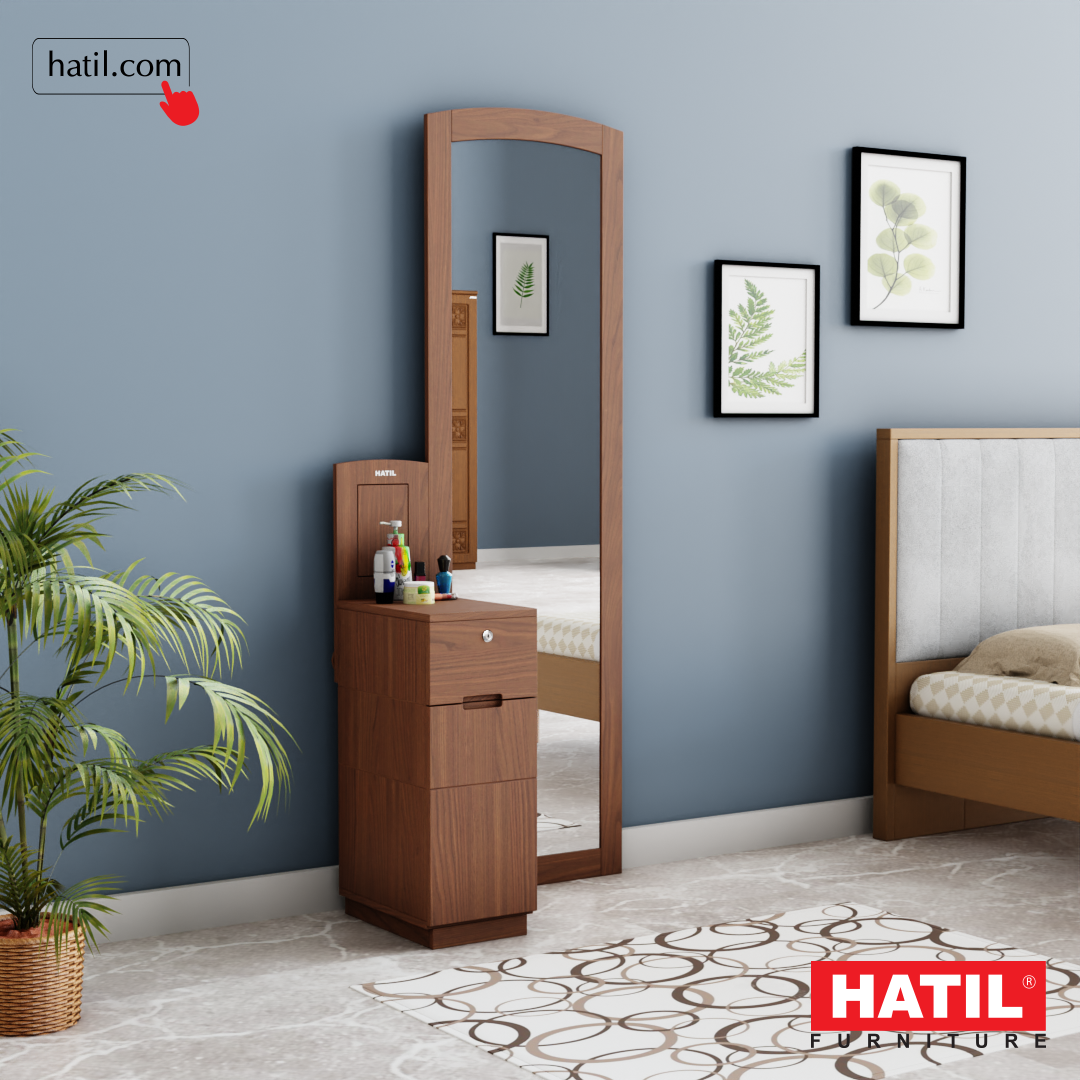 Cutie-115
Cutie-115: This dressing table will give your home a sophisticated look with its full-sized mirror and antique lacquer finish. There are 2 drawers on one part of the dressing table to keep your everyday essentials. Cutie-115 has a very simple and modern design that would go perfectly with any small to moderately sized room. This sleek piece of dressing table weighing 26.50 kg is priced at nineteen thousand eight hundred and fifty BDT.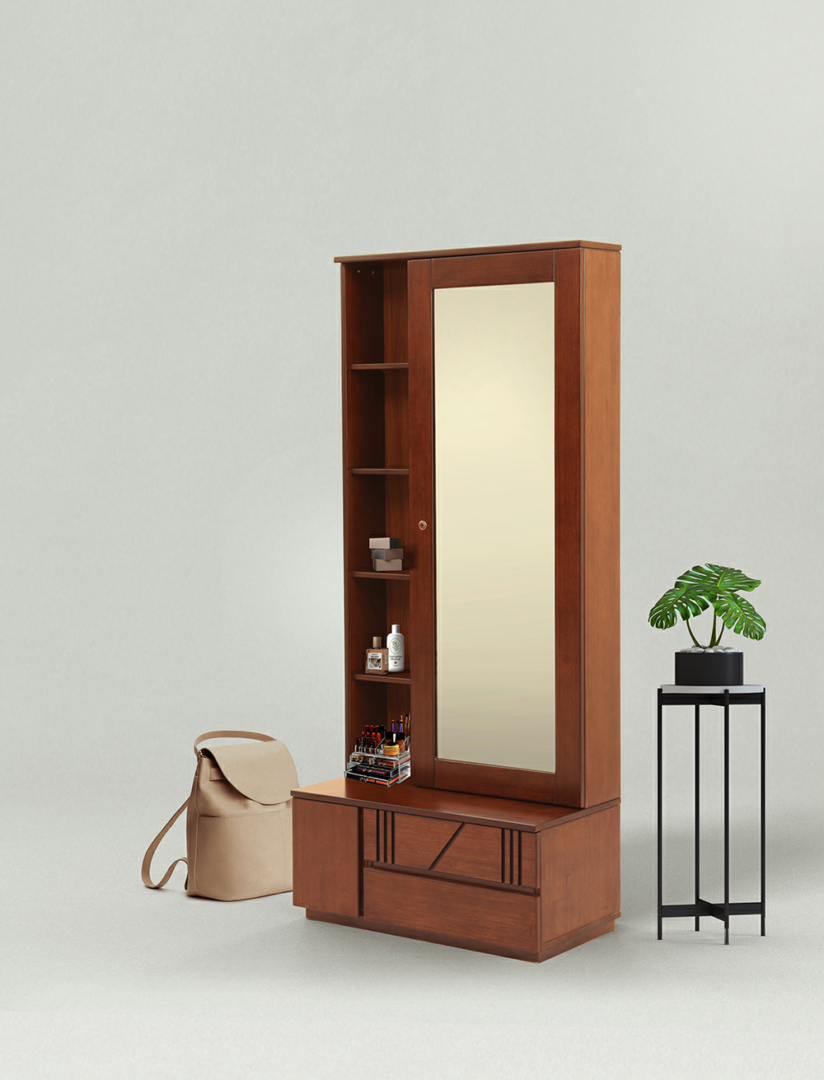 Paris-148
Paris-148:
Finally, let's talk about a multifunctional dressing table. Along with a dressing table, Paris-148 can be used as a showcase and cupboard. If you think about it, you can buy one piece of furniture that will serve the purpose of three! Paris-148 has high-quality hardware fittings. It also has environmentally friendly Italian ultraviolet and polyurethane lacquer inside and out which has multiplied its longevity. This multifunctional dressing table will cost you thirty-five thousand seven hundred and fifty BDT.