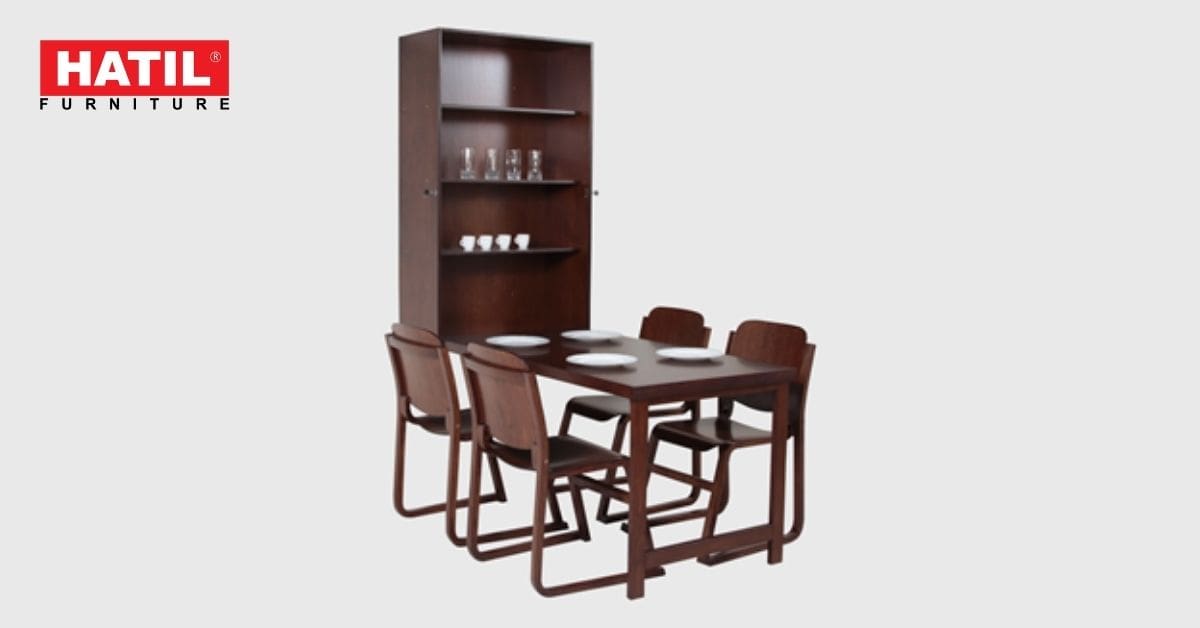 Table to Cabinet: Smart Dining Table
Foldable smart dining tables are great options to save space if you live in a small home or apartment. Additionally, if the foldable part of the table functions as a cabinet, it will free up more space by increasing storage capacity. So, table to cabinet elegant dining tables are the ultimate piece of furniture that helps you smartly manage the apartment, and also, the apartment looks well kept.
If your home or apartment lacks the proper amount of space for a dining table, then it will be a smart decision for you to go for foldable dining tables with multiple functional abilities. In addition, using smart folding dining tables will leave you with more breathing space around the house for other purposes. Hatil's furniture gives you the options to select from wide varieties of such Smartfit furniture.

There have been many changes in the style of home decoration over time. There was a time before when the dining room meant a heavy dining table set and some furniture. Nowadays, many are leaning towards moderate home decor. This change is also reflected in the design of dining tables in the case of modern furnishings.
You can search for a dining table of modern design and aesthetic style within the budget that will fit any dining room, big or small. Some of these SmartFit dining table sets are Seasame-101 and Yogurt-101 (4 Chairs and 1 Table) and Mack-181 and Kingstown-194 (6 Chairs and 1 Table).
Seasame-101 and Yogurt-101
Made with premium quality Beech wood, this smart table was envisioned to achieve adaptability, space utilization without compromising on comfort. The extended part with well-crafted shelves in it can be used as glass tops and to store other cutlery items, to save space from other furniture.
With the main focus on adaptability, this table can easily sit four people down, serving the proper use of space, attractively, in homes, small cafes, conference halls, canteens and restaurants. The great duality of this item is, when folded the size reduces enough for portable use in case of shifting rooms, residence and outdoor events, or to simply stash it away in a corner.
In case of serving sudden guests, one can use the expansion tracks and leaves that are self-contained in the base, which allows 90 inches of seating space while extended. With all these features, the cozy outer look of the table is kept intact as when the table is folded along with the shelves, only the hardwood inset panels and the flush doors are visible.
Also, there is an adjustable dining table cabinet in the server base. There is an adjustable glass shelf with a plate groove. You can control the recessed lighting with a hidden switch in the hinge. Also, you can choose the hardwood material that will be used to build your dining table.
Finally, the artisans can apply a cabinet-grade conversion varnish before the delivery process of each table. In totality, this item will work well with any interior themes based on classical appearance and logistical efficiency.
Mack-181 and Kingstown-194
Mack-181 and Kingstown-194  is a smart dining table design with six chairs and 1 table, this is high-quality furniture from Hatil, where the table can be carried through wheels and folded at any time. As a result, for tiny spaced houses and apartments, it is pretty easy to save space. Nowadays, intelligent furniture options mean sleek designs, multipurpose uses, and the capacity to keep spaces when not in use.
Mack-181 and Kingstown-194 furniture can serve as many as six people with additional spaces, which is extendable if necessary. You can also customize them for use in conference rooms or in-office meetings. With extensions, extra chairs can be added to accommodate more people.
In a word, it is a perfect choice for a family who intends to save space and accommodate more people in dining and commercial restaurants and office spaces, where this has diverse functions.