HATIL's Best Kitchen Cabinets with Smart Solutions at Affordable Price
When asked how to decorate your kitchen utensils, most people will recommend investing in some quality kitchen racks, as kitchen racks assist maintain your kitchen tidy and stylish by storing all the utensils.
To make kitchens look truly lovely, you must rely on furniture manufacturers such as HATIL, Bangladesh's greatest furniture company.
They place a focus on their furnishings and utilize cutting-edge technology to create the greatest products that are stored in the kitchen so that food and other supplies are easily accessible.
Typically, plates, glasses, dishes, and other utensils are stored in the kitchen rack. As a result, garbage cans, steep pan shelves, bogies, and organizers are positioned on one side of the kitchen or beneath the rack. This makes a kitchen look cleaner.
Ingredients Used to Make Kitchen Racks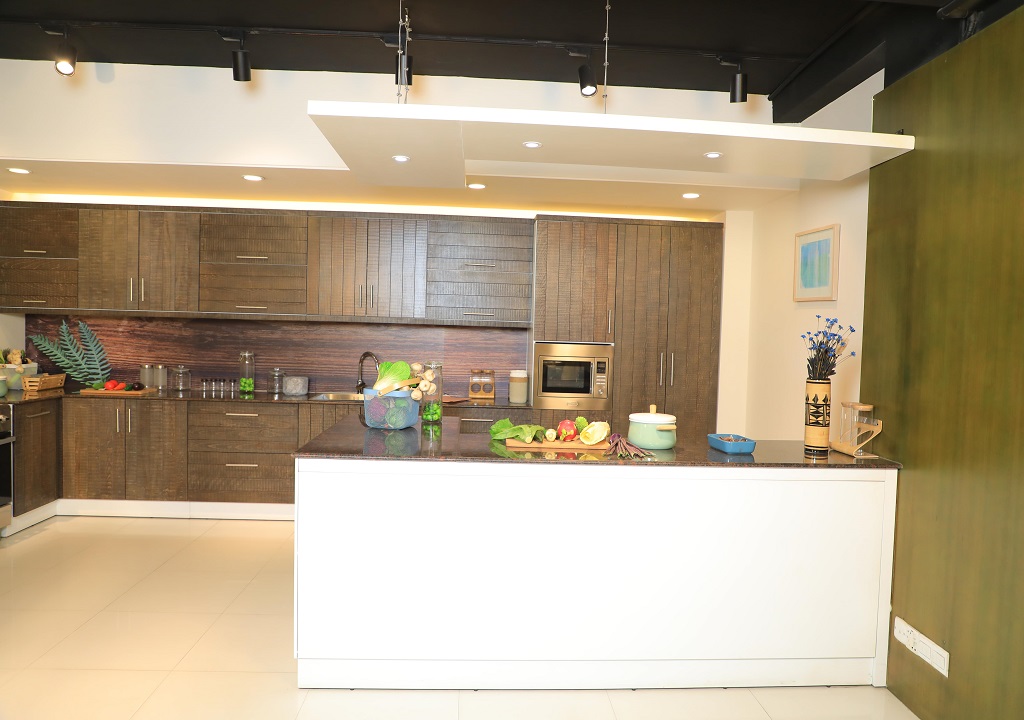 When it comes to choosing the material for your racks, you will have many options. The following are some of the most commonly used ingredients.
Hardwood
Hardwood is the most commonly used material for kitchen racks in Bangladesh. It is quite potent and comes from an organic source. Hardwood designs are distinct and appealing, and they last a long time, so kitchen racks do not need to be replaced on a regular basis.
Plywood
If you choose plywood, keep in mind that the material is very versatile. It is both sturdy and long-lasting, making it a perfect choice for racks. Furthermore, it is easily repaired, allowing you to utilize it in new situations while conserving money. It is a truly cost-effective solution.
Fiberboard With Medium Density
This is a lengthy solution to avoid distortion. There are other possibilities for composite boards, wood dissection, and laminate. All of these solutions provide additional benefits and functionality at the same time; so, you may select the ideal one to satisfy your needs.
Kitchen Cabinets at Affordable Price
In HATIL, as much as we care about the perfect decoration for your kitchen, we also think deeply about your pricing concerns. Modern-style kitchens at an affordable price are what we are offering to our consumers.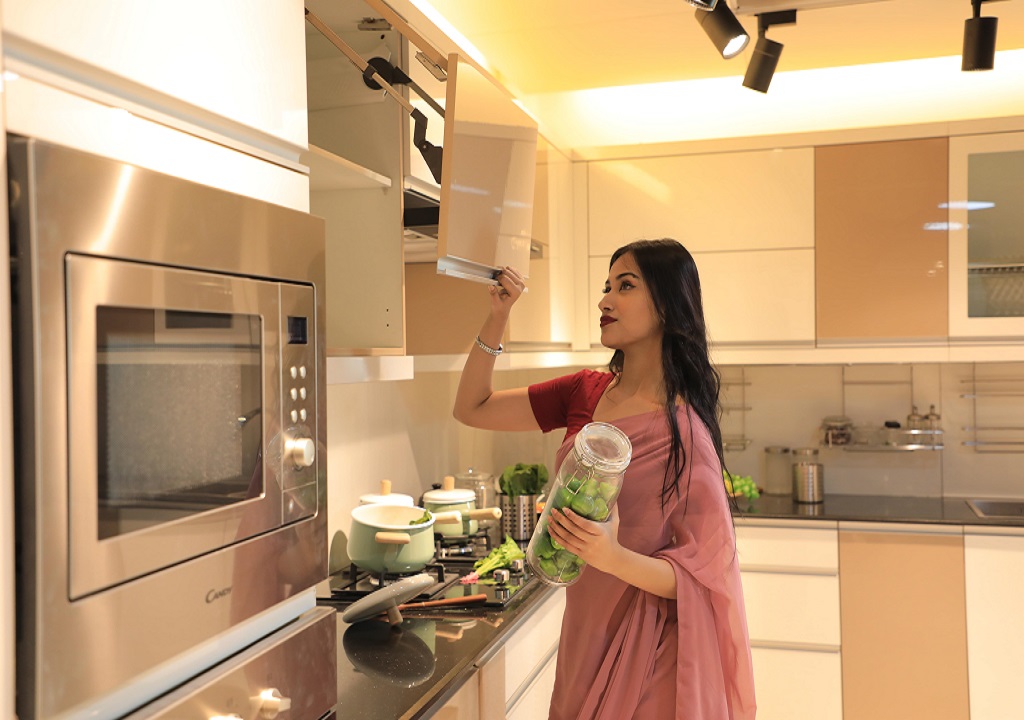 The Ease of Use of Hatil's Kitchen Racks
HATIL's racks place high importance on your value. HATIL's designs are incredibly appealing and stylish, and they will complement your home. HATIL is the greatest in terms of quality, so you know you're getting the best.
HATIL's styles are classified, so you can be confident that you will obtain the benefits you want from your kitchen racks just by waiting for the right one. They provide a wide choice of products, all of which are expertly created from the finest materials.
Assume you like two concepts but only want to combine both pieces of a one-of-a-kind kitchen rack. The good news is that HATIL makes it possible for you to do so. As a result, you may tailor your experience to your tastes and abilities.
In Bangladesh, HATIL's kitchen racks are particularly long-lasting. They are sturdy and resilient, and have been rigorously tested to ensure their survival in a range of scenarios. It goes without saying that you will use these kitchen racks frequently, exposing them to severe heat and smoke, putting them in challenging and delicate settings. However, these conditions maintain these HATIL racks performing at their peak, suggesting that they are both robust and user-friendly.
Finally, they come with a warranty. Not only will this provide you with piece of mind, but they will also repair your kitchen racks if something goes wrong with them throughout the warranty period.
Tips on How to Buy Kitchen Racks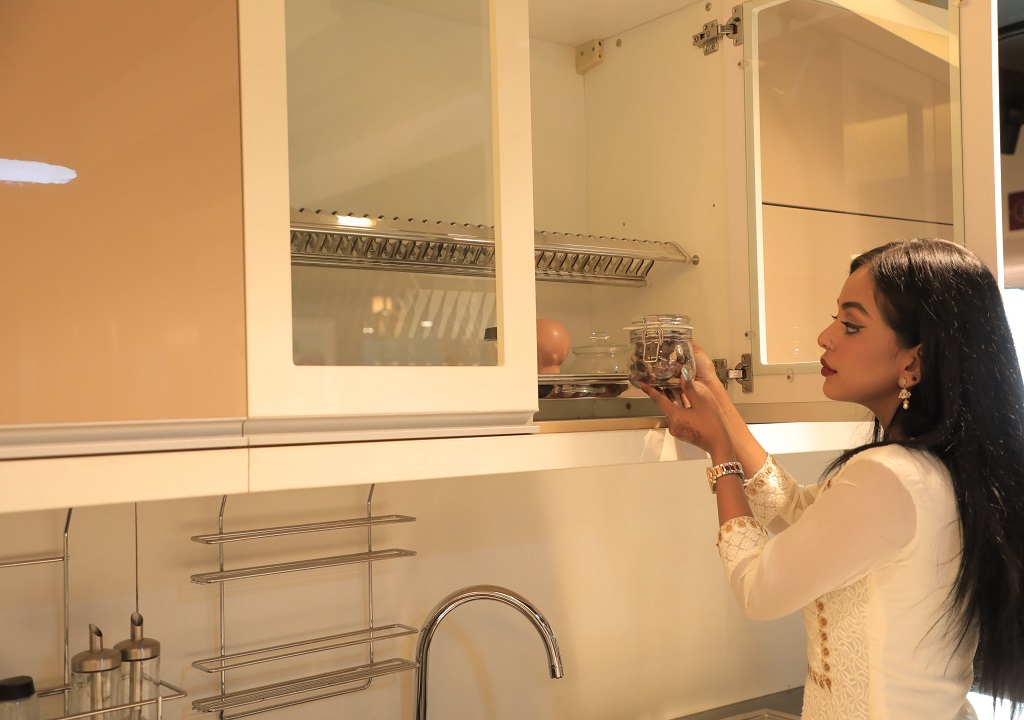 There are a few things to consider when buying kitchen cabinets in Bangladesh, which are listed below.
A quick description of your kitchen will assist you in creating a sketch, which will be extremely beneficial if you choose to purchase a kitchen rack. This will allow the sales staff to assist you in choosing the best rack for your kitchen.
Accurate measurement must be properly monitored. Take accurate measurements of the area where your selected furniture will be installed. Otherwise, a major disaster will occur, and your entire investment would be wasted.
This rack should have a basic concept of how many products will be used inside it. This method will assist you in determining how many shelves you require and how robust they should be.
When you have a limited budget, you must make cautious judgments about where to spend and how much to save. Frameless kitchen racks require substantially less work and thus cost significantly less. There are many styles to pick from in frameless versions, and you may make an informed decision if you choose.
Overlays are classified into two types: fractional overlays and complete overlays. Parts of the kitchen racks will be revealed, as indicated by fraction overlays. As a result, you must make intelligent decisions depending on your possessions.
Read also: Kitchen Cabinet Design In Bangladesh – HATIL Kitchen
Conclusion
Kitchen racks are an essential and useful component of any Bangladeshi home, therefore if you make the proper pick, you can win the kitchen rack celebration. These kitchen racks are difficult to repair, and one bad decision can cost you nothing.
So, pick your model wisely. Examine the benefits and drawbacks of both solutions, weigh them, and then choose.