Office Chairs: HATIL Office Chairs Designs and Their Price
The most opulent residences are generally those that are outfitted with the products of the most well-known furniture manufacturers.
HATIL furniture earns standing acclaim for creating the greatest product in the industry and offering clients the most up-to-date design. The furniture has a repute in Bangladesh for being both being stylish and durable.
In Bangladesh's furniture sector, HATIL is regarded as a "game-changer." HATIL has become a well-known brand both at the house and overseas due to its carefully selected raw materials, environmentally sustainable business practices, and customer-centric strategy.
HATIL assures that the chairs are made with premium quality materials, with more meticulousness, and under rigorous supervision than any of those made in greater volumes and marketed by the other common manufacturers.
HATIL's chair is of superior value, so it appears out and longer lasting.
Let's talk about HATIL's finest office chair designs and their pricing.
HATIL's Top 5 Office Chair Designs
HATIL Swivel Chair Ruby-140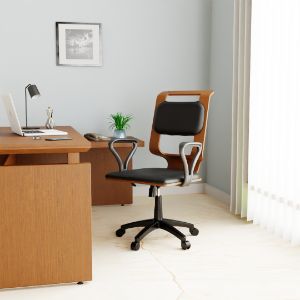 Ruby-140 is an executive chair developed by HATIL FURNITURE with a sense of sophisticated modern architecture. This chair is built ergonomically to give its customers back support by decreasing back discomfort.
It gives you both comfort and elegance. The wood texture is symmetrical and formal order enhances its appearance in the space much more.
The chair is constructed of foreign kiln-dried beech wood that comes with a lacquered appearance. The product is distinguished by its smooth and long-lasting padding.
The fabric is available in a variety of colors, allowing you to create your own unique design.
The most up-to-date CNC equipment is utilized for precise shaping and bending. This contemporary chair will undoubtedly make a statement in your space.
HATIL Fixed Chair Hopper-133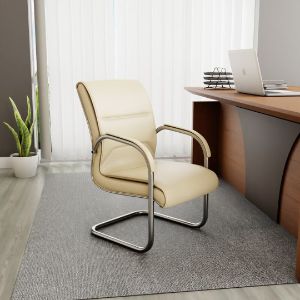 The Hopper-133 visiting chair of quality and competent construction is brought to you by HATIL FURNITURE with outstanding characteristics and pleasure.
This furniture is dramatic in its stylish and formal appearance, presenting you with a sophisticated and physical impression with great relaxation. This garment provides ease and reassurance to the consumer while enhancing your physical workplace energy.
Made of high-quality chrome-plated plain steel and greater quality fabric upholstery offers pleasant long-lasting padding. There are other fabric variations to pick from, depending on personal preference. Its conventional structure and symmetry make it suitable for use in any setting.
HATIL Fixed Chair Sheridan-119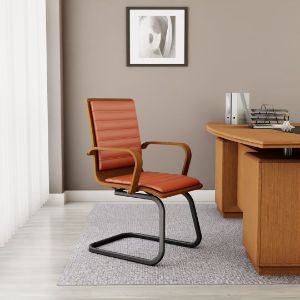 Sheridan-119 is a fantastic visiting chair that was created to complement your room's concept. This furniture was designed ergonomically, built to relieve back strain, and provide relaxation during work.
You will not have back discomfort by resting on this chair for long periods of time. It features a greater quality lacquer antique polish and gives your area a classy appeal.
HATIL FURNITURE made this from of kiln-dried foreign beech wood for ultimate convenience and backrest.
To provide it with a stylish lacquer touch, greater quality Italian Ultra Violet (UV) is employed. Because it contains natural ingredients, the product's quality is guaranteed.
HATIL Swivel Chair Graham-314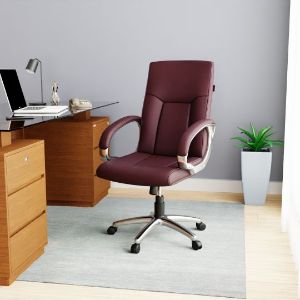 Without the existence of a proper chair, things may get tedious at times. Graham is a swivel chair that is ideal for making our regular lives easier.
This is the finest chair for a study room or an office since it relieves back discomfort. The chair is so beautiful that it completely transforms the aesthetic of any room it is placed in.
Only because of its stunning appearance and exceptional craftsmanship, this is the most popular furniture at HATIL yet. The cloth and coated steel used in the construction of this furniture are of the highest quality.
The chair's components are extremely long-lasting, and the cushioned grip provides complete physical support.
HATIL Swivel Chair Michael-143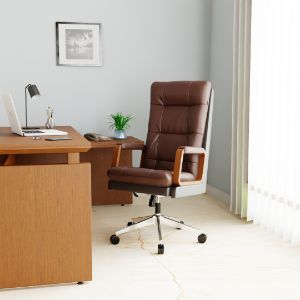 We are continuously looking for the most comfortable environment possible. Michael-143 will be the greatest alternative purchasable at the HATIL shop if you are seeking a chair for your workroom or office area where you can work, play games, or accomplish office activities.
HATIL's Their chair is composed of high-quality wood that has been lacquered. This furniture is also made of chromium and nylon coated steel. The chair may be customized and is really comfortable.
This is something everybody desires, whether it is a chair for the office or a chair to relax in at home. HATIL has rarely ceased to impress, and Michael-143 is a perfect example of it.
The Reason for Its Popularity
HATIL has developed a reputation for being current, intelligent, and cost-effective throughout the years, making them the finest of all.
The majority of customers were happy with HATIL's superb furniture quality and originality in design, which helped HATIL to dominate the furniture business from the front line.
To ensure the highest quality for customers, HATIL furniture has used the most famous Japanese corporate Quality Management concept known as "Kaizen." The ideology emphasizes the continuous development of business, which includes personnel.
Final Thoughts
Buying furniture for your office is significantly more stressful than buying furniture for your residence. The owner, employees, management, and others have all aired their opinions.
Requirements, wants, finances, office space, and other considerations must all be considered when selecting office furniture. Having the responsibility of acquiring office furniture placed on your shoulders may appear to be a difficult task.
Selecting the best office chairs that match your budget is an investment in your employees' health and productivity since they must waste a lot of energy in their sitting posture.
A good office chair can help you with a number of issues. HATIL offers affordable office chair prices in Bangladesh. They talked to doctors, state authorities, and ecological furniture experts to figure precisely what creates the best office chair.