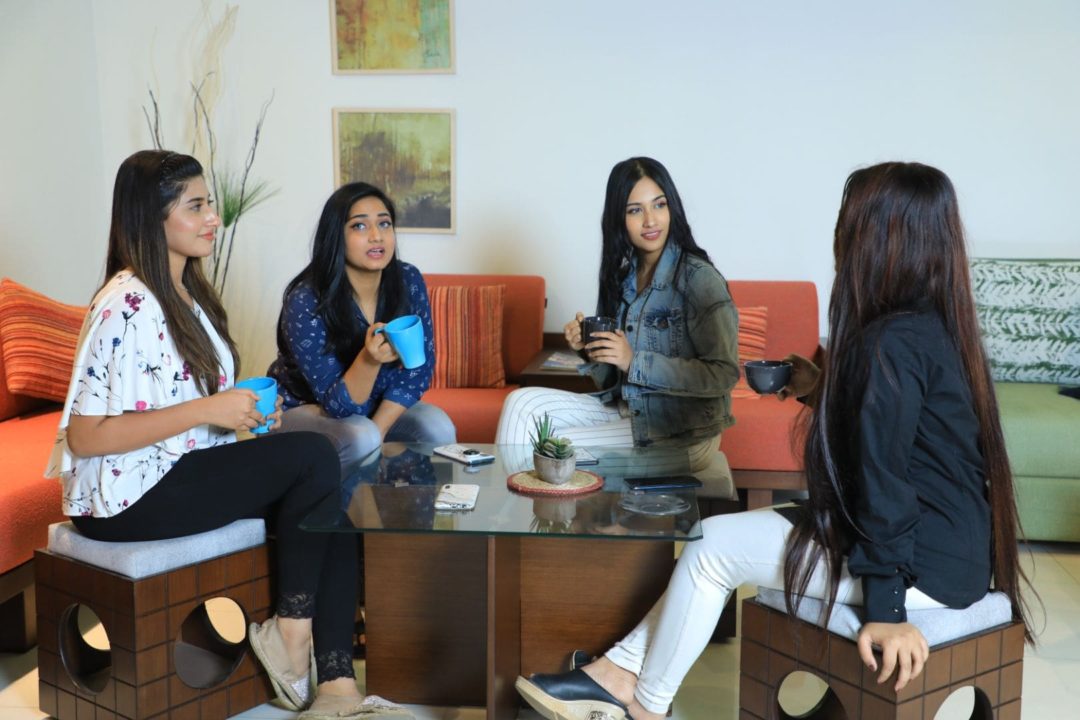 Tea Trolley Design: The Best Tea Trolley Designs and Prices
A tea trolley is a piece of furniture that is specifically designed to hold and serve tea and snacks. A tea trolley design can vary greatly, from traditional and ornate to modern and minimalist. No matter what style of tea trolley you prefer, it is sure to add a touch of elegance and functionality to your tea service.
In Bangladesh's furniture sector, HATIL is seen as a "game-changer." HATIL has become a well-known brand both at home and internationally due to its carefully selected raw materials, environmentally sustainable business practices, and customer-centric strategy.
So, if you're seeking high-quality furniture, HATIL is the place to go. HATIL has managed to satisfy even the most discerning buyer with its vast selection of patterns and reasonable prices.
Tea Trolleys in HATIL are produced with great care and craftsmanship like no other. Tea Trolley prices in HATIL are more reasonable as par with the quality than any other furniture brand in Bangladesh. The unique Tea trolley designs of HATIL are bound to please your eyes.
Best Tea Trolleys by HATIL
1. HATIL Tea Trolley Assam-101 (HCL-223-101-8-1-88)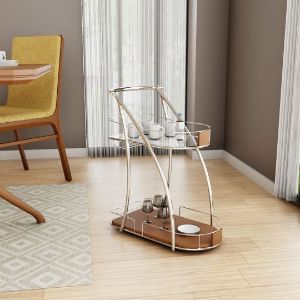 HATIL's Assam is a big breakfast tray that is easy to move about thanks to the wheels below. The construction is designed to give this trolley a classy appearance, allowing it to be exhibited with grace at your home.
Kiln-dried imported Beechwood and veneered engineered wood make up the wooden plate on the bottom shelf. Then it was given an antique finish using a high-quality, environmentally safe Italian Ultra Violet and Polyurethane Lacquer.
The framework, on the other hand, is built of stainless steel and then welded with Metal Inert Gas (MIG) for further strength and longevity.
Cutting and bending are done using the most up-to-date Japanese CNC equipment, which has a precision of 99.99 percent.
Features of Assam-101
High-quality hardware fittings imported from abroad
Mild steel with a chrome finish
Imported 8 mm thick glass with a weight of 12.50 kg
2. HATIL Tea Trolley York-106 (HCL-223-106-8-1-88)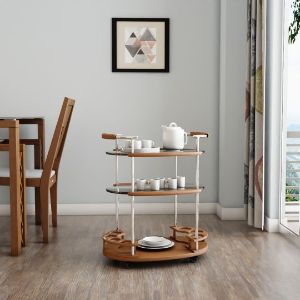 With its beautiful outlook and easy transportation, York creates a warm and inviting atmosphere in your house. This tea cart will be an excellent addition to your dining room.
A three-tiered gorgeous piece of furniture composed of high-quality glass, stainless steel, and wood is just what your home requires to complete it.
To provide a sturdy structure, the upper two pieces of the trolley are composed of high-quality imported 8 mm thick glass. HATIL's tea cart frame is made of chrome-plated stainless steel with a smooth finish.
Features of York-106:
High-quality hardware fittings imported from abroad
16.00 Kgs
Kiln-dried imported Beechwood and veneered engineered wood were used to create this piece.
Italian Ultra Violet (UV) and Polyurethane (PU) Lacquer in Antique Finish of high quality and environmental friendliness.
3. HATIL Tea Trolley Formosa-107 (HCL-223-107-8-1-88)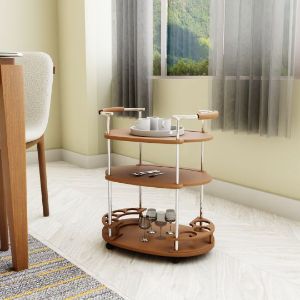 With a three-tiered construction and wheels for mobility, Formosa is one of HATIL's greatest. When it comes to high-quality materials, there is no better substitute than the trolley.
The combination of veneered engineered wood and kiln-dried beechwood creates an extraordinarily strong frame. HATIL's trolley is finished with an antique style thanks to an Italian UV and PU lacquer finish. MIG welding adds endurance to the stainless steel frame, which was cut and bent using cutting-edge technology with 99.99 percent precision.
Features of Formosa-107:
High-quality hardware fittings imported from abroad
Mild steel with a chrome plating for indoor usage only, weighing 13.00 kgs
4. HATIL Tea Trolley Yunnan-104 (HCL-223-104-10-1-88)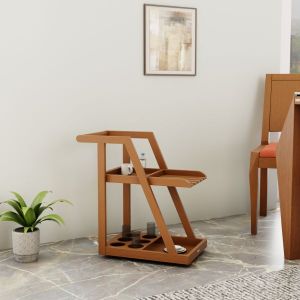 Bless your home with a magnificent HATILS's Yunnan tea cart with an eccentric design that includes a top tray and a bottom rack. The tray has wheels below it that make it easy to move around.
Six bottle holders are located on the bottom shelf. Long-lasting durability is provided by a robust blend of kiln-dried beechwood and engineered veneers with UV and Lacquer finishes.
Polyurethane lacquer gives the tea trolly designs an antique look.
Features of Yunnan-104:
High-quality hardware fittings imported from abroad
Only for indoor usage
13.00 Kgs
Tea Trolley Prices in HATIL
HATIL provides the finest tea trolley price rates in Bangladesh. Choosing the best kind of tea trolley matching with your interior can be hard. However, it isn't impossible.
HATIL offers a diverse selection of tea trolleys. In Bangladesh, HATIL provides the best tea trolleys at a reasonable price point.
HATIL's affordable tea table prices in Dhaka may help you locate the best offer. HATIL never makes a trade-off between product quality and pricing.
Why Choose HATIL
HATIL aims for quality and assures its supremacy via its goods, making it Bangladesh's greatest furniture brand. Continue reading to learn about the amazing aspects of HATIL that will persuade you to support us:
Extensive Range of Products: HATIL is always creating new ideas and products to stay up with the ever-changing industry. Our extensive product assortment includes a diverse selection of furnishings to meet the demands of a wide range of customers.
Advanced Manufacturing Techniques: HATIL's production process is an example of real vision since it employs robots and cutting-edge software, as well as world-class machinery. Our solid wood area is a representation of our high-end CNC machines and vintage wood carvings.
Environmentally friendly: HATIL has been making furniture out of oak and beech oak wood since 2009. This has earned us the Forest Stewardship Council (FSC) certification, which is situated in Germany. This guarantees that the wood we use does not affect the environment.
Ensuring Quality: HATIL has been using the Japanese quality management philosophy Kaizen to assure the greatest quality for consumers since 2007. HATIL is a pioneer in the production of bentwood furniture, and we mean it when we say we manufacture the greatest furniture in Bangladesh. In addition, the firm is a pioneer in bentwood production in the country. The things made from our bentwood are very remarkable.
The Virtual Showroom: HATIL V: HATIL's latest development, as a technologically savvy organization, is the virtual showroom for individuals who are unable to visit our showrooms. HATIL V – the virtual showroom allows anybody to see the furniture in 360 degrees using mobile reality headsets that can be bought online. Customers may alter the fabric's colors and patterns and compare them to furniture.
Smart-Fit Furniture: HATIL has been the name of innovation in our country's furniture business. Smart-Fit Furniture: HATIL has been the name of innovation in our country's furniture industry. Our newest addition is smart-fit furniture, which provides many uses for your furniture while also reducing space in your house.
Outstanding Customer Service: For decades, our philosophy has been to listen to our consumers. Our customer service specialists are here to help and interact with you in any manner they can.
HATIL has revolutionized Bangladesh's furniture industry in three decades, starting from humble beginnings as a timber company. HATIL has become a household name in Bangladesh, with two state-of-the-art factories and 70 outlets.
HATIL is always ready to assist its consumers, with national and international showrooms, eCommerce platforms, a virtual shop, and nationwide shipping services. So if you want Tea trolleys of premium quality, choose HATIL without a second thought.