Variety Of Work Stations
Work stations are an integral part of an office space. Starting from setting the design of the environment based on the stations to working as a determinant in allowing workers to comfortably carry out their tasks, its benefit and importance is immense. Having the ideal workstation for your employees can help to boost their productivity, make them efficient and be more organized, which are really important to run an office successfully regardless of its field. So, choosing a workstation carefully is more of a necessary exercise than a mere aesthetic one. Thus, much attention should be given to choose from multiple workstation typologies available in the market. 
It is really important to keep some factors in mind before choosing a workstation for your office. Such as-
i)Available space
ii)Number of employees
iii)Ergonomics of the seating
iv)Quality and longevity of the desk
v)Peripherals (Chairs, Desk Color, Partitions etc.) 
Keeping these pointers in mind will help you to find your ideal  workstation very easily. Apart from that, let's get introduced to some of the state of the art workstations in Hatil.
Fleming-307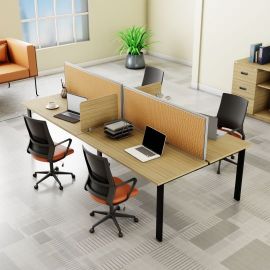 Flaming 307 
The Fleming-307-EB all workstation is one of the most convenient products of HATIL. Qualityful component structure, eligible to use for multiple people, this furniture piece is both ergonomic and provides guarantee of long term usage. It is made from superior quality melamine-faced particle board with international standard density and load bearing capacity. So, when it comes to quality of its elements, it ticks all the marks under the headline of high standard. 
Due to its strong composition and multiple partitions, it is widely popular for offices with a high rate of employees such as multinational companies, global NGOs etc. It comes at a price of 29,750 BDT in two different colors,Ebony & Grey. All in all, it will be a premium choice from every field for your fellow employees. 
Bolt-110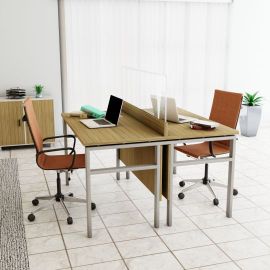 Bolt 110
Bolt-110 is one of the best non lacquer executive desks available in the market for your office. Simple yet modern, these executive workstations can accommodate two employees at a time very easily. 
It has two parts; a flat board and four stands made of mild steel which gives the desk rigidity. Metal inert gas welding ensures the durability of the desk. It comes at an affordable price of 23,500 BDT in two different colors, Ebony & American Teak. This piece of furniture will be a great addition for modern offices and startups to ace that classy and simple vibe.
Douglass-308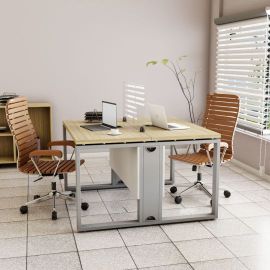 Douglass-308 has a smooth finishing and looks extremely gorgeous. It might be small in size but the overall finishing of the table is durable and gives a classy vibe to your home or office. All the employees will even be able to place their laptop or set up their computer easily. 
Just like other workstations, it is made from superior quality melamine-faced particle board with international standard density and load bearing capacity. It comes in two different colors, Ebony & Gray Texture which really makes the workstation stand out at a price of 21,550 BDT. So, in the criteria of affordability, quality and durability, this workstation is a well for emerging offices.
There are two other executive workstations such as Carson and Tesla which are of top quality in aesthetics and functionality. It is also made of superior elements like the other exclusive workstations. 
Choosing the right workstation to fit out your office with these modern day furnishings will ensure that your staff members can work together in an environment that takes care of their every need. They won't feel uncomfortable or in danger and can thus focus better on the task at hand. So, it is of utmost importance to choose the ideal workstation for your office.