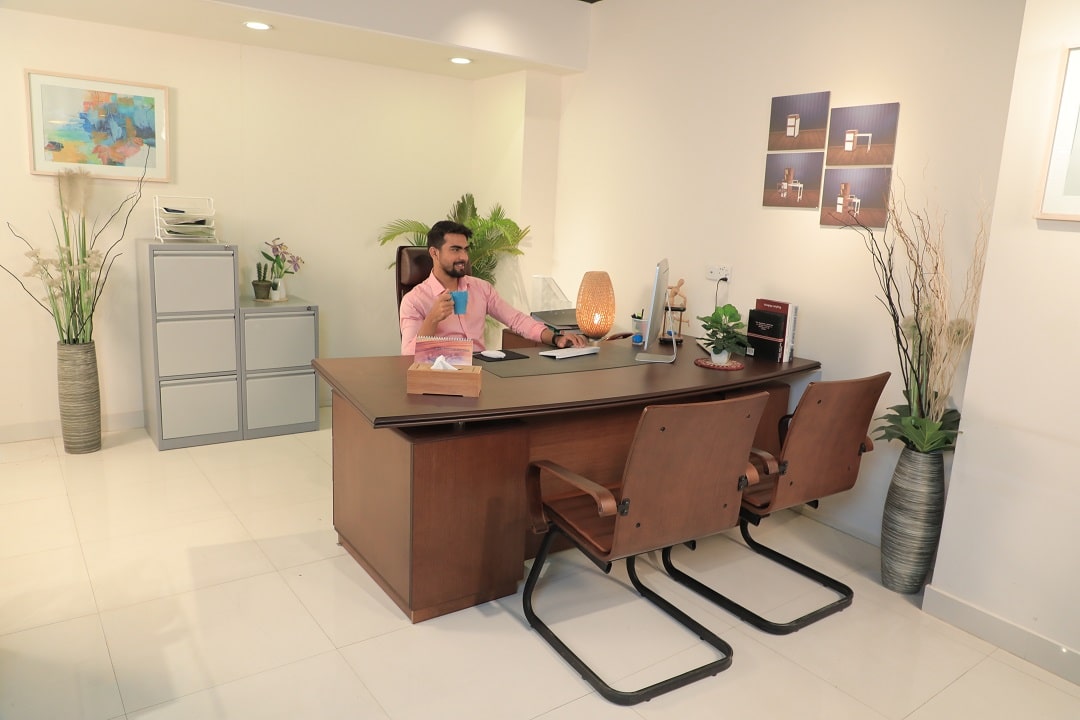 Office Table: HATIL's Office Table Designs
The greatest homes are usually those that have been furnished by the top furniture manufacturer. Hands down to the company HATIL when it comes to distinctiveness, sturdiness, and superior quality furniture, they match all of the consumer's standards, making them the most known among everyone.
HATIL furniture does not create in large quantities; instead, they emphasize quality, ensuring that the opulent objects and designs are crafted with the finest wood under strict supervision. Their sculptures are meticulously created. The superior quality of HATIL's furniture adds value, longevity, and discretion.
HATIL assures that their tables are made with quality materials, with more attention to detail, and under stricter supervision than those made in larger quantities and marketed by other common manufacturers. HATIL's office tables are of greater quality, so it stands out and lasts longer.
Let's talk about HATIL's top office table designs and their pricing.
HATIL's Best 5 Office Table Designs
HATIL Director Table Gerald-133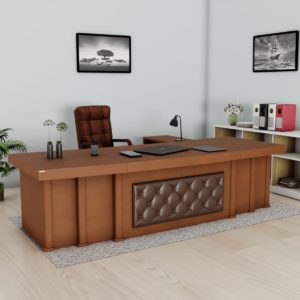 With its simple appearance, this furniture piece promotes serenity and graces your office area or residence. Its presence gives your home or business a sense of individuality and character. Between each of the three hardwood strips is a fabric board. On the left-hand side, there are six drawers and three more on the right.
You have ample room under the table to extend your legs and rest. This simple yet elegant design perfectly reflects your superb taste. Including its revolutionary qualities, this set of furniture was designed to seem stylish and old. It is highly useful in the office and improves your working life.
The Gerald-133 model was built to last, with a wooden structure carved by hand by master artisans from veneered engineered wood and kiln-dried beechwood, and decorated with outstanding quality, internationally supplied metal fittings.
It's made of a high-quality, environmentally safe Polyurethane (PU) Lacquer with a vintage finish. HATIL, is Bangladesh's greatest furniture company, creates its items with intrinsic originality. This piece of furniture is a perfect example.
HATIL Director Table Ezra-108 (R.H.S) (Table with glass = Complete Table)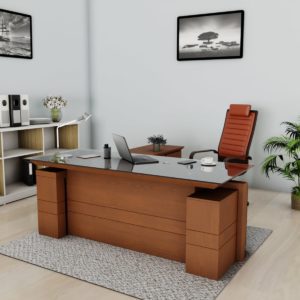 Are you seeking an exquisite desk for your office or perhaps a promotion? Don't worry, you've arrived at the correct location! The Ezra-108 Director Table features an elegant top.
It exudes a sense of sophistication and formality. Sideways etched into the table are two horizontal stripes. Relaxing and working at a table and chair might get monotonous after a while.
There is enough room under the table for you to stretch and rest your feet. You may also place cards and critical paperwork on the glass surface that you needed to glance at on a frequent basis.
This Director Table's general design is ideal for their professional life. It allows them to think effectively, follow commands correctly, and work reasonably while reducing stress.
This interesting set of furniture is HATIL's favorite, Bangladesh's greatest furniture company. This prominent, world-class furniture manufacturer only provides the highest-quality goods. Ezra-108 is a great illustration of its inherent creativity.
HATIL Director Table Antonio-109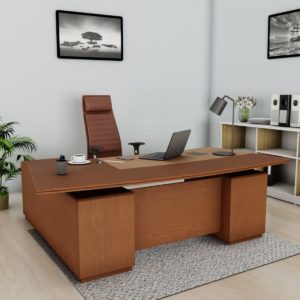 Antonio-109 is the ideal Director Table for you, with its flawless surface and beautiful appearance. The table is formed in the shape of an "L," although the lengthier edge is gently bent.
The table's surface is a flat hardwood block held in place by metal rods. On the right, there is a cabinet that is longer that includes drawers and shelves arranged in a row. The left side of the table has three drawers.
This set of furniture has a striking appearance and is highly practical for your work environment. Within its depth, it gives an example of grandeur, usefulness, and obedience. You may also keep all of your crucial documents secured in the drawers with keys.
There is plenty of room beneath the table for you to stretch and relax your legs as frequently as you want. The construction of this piece of furniture is extremely substantial and solid, indicating that it is intended to last a long period of time.
HATIL Executive Table Byron-135-MFC-(1-4)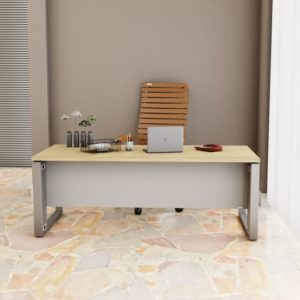 HATIL FURNITURE creates the Byron-135 using top-of-the-line components and a cutting-edge design. This gorgeous executive table offers a great quantity of storage space to organize your belongings and creates office work appear less difficult. It comes in a variety of colors that are ideal for any workplace setting.
For a superior finish, this furniture is created using advanced technology. High-quality melamine-faced particleboard and chrome-plated mild steel are utilized. Using the most up-to-date Japanese CNC equipment, all carving and shaping are done with 99.99% precision.
MIG soldering is also used to provide improved quality and longevity. This sleek executive table will help you reinvent your office's design.
HATIL Conference Table Emerald-107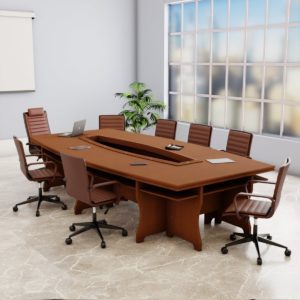 A refined style with a smooth lacquer texture that exudes a vintage feel. This stunning lacquer conference table by HATIL brings appeal and beauty to your office meetings. This ancient yet elegant boardroom table is ideal for maintaining your office's benchmark.
Veneered engineered wood and Kiln-dried imported beech wood make up this stunning item. Because it is constructed of natural materials, the product's quality is guaranteed.
Burnishing is an easy way to get rid of tiny blemishes. The product's endurance is assured by the use of cutting-edge UV technology to create a vintage lacquer surface.
Distinctive Product Portfolio of HATIL
HATIL Furniture has always worked tirelessly on the design of its products to fulfill the needs of its customers, making them Bangladesh's greatest furniture manufacturer.
HATIL furniture has a varied portfolio that matches the desired remodeling of the buyer's residence and office, making them the finest among all.
By adding new goods to their portfolio, they have skillfully highlighted the distinctiveness of their offering. HATIL guarantees that clients' perceptions of their brand are improved. As a result, they maintain a close watch on the design and quality of their handcrafted furniture.