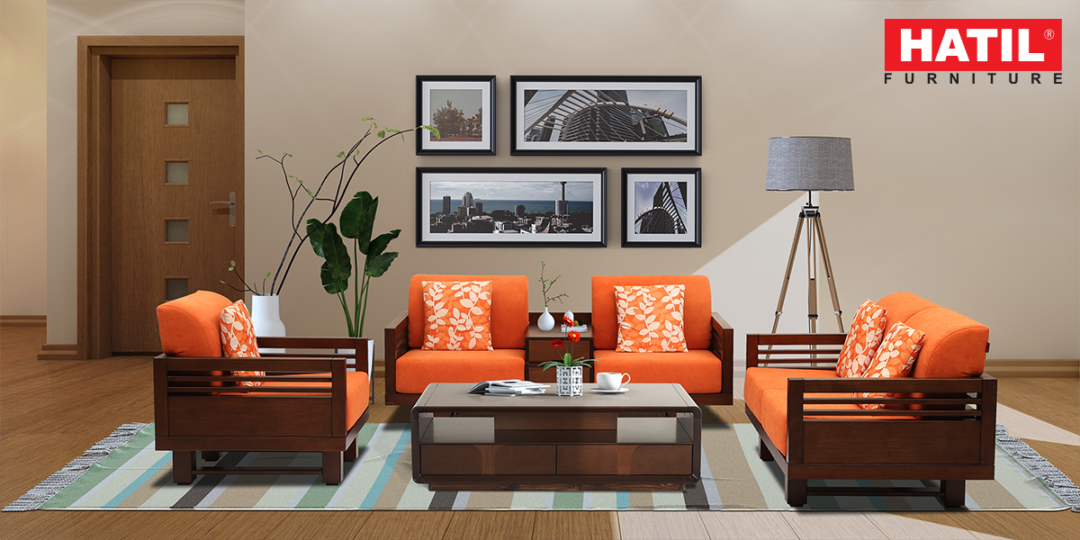 Furniture Ideas for Living Room
Crafting a living room that is luxurious and suitable for your family can save you a lot of trouble for a long time. However, planning furniture ideas for your living room is quite essential before you make your purchases.
Imagine you bought a set of living room furniture only to realize that they do not match the room's designs! Perhaps, the other members of the family complain about the furniture ideas for the living room too. Quite a hassle, don't you think?
Indeed, it is relatively easy to avoid such problems by taking the following steps into account.
The living room is the spot that sets decides the ambience for the rest of your residence's furnishing.
It's also one of the perfect places to examine your sense of designing and aestheticism by checking different colour schemes, layers of patterns and textures, and a great many furniture layouts.
5 Tips for Furniture Ideas for your Living Room
1. Making Plans for Your Living Room Furniture
The first step for furniture ideas for your living room is planning. Often, selecting some new living room furniture items can entirely change your living room area's tone.
You should look for comfortable yet adaptable couches, pedestal or coffee tables, rugs, and other accessories which you deem perfect for you. The furniture should be durable and versatile so that you can use them for quite some time.
2. Plan According to Your Taste
Your living room can be comfortable, pleasing, and have an air of style. On the other hand, you can opt for a minimal and homely look for your living room too. Moreover, it is the perfect space in which you can experiment with your favourite trends, whether it is choosing maximalist art or keeping it bold with wall paint that is metallic as an option.
Start by comprehending your taste and needs. What type of person are you? How to design your living room? What wallpapers, furniture, and so on will meet the requirements of you and the people who share your abode?
3. Take Note of The Room's Size When Purchasing Furniture
That is to ensure that you do not overpower your space with too large pieces and pay attention to traffic flow when you place your furniture. It will be convenient for you to put sofas and chairs close enough so that people can talk to one another without difficulty.
Small tables should be within arm's reach for accessibility. If the room is colossal like those great living rooms in old mansions, allocate multiple seating areas.
Remember that it's essential to pull the furniture away from the wall for a more capacious outlook, even if your room is not as spacious.
4. There Must Be Balance Among the Furniture
You might come to love the stately sofas or a comfy rocker recliner, but do give it careful thought before you buy it. Balance the differences between the large furniture piece and the other furniture.
You have to make sure that you avoid clutter and have enough space to accommodate the piece. Remember that motion furniture requires more room than you might consider.
5. Colour and Designs are Crucial for Your Living Room to Look Great
Sofas and chairs are available in more colours than ever now. If you do not want to take risks, soft neutral colours are the way to go. Soft neutral colours such as generally fit for most wallpapers and floors.
It seems that fashionable colour trends swing from beige to greys and then back again to beige. Moreover, grey is one of the few colours available in warm and cool undertones, allowing it to be introduced into almost any decor.
You can choose a light and airy neutral beige for a more contemporary look. You can even tone down the light colours with a striking contrasting colour like navy to add excitement to your room.
Sticking with neutrals for larger pieces in the place for a timeless look is always a good idea. You can also spice things up with plush upholstery, rich wood, and splashes of coordinating colours and patterns amidst the neutrals.
As for contrasting colour combinations and exotic designs, you can go for more eye-catching pieces of furniture. Custom blue sofas with red or other cushions of vivid colours, or you can go for a velvety upholstered sofa in a daunting shade of raspberry.
At the same time, a turquoise accent chair brings an additional contrast to the seaters. A blue, red, and beige palette can give off a fresh vibe if that is what you are looking forward to.
Varied aspects of blue and burnt orange are likely to make a statement in the living room in a South American style; meanwhile, dark wooden or classic textured furniture may be the optimum fit for an Old Dhaka styled traditional living room.
Conclusion
It is always the best idea to explore furniture brands and see the store that meets your needs. Furniture brands such as HATIL provide many furniture items that you can keep an eye on to decorate your home.
This particular furniture brand also has multifunctional sofas. For instance, you might want to go for seaters that may function as beds or have an extra table that can be pulled from their rear. HATIL representatives are ready to help you select the right pieces for your living room as well. For more ideas, you can consult an interior designer too.