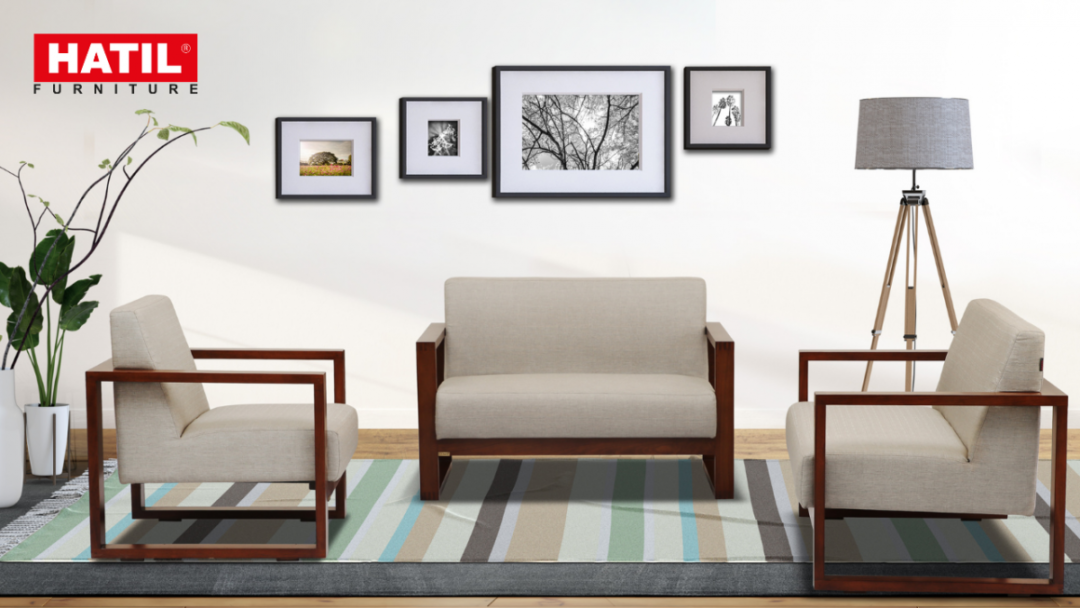 Livingroom Furniture Ideas For Newlyweds In Bangladesh
A house is not a home unless it's your own. And what truly makes a house your own is emotions and memories and we decorate the house with our heart's colors so that those emotions and memories are welcomed easily in our lives. For a new couple, decorating their own house is important since it marks their own journey with a milestone. If you are following our blog, we invite you to explore some ideas of living room furniture ideas for newlyweds in Bangladesh. This is the second part in the series where we will ponder on Livingroom decorations.
The living room or Drawing room should be decorated with boldness. It's one of the first rooms your guests will see and chances are they will sit down and have a cup of tea along with a hearty chat with you; so, it's imperative that the Livingroom is decorated properly. For the newlyweds, we propose a modern look in the Livingroom to match the style of the master bedroom.
Furniture Ideas For Newlyweds In Bangladesh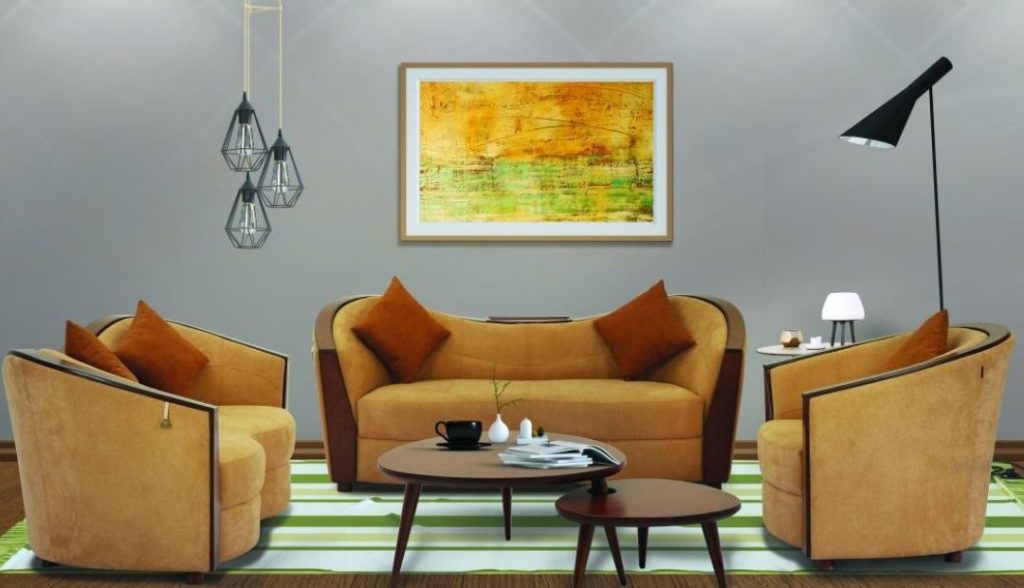 First things first. What you should consider for the Livingroom before everything else is a proper sofa or couch. Pick the sofa with consideration to the size of the room. If you pick a couch that is too big, you will have difficulty moving around the room and that is a very awkward situation around guests. Remember that your sofa will be facing the TV, so ensure that you have space for the TV cabinet while installing the sofa.
Camden-288 from our collection comes with a traditional wooden touch that represents the modern design at the same time. There's also a small built-in table with the armrest of the paired couch. Combine this with Emily-113 for your Tv and you have a decent setup in your Livingroom. This is a safe choice.
But remember how we were asking you to go bold with the decoration? Try Angelina-179 for a change. And there is also a choice for bedroom ideas for newlyweds in Bangladesh.
Olive-264 on the other hand, comes with a much more minimalistic design.  If you are into sleek design, this is the piece to go with. The slender outline of the shapes standout in view, giving it an appealing design that blends well with modern designs. Try Dory-102 for a TV cabinet alongside Olive-264 for a combined slender appearance. If you are not using a rug but want your Livingroom to stand out on its own, you should consider combinations similar to this.This dazzling piece comes with single, double and triple seat. One can arrange them together with a centre table for an eye-catching setup. There are multiple fabric options that you can pick to go with the rest of your room. Take the dark turquoise shade for example. Put some bright wallpapers around the room and this will look like a picture-perfect presentation.
Now that you are considering sofa, let's focus on center tables. A sofa setup is never complete without a center table. While the whole setup will indeed be facing the TV, the center table is the true center of the whole room and this is the place where you can explore different tastes. As we keep saying, you need to introduce colours for a bolder decoration. The center table can be a tempting opportunity to explore different colours.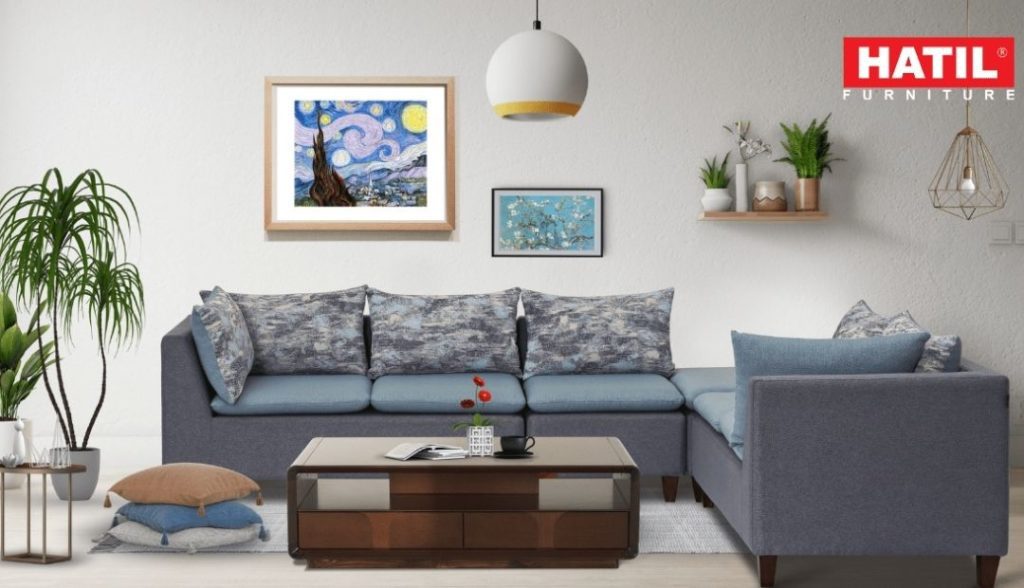 If you like natural colours; putting live flowers on the center table can be a soothing addition. But live flowers will require regular attention and grooming. A colourful rock collection on a glass bowl or a small lamp with soft lights will be more expressive. But the bigger question to keep in mind that if you do choose to explore different options as a showpiece on the table, you need to ensure that the table offers enough space for it. Starling-127 or Jacobin-174 from our collection will offer plenty of space for such decorations.
If you feel like additional pieces on the center table are not after your taste, you can always go with a sleeker and smaller option.  Volga-110 for example; offers a comparatively smaller surface yet the wood-based design blended with the glass surface offers a very smart look. Flicker-150 on the other hand, offers a similar dimension with a more eye-catching design.
To finish the sofa set, add a corner table and you are good to go. Curio-104 is the simpler choice but if you want to match the conspicuous design of Flicker-150, Truman-106 will probably be the better choice.
With the sofa setup, we've covered most of the Livingroom but it will look rather empty if you do not introduce something in the adjacent walls. Family photos or an abstract painting is always a nice touch to compliment the walls. But we recommend a multipurpose shelf to cover up the empty space. It will not only offer a personality to the whole room but add some storage space that you can use to keep your prized showpieces or books. While the Everest-101, which comes in multiple shapes and colours (with and without glass) and offers plenty of space, it will take up some space.
For a slenderer outlook, Ashland-111 or Eros-114 could be your choice. Both offers rather limited storage space but appropriate for showpieces or trophies that you might want to present. But if you truly want to go bold with the design, Ophelia-103 is the ultimate choice. With the diagonal shelves and the whole build of it offers a highly distinguishable look. It's perfect for decorating with your book collection.
Last but not least, install a Shoe Rack in the corner for obvious reasons. Take your pick from Chelsea-103 or Edina-106 or a bunch of others that you can find on our website. Edina-106 comes in two different colours and a very modern arranging outlet that should fit perfectly if you are aiming for that modern and bold setup.
To wrap it all up, if possible, put a rug under the sofa setup. A rug that compliments the furniture will make your room look cohesive and anchor them at the same time. On top of that, it's an opportunity to add more colour schemes in your room.
A Livingroom is the face of your apartment; HATIL will ensure that it's a good one.