HATIL Bed Furniture – Best Designs and Price
A bed is not just a piece of furniture, it basically plays a key role in the house. A key feature of modern furniture is that it is more versatile and practical than ever before. The same is true of modern bed sets today, not only does it give you a comfortable rest but also their sophisticated designs can hold a variety of essential items at the same time and their unique style brings a touch of aesthetics to the room.
HATIL offers you something like this with their great bed designs. Their beds are made of high quality imported wood and high quality hardware fittings. HATIL's bed designs will really impress you and catch your eye at first sight. Here are HATIL's best beds.
HATIL Bed Furniture Prices
1. HATIL Bed Elegant-189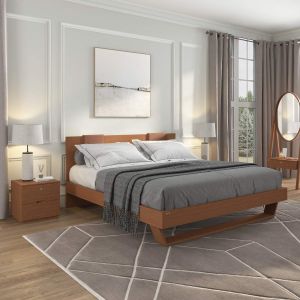 HATIL Bed Elegant-189
The best furniture brand offers HATIL, Elegant-189, which is a nice double bed with a contemporary design. The bed looks stunning at first glance. The fashionable footboard makes the bed quite delicate and perfect.
You spend a lot of time in your bed like at night, sleeping in the morning and lazy in the evening. Your experience in this bed will always be comfortable. The bed is really quite comfortable so at rest, you will enjoy the luxury. You can roll and stretch yourself comfortably at any time.
This modern design bed is available in Super King size, Regular Queen size and Semi Double size. The Super King is a spacious bed and is perfect for two people. But our bed is so wide that two people can sleep comfortably even on a regular queen size.
Excellent finishing touch with Italian grade varnish and use of antique paint makes the bed surface much smoother. Touching the wooden surface of the bed will enchant you. Now, you can think about the price. Do not worry, the price of the bed is really reasonable. You can get Super King, Queen and Semi Double Beds at your budget price.
2. HATIL Bed Nemesis-197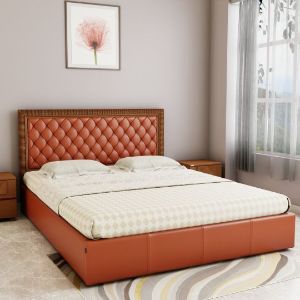 HATIL Bed Nemesis-197
HATIL offers you elegant and efficiently crafted furniture at a reasonable price. Nemesis-197 is a king-size bed that will reduce your stress and help you relax after a long, tiring day. The aesthetic style of the product is sure to impress anyone at first sight!
The bed is made of world class beech wood and supplied engineer wood. High-quality synthetic leather and durable cushioning make this product stand out. Imported hardware fittings make this bed convenient and suitable for indoor use. If you are looking for a modern bed at an affordable price then this is the best pick!
Considering the overall aspect of the product, it may seem like a very high price to you but don't worry, the price of the bed is quite reasonable. This will seem like a great deal to you considering the convenience and unique style of the bed.
3. HATIL Bed Macron -193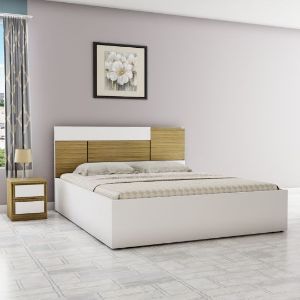 HATIL Bed Macron -193
One of HATIL's Macron 193 is bound to catch your eye, even from a distance, thanks to its asymmetrical headboard. Made with the care of the best furniture company in the country, this bed is made with melamine faced particle board.
The centerpiece of any bedroom is the bed, especially the headboard. This is made possible by the color combination of wood and white panels made by Macron 193. It will really be the centerpiece of your bedroom. This nice combo allows you to combine the bed with exquisite, elegant furniture. The headboard consists of three wooden slabs that have been strategically placed to create an asymmetrical design that will be acceptable to people of all ages and genders.
Built for lovers of modern, sleek furniture, the Macron 193 is one of the bed designs available at HATIL. It was designed keeping in mind the furniture style changes of recent decades and was made for perfection.
4. HATIL Bed Sublime-180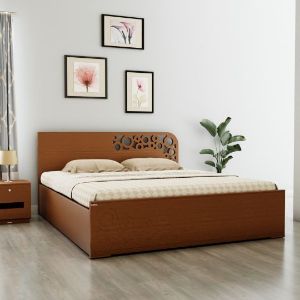 HATIL Bed Sublime-180
A bed is not merely a furniture item. It can be a part of the industry. When you look at the Sublime-180, you will agree with it, which is a double bed of contemporary design and aesthetic value. It is offered by HATIL, the best furniture brand in the country. The subtlety of the design is really eye-catching. Excellent high quality CNC engraving on both headboard and footboard makes it an artistic product.
Since the bed is a resting place and people usually go to sleep, it should be comfortable. Again, a bed involves a person's tastes. So it should be beautiful. With that in mind, HATIL has designed the bed with modernity. Therefore, the bed looks very delicate at first glance as well as very comfortable. You can sleep and rest in it without tension. With Sublime-180 you will find the best place at home to rest.
It has an intelligent feature, that is, additional storage is also available under the bed. You can choose between hydraulic and manual storage systems.
The bed is available in almost all sizes, both King and Queen. It is a high quality furniture made from imported wood. The lacquer finish and antique color enhance the beauty of the product. But the price of the bed is affordable. King size regulars are available at relatively cheap prices. If you want to get this product with hydraulic and manual storage, it will add some cost.
5. HATIL Bed Epiphany-115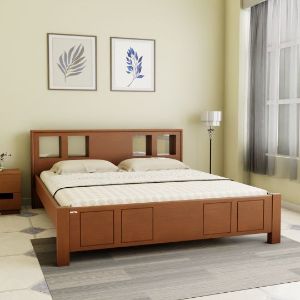 HATIL Bed Epiphany-115
Made in HATIL, these beds come in seven different sizes and storage options. Epiphany-115 contains more simple and sophisticated style than ordinary bed design. Storage options are smartly designed and can be used to store essentials. The bed can help you keep the various items in your bedroom organized. The bed comes in King, Queen and Semi Double sizes.
It is made with ebb-dried beech wood, veneered engineered wood and veneered MDF. It has an Italian UV varnish finish in antique colors. This modern design bed is strong and durable. It can be easily used in your bedroom for many years without any problem.
The great thing is that the bed comes with a fair price despite being very practical. King Size Regular is available at a relatively reasonable price. If you want to get this product with hydraulic and manual storage, it will add some cost.
The Popularity of HATIL
HATIL has built a reputation for their latest thinking, sophisticated style of furniture and affordable prices that have made them the best furniture brand in Bangladesh. Most customers are happy with HATIL's excellent furniture quality and originality in design, which helped HATIL to dominate the furniture business from the forefront.
HATIL Furniture is using the most well-known Japanese corporate quality management concept called "Kaizen" to provide the highest possible quality for its customers in order to provide maximum benefits to their customers.
Conclusion
The most popular furniture companies are usually the ones that come up with something customer-centric and always innovative. So, HATIL maintains its pace with the changing trend and today it has become a leading brand in the furniture industry. At the same time, it has captured the international market in a lucrative way, making it one of the most popular furniture companies in Bangladesh.
HATIL Furniture does not rely on discounts to increase their sales or any other promotional activities. They have successfully gained a reputation through their efficient marketing activities and have become one of the most popular furniture companies in the industry.