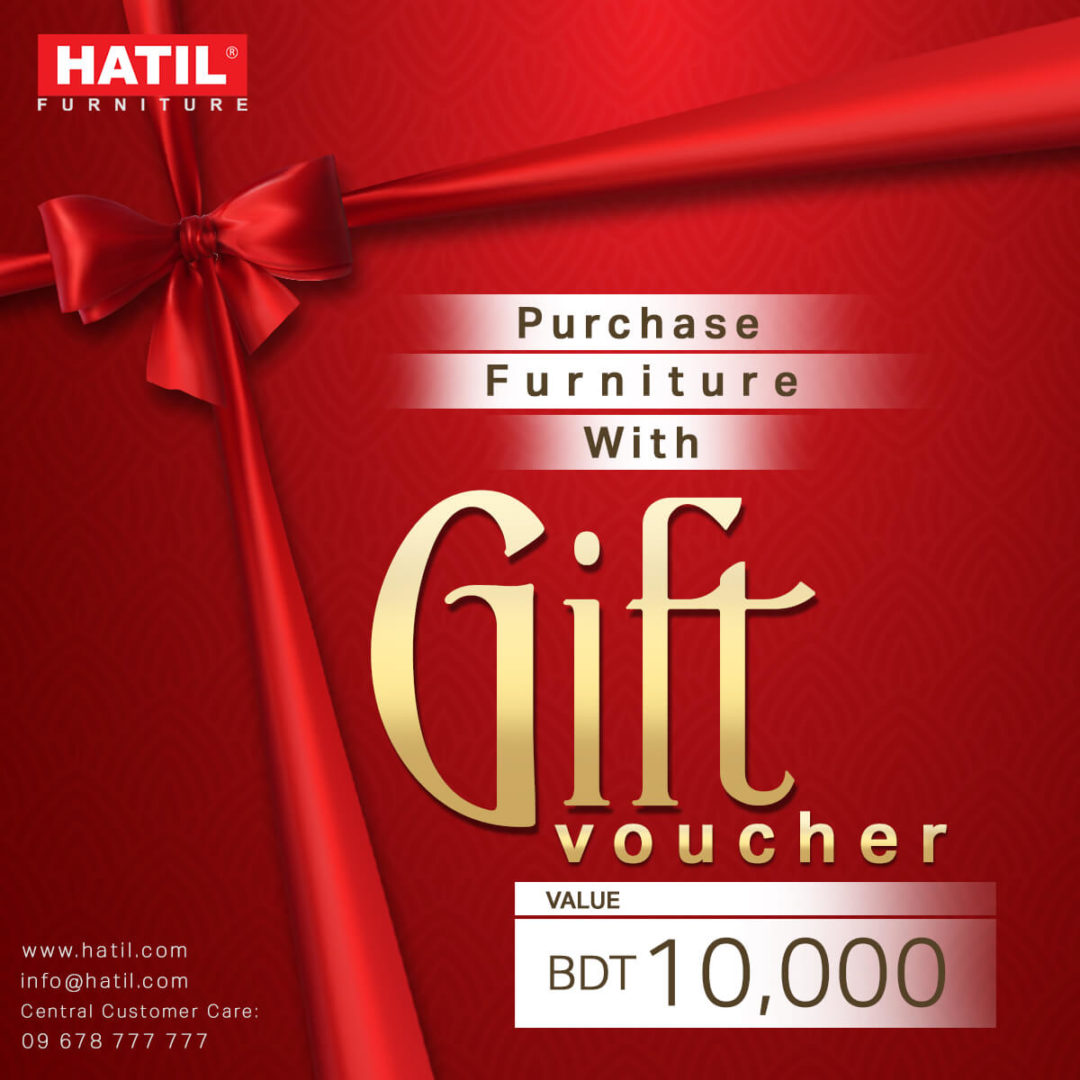 HATIL's new gift voucher : For best utilization, for pleasant reminiscent
Rafiquzzaman Khan has been quite indecisive for the last few days. His colleague, Shubrata Saha's daughter, Sheela is going to be married next week. Khan and Saha are considered best friends in their office. They have been working together since the joining day. As a consequence, Mr. Rafiq wants to give Sheela something as a gift which she can use on her own and remember it as a thoughtful present. His budget for this gift is limited too. That's why he became a little anxious about it.
Rafiquzzaman was searching online what to give as a gift too. His son makes him check out HATIL's newly launched gift vouchers. But Rafiq's wife is very skeptical about the gift. Gift vouchers as wedding gifts are not precisely customary.
Though gift vouchers aren't traditional as gifts, they are very convenient and remarkable for the gifted person. Sheela will be able to purchase as she needs. Rafiq's wife becomes convinced after knowing the usefulness and uniqueness of the gift voucher. Also HATIL's gift voucher is within their budget.
Gift vouchers are basically equivalent to a certain amount of money by which the recipients can exchange it with products. Bedsheets, crockery items i.e. dinner set, mug set and daily necessities are very common gifts in weddings. Most of them are unusable for the newlyweds. Like give a thought of what they will do with 15 dinner sets. Gift voucher's functionality is here that the gifted person can get their desired product by exchanging it. In Rafiquzzaman's consequence, he doesn't know exactly which furniture even Sheela needs. For being an unconventional gift, it will be surprising and memorable for the newlyweds.
If you're also wishing to avoid the trouble of buying conventional gifts in this wedding season, HATIL's gift voucher can be the best pick.

Today we're with all the necessary information and inquiries about the new gift voucher of HATIL.
Important information to know
HATIL's new gift voucher can be availed on 10000 BDT each. You can gift this to your favourite one so that they will be able to purchase furniture from any showroom of HATIL to redeem the existing value of the gift voucher. For example, if they want to buy furniture worth more than 10000 BDT, they need to pay only the rest. If they have numerous gift vouchers, they can spend them all. A gift voucher is valued 10000 BDT, so it will be calculated by multiplying the quantity of gift vouchers and the amount is to be deducted from the total price of the product(s).
Moreover, if your chosen product costs 10000 BDT, you can buy it just with the voucher. In this situation, you will not be charged any further. Additionally, in case of purchasing a product valued less than 10,000 BDT, you won't have to pay any extra too.The gift voucher will be accepted as payment. However, you will not be reimbursed for the remaining funds this time.The gift vouchers are valid for single transaction only.
You can get the gift voucher from any HATIL showroom. But keeping in mind that, the gift voucher is valid until Four months from the date of issuance. It won't be accepted in any showroom if the four months period expires.
Be careful of
If you wish to utilize the voucher while purchasing furniture from any showroom of HATIL, you must have the voucher card with you. Each voucher card bears a scratch number. This scratch number must be kept intact. Only salesmen in the showroom can scratch out this number when purchasing vouchers. It should be remembered that no voucher card will be usable unless the scratch number on the card is intact. If you have any query regarding the gift voucher, you can contact HATIL's hotline number : 09678 777 777. There is another option- messenger chat box. You can easily reach it through HATIL's website.
HATIL, as a rapidly growing worldwide furniture company, strives to provide the best possible service to its consumers. Customers are equally enthusiastic to purchase HATIL's latest collection. As a result, this HATIL gift voucher can be considered a smart option for what to offer as a gift at weddings or other occasions.