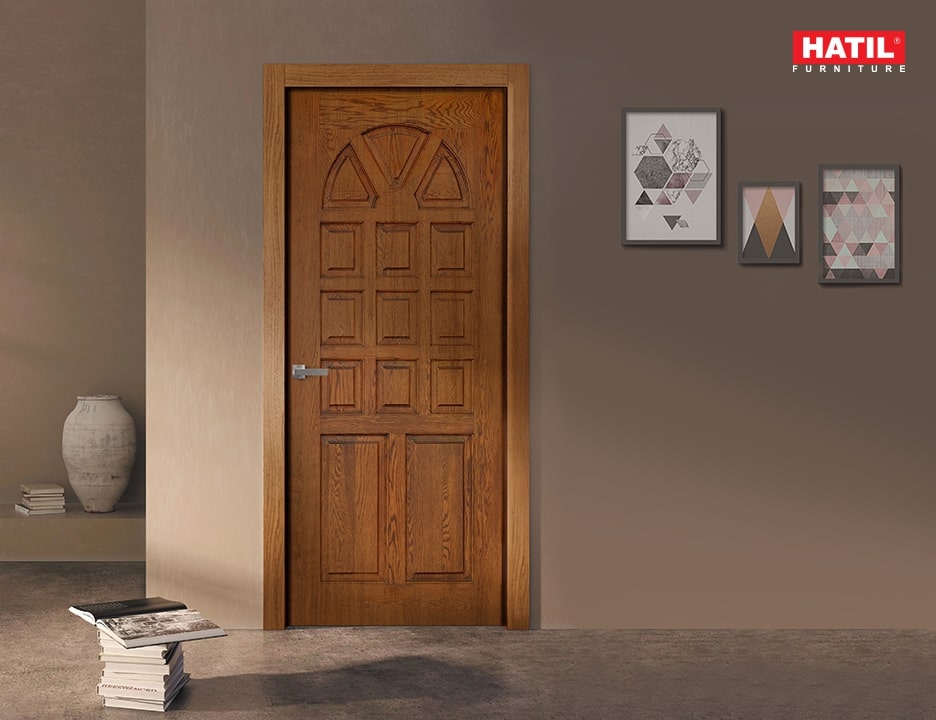 Knocking on the Door
Doors give meaning to privacy and define the concept of a room. It allows us to reduce noise and integrate beauty & style. A door is also the welcoming point to a home or room.
Thus, choosing the right doors is essential when you are trying to create the perfect interior, pleasantly gratify those who enter and also pull off a stunning look for your home sweet home.
Whether you want light to flood through the area, or break up the design with some interesting textures, your choice of door will be one of the most important decisions you will make.
There are innumerable door options to choose from and thus, it becomes really difficult to make the final decision. But, doors come in different styles that are mainly based on their functionality.
So, choosing the right door style that can elevate your home's beauty alongside making it efficient is really important. This guide will walk you through the different types of doors for your home so you can find the one that suits your décor as each has its benefits and disadvantages, depending on where you want to use them
When it comes to Bangladeshi houses, wooden doors are the most classic and popular choice. These types of wooden doors have been around for generations. Wood has been the material of choice for both exterior and interior doors of houses.
As it is very easy to paint and make various creative textures on them, they can adapt to the décor beautifully. In terms of durability and longevity, wooden doors are an amazing choice. But, it's essential to choose the right kind of wood at the time of its production to assure the quality.
Let's look into some of the trendy wooden door from one of the finest furniture brands in our country, Hatil.
Type of HATIL Doors
1. Solid Wooden Door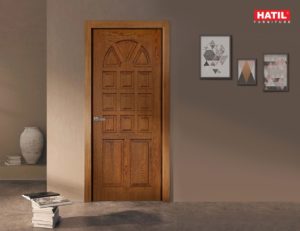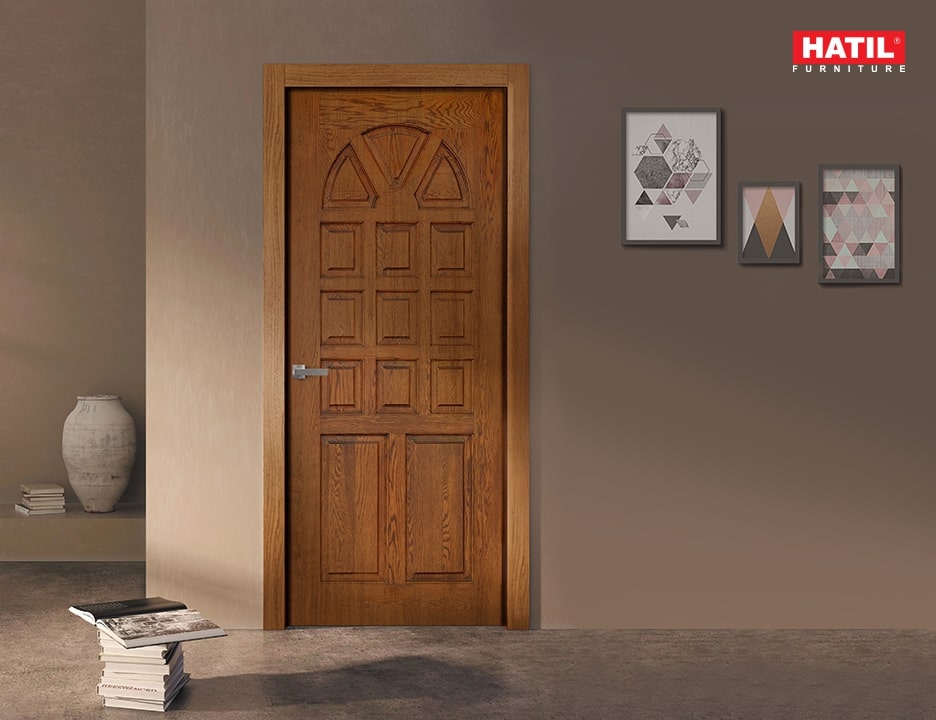 Solid Wooden Doors- the Most Popular Door in Bangladeshi Houses

Solid wooden doors are one of the most popular and commonly seen doors in houses of Bangladesh. These are made of red oak wood & beech wood which can be summed up in two words: durable & beautiful. Even though oak & beech woods are a bit expensive, the quality is worthwhile.
They make for the perfect entry doors, interior doors and exterior doors as it consists of a close grain, rich color and sturdy structure. It easily holds up against glue, nails, hardware and stains which make this a reliable choice too.
What makes a solid wooden door so appealing to many homeowners is how aesthetically appealing it is to the eye. It makes for gorgeous wood doors that are sure to satisfy your home's needs. All in all, it has the right balance of classic finishing and maximum functionality and that's why people acclaim this type to be the best in the market.
2. Glass Door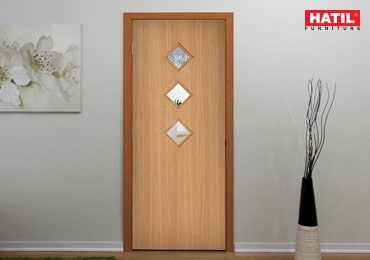 Glass Doors: Epitome of Craftsmanship & Aesthetics

The key feature of glass doors is the beautifully studded glasses in solid wood or veneered doors. It adds an extra and really amps up the style. But, the difference lies in the case of exterior and interior doors.
In the case of exterior doors, insulated glass is used whereas non-insulated glass is used in the interior ones. However, you need to ensure privacy with curtains or sanding the glass regardless of its type.
Multiple types of glass designs can be applied to go with your imagination. Tempered glass design is one of the most classic ones out there.
Pattern glass designs can look really sleek & clean because of its ways of integrating art in some geometric shapes. But, if you are someone who is deeply into art, stained glass design is the best choice for you.
Craftsmanship goes a long way and sets your house apart from others installing solid wooden glass doors or veneered glass doors at your lovely house.
But, it is suggested that professional manufacturers such as HATIL are to be chosen to make or buy these types of doors if you are looking for quality, aesthetics and the highest functionality.
3. Veneered Flush Door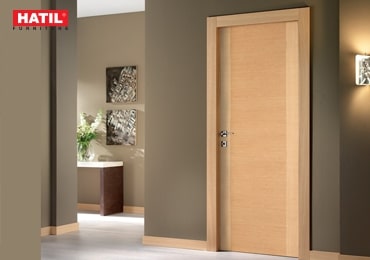 Veneered Flush Door: Budget Friendly & Top Quality
A veneer flush door is a cost-effective design that provides the same texture and appearance as solid wood doors.
But, it is made of thin layers of wood that can meet the specifications unlike solid wood ones. It is also made from lightweight materials, making them an excellent option for easy installation.
They are excellent choices for bathroom doors, toilet doors or utility rooms indoors. Apart from customer benefits, if you are someone conscious about the environment, veneer flush doors are a great substitute to the classic ones as thinner sheets of wood are used to make them which doesn't require you to cut off a whole tree.
Thus, the same log can create more doors than before and keep contributing to conserving mother nature.
Among multiple types of veneer flush doors, plain and decorative ones are top in the market. Plain veneered flush doors are renowned for the clean & minimal finishing whereas, decorative ones cater to the creative minds. All in all, in terms of cost-efficiency & quality, veneered flush doors are a really convenient choice.
Choosing the right door for your beautiful home depends on many factors. Find out which one really protects your privacy in a room, gives you maximum functionality, overall aesthetics etc. and you will be set with the ideal door for every room in your house.