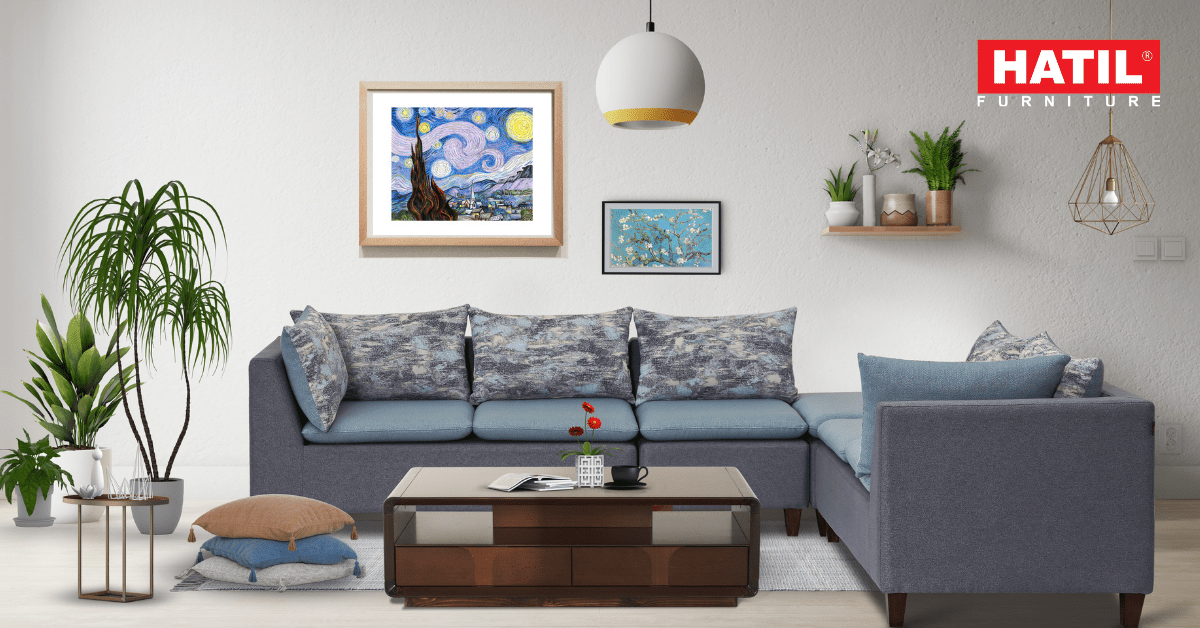 7 Things To Consider Before Choosing The Best L-Shaped Sofa
A good-looking wonderful sofa makes the main impression of your home to the outsiders since it is the central attraction of your living room. After passing a busy day, it can be the most peaceful feeling for you to reclining on a cozy and comfortable sofa and passing a lazy time watching TV or reading some magazines and taking some snacks. A comfortable L-shaped sofa can be the best choice for you to reclining on. It is not only comfy seating but also, soothes you to your sweet dreams in your living room.
Choosing the best L-shaped sofa for your living room can be confusing while a wide range of options are available and you may choose one that can perfectly match with your living room décor.
Once we buy a sofa set, it gets used a lot, in fact, the most!
You may decide to take small naps on your sofa. Almost everything you want you can do on your sofa. You can have a very convenient sleep, eat, watch TV, and sit on a sofa!
It is also a matter of fact; a sofa is the greatest investment for your living room in the name of furniture that you could ever make! So don't go for low-quality material for your sofa. You are going to purchase the main beauty of your living room, which would last for decades.
7 things before choosing the best L-shaped sofa
While you are choosing an L-shaped sofa you must be choosing it for some reason, such as where and how you are going to use it and which style would be the perfect fit for your room.  So some important factors you need to make sure of before choosing the best L-shaped sofa. You won't like to waste your money on a sofa that is just not appropriate for you.
So you may consider the following 7 things before choosing the best L shape sofa for you.
1. Consider your budget
Buying a sofa is a big amount of your budget though; you can get the best quality furniture piece on a good budget as well. You just need to find where to look and from where you can get the high-quality sofa for you. HATIL is a leading furniture company in Bangladesh and you can find your dream furniture from there.  You can find lots of reasonable options available for you without compromising on the quality and the appearance of the furniture. Shopping online is the best way to pick the best deals. Ordering online is quite easy and simple.
If you think you want to touch and feel the coziness of your sofa before investing, then buying from the showroom can be the best option for you. The showrooms offer amazing deals during various festive times.
2. Consider the room space and the interior
The most essential thing is to understand the room space in which you plan to place your new L-shaped sofa and at the same time, the interiors of the room are equally important.
If you want your house to look perfect you must need all the belongings to balance each other. Maybe you have chosen some modern furniture for your bedroom and dining room then you must go for some same characteristics while choosing your living room furniture.
If you like something traditional and stylish for your living room then you may like some wooden sofa or some warm-colored fabric sofa. The beige, grey, and brown colors are pretty popular with little variations.
3. Measure the sofa size and the available space for your L shaped sofa
When you are thinking to find a best L-shaped sofa for your home, it is a majorly important thing to consider the size of your room and the size of your doors by which you are supposed to bring your most preferential sofa in. Just think once, what if you have invested a whole amount on the best kind of a huge sized sofa, and it doesn't fit with your narrow entrance. Obviously, you won't break your door to bring the sofa in. In that case you may ask for an exchange. HATIL provides you both return and exchange facilities to the clients. HATIL is one of the leading furniture brands in Bangladesh.
4. Different types of L shaped Sofa
There are huge shapes and types of L-shaped sofa set available out there; it does not mean that you just pick one that fits your choice and budget. You must think about the purchasing reasons such as how many people can accommodate there. You might need a large-type L-shaped sofa that comes with the 3-seater or you may want to buy a small L-shaped sofa for the smallest corner of your bedroom or living room.
If you want a trendy L-shaped sofa you may like a sofa with a divan plus a 3-seater L-shaped sofa, which is very elegant.
Just imagine, a recliner sofa in a traditionally themed living room. It looks odd and doesn't suit the place. So, think twice about the theme of your living room and consider all the other furniture in the room so that you choose something that can easily be matched with them.
5. Decide where to buy, online or a window-shopping
When you directly go to the showroom to buy a new L-shaped sofa set, it is not a problem, because you can observe the sofa very closely and it is undoubtedly visualized and see whether the right side corner sofa is suitable for your living or you need a left side corner sofa. But if you are ordering it online, then watch out, otherwise, you can make a mistake if you do not check properly the features, description, and dimension of the furniture you want to buy and the room.
6. Choose the best sofa materials and durability
You are investing in and choosing the best sofa. So you want the best materials and the most durable sofa for long term uses.
The cool, trendy, and pretty patterns might look attention-grabbing, but you just make sure that the one you are choosing assure to look the best in the long run. If you live in a cold region the leather sofa can give you the chill feeling, which is more uncomfortable, but if you don't then a leather sofa can be the best option for you because of the easiness in cleaning and the elegance. So, you must have a check on the material before choosing the L-shaped corner sofa.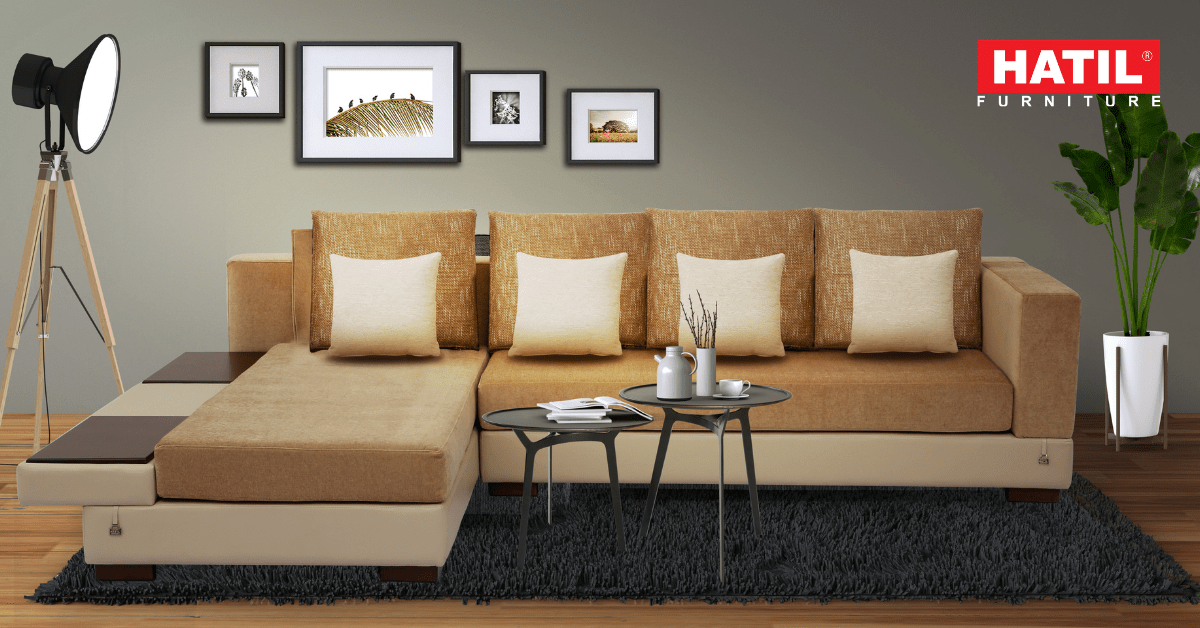 7. Consider the fabrics
The unchanging unique designs are the perfect choice because they can never look out of fashion. You may prefer a leather sofa or rexine sofa for your L-shaped sofa set. You may like a fabric that easy to clean.
What fabric suits you, you can bring a small cut piece of that material to your home to check with the appropriate light, how it looks with your room décor. A good-looking living room and the perfect buying decision can give you 100 percent satisfaction.
Some people can be allergic to specific materials. While you are buying a sofa, be very clear about the sofa material that is not allergic to any of your family members.
Finally, I hope after reading this, you have got a clear idea about which type of L-shaped sofa would be the best choice for your living room. You can easily choose your desired best l-shaped sofa designs from Hatil because they have a large collection of sofas.