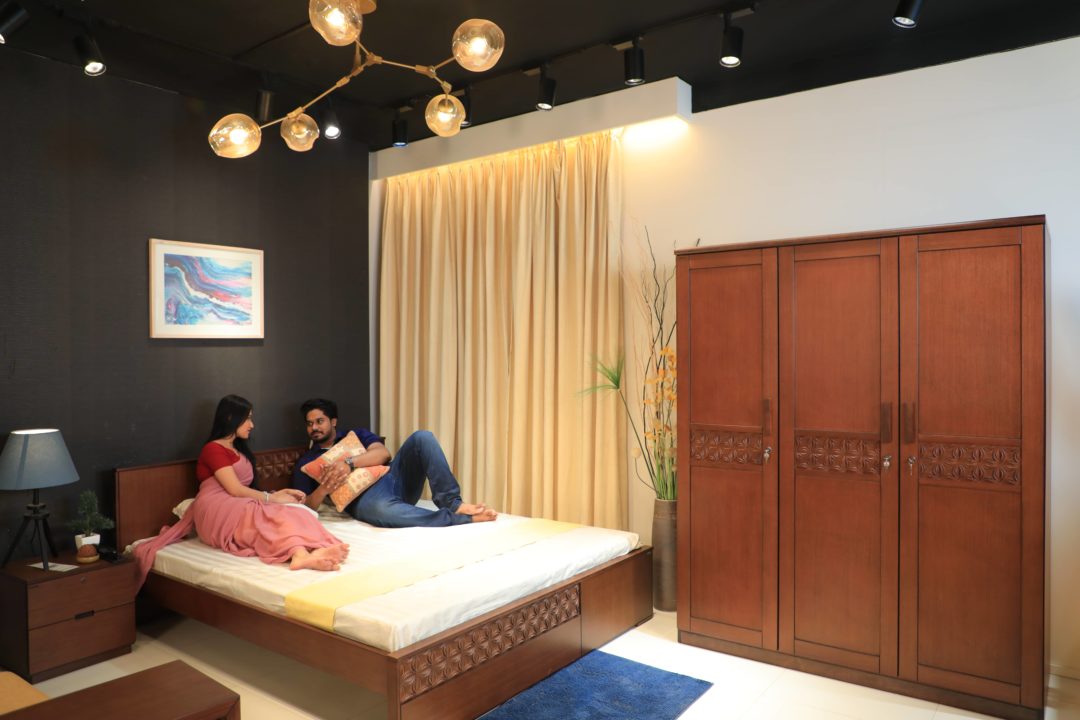 Budget Furniture for newlyweds
Turning some empty rooms into something warm and cozy called "home" requires a lot of work. Most of this work is put into choosing the right kind of furniture. Despite the excitement of creating a new home with a loved one, it can be stressful. The whole furnishing has to match with both the partners' taste as well as being cost-efficient.
Purchasing furniture involves a lot of planning. Hence, there should be a list that includes a specific budget, the must-haves, color palette, measurements for the furniture etc. However, this list should prioritize the must-haves. The list of essential furniture should include a comfortable bed or mattress, a dining room table, a closet or wardrobe, a couch, and some decorative materials to bring out the owners' personality.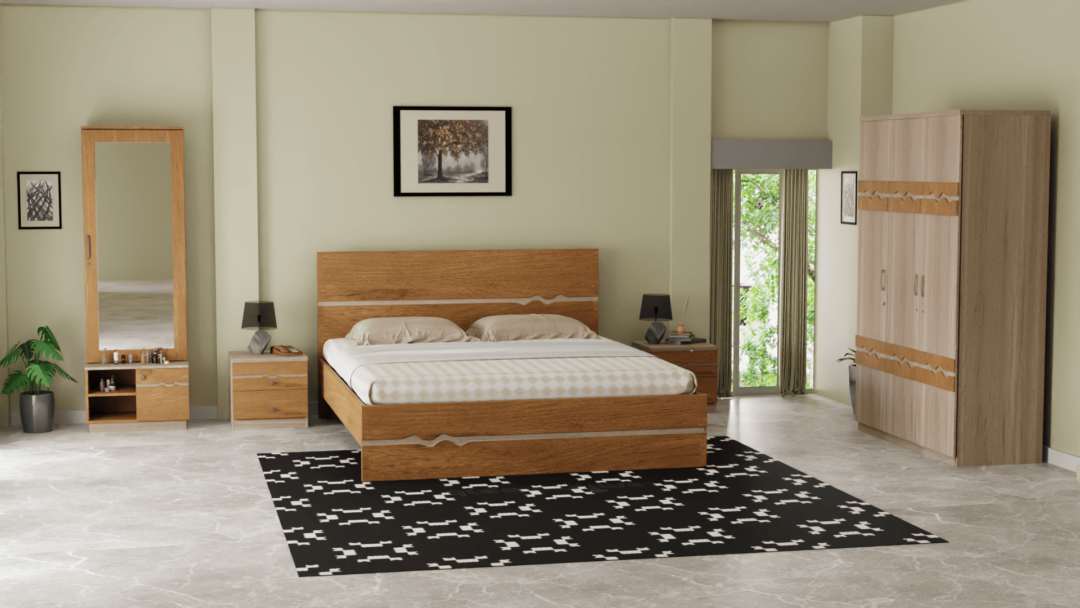 A stellar combo of  Parsley-201 bed, a Rosemary-156 dressing table, and a Sumatra-184 wardrobe in your bedroom.
A home, even if it is new, should be able to provide enough comfort and coziness. For this reason, furnishing the bedroom with homely yet chic aesthetics is a necessity. To help choose a distinctive style at a budget-friendly price Hatil offers a diverse collection. For instance, Cypress-202, Parsley-201, Angelica-183, Sumatra-184, Spearmint-134, Sorrel-135, etc can be included in the list of must-haves. To get a good night's sleep and be energized for the next day comfy beds are essential. Cypress-202 and  Parsley-201 are both bed sets that can be easily bought within 25,000 BDT in both king and queen sizes. With these beds, sleek design Sorrel-135 and Spearmint-134 bedside tables go well. Both these bedside tables can be bought within 5,000 BDT to 6,000 BDT. Angelica-183 and Sumatra-184, sophisticated wardrobes have a price ranging from 30,000 BDT to 60,000 BDT. However, the prices of every piece of furniture can vary depending on changes in size, fabric, material, color, etc.
The best combination in your bedroom would be a Parsley-201 bed, a Rosemary-156 dressing table, and a Sumatra-184 wardrobe. 
As a newlyweds' home tends to be smaller, multipurpose furniture can be ideal. While giving priority to quality over quantity, this type of furniture focuses more on functionality. SmartFit furniture concentrates on the tactility and longevity of the product making it timeless as well. It can save the space of more than one piece of furniture as well giving a minimalist outlook to the decor. Multipurpose furniture offers simple, uncluttered with a hint of aesthetic visuals. Smartfit furniture prioritizes a sleek and stress-free energy-saving outlook.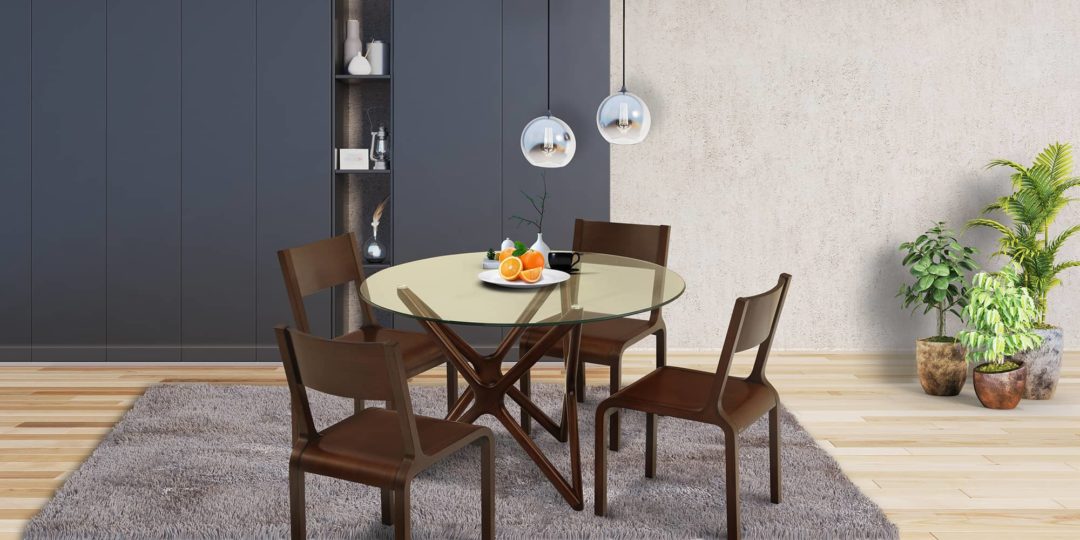 Fairmont-117 and Danville-104 
For minimalist decor, Hatil offers a variety of budget-friendly SmartFit furniture. To create a cozy yet chic ambiance Hatil offers furniture like Sesame-101, and Yogurt-101, Fairmont-117 and Danville-104, Cappuccino-105, and Espresso-105, etc. For dining space, Seasame-101 and Yogurt-101 (4 Chairs and 1 Table) can be the most reasonable choice for the newlyweds. This not only saves up space but also the multipurposeness can make lives easier. It is a dining table set that can be folded into a cabinet. To be more precise, the cabinet is set up on the wall that comes with a table and four chairs. Usually, heavy designer tables or tables with 6 to 8 chairs are less demanding among newlyweds. As the dining table is foldable, it saves a lot of space while making the room look clutter-free. All the necessary utensils required for dining can be put into the cabinet and be closed off presenting a clean look as well. Hence, this type of furniture is more suitable.  For a much smaller dining set, you can readily go for Fairmont-117 and Danville-104 (4 Chairs and 1 Table with 1 NTM Glass).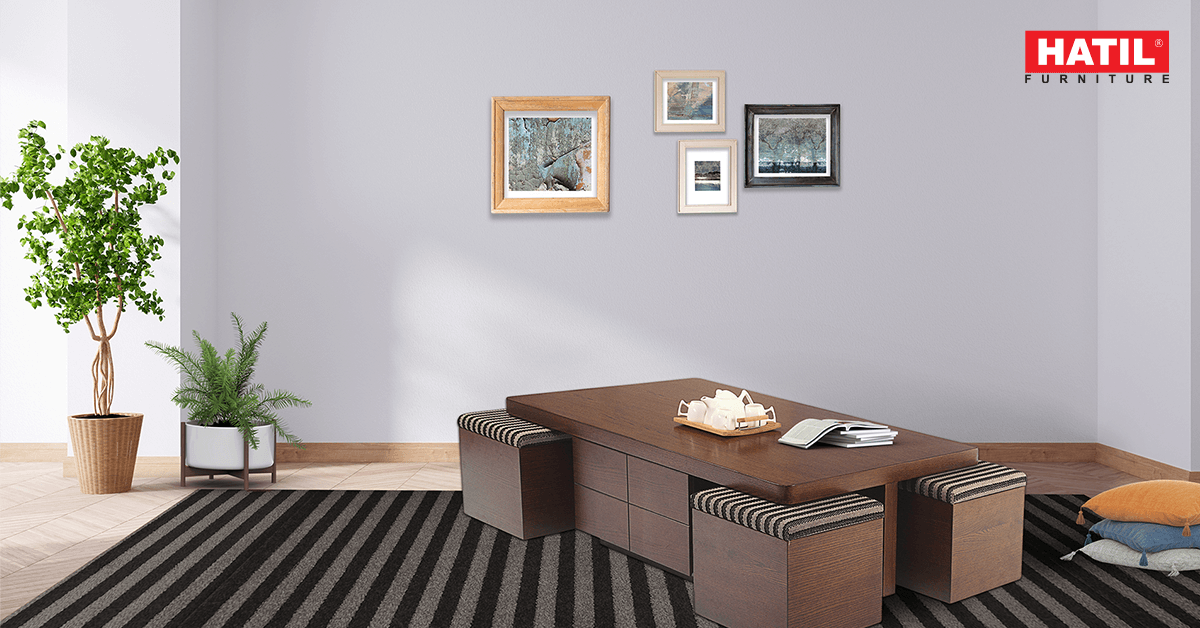 Cappuccino-105
SmartFit furniture can boost productivity as they are easier to clean up. Cappuccino-105 and Espresso-105 serve as a four-seater center table. The user can easily slide the seats inside the table so that they don't require extra space. They can also buy a multipurpose sofa easily such as Melon-260. The price range starts from 50,000 BDT to 65,000 BDT depending on their size, materials, functions, and customization. Nonetheless, this type of furniture is multi-purpose with a space-conservation quality, the cost seems budget-friendly for newlyweds. SmartFit furniture helps give off an effortless sophistication to the outlook of the home.    
Friends and family tend to visit with housewarming gifts in a newlyweds' home. Therefore, the living room must have a statement sofa set to greet them properly. Moreover, to enjoy a weekend with "Netflix and chill", having a comfortable couch in the living room is a must as well. A cost-effective comfortable yet chic statement couch set can bring out the whole house's character. 
Hatil provides sofa sets in variety. Depending on the size, color, functionality, etc the price can vary from 20,000 BDT to 80,000 BDT. Most of these sets are comfortable. However, if there is a possibility of frequent visits from guests then the SmartFit section is more suitable.  The SmartFit section offers sofa sets with multipurpose at a variety in the price range as well. The range can go from 25,000 BDT to 90,000 BDT. Thus, the newlyweds should be aware of their necessities and circumstances while choosing furniture. 
Decoratives are essential to bring out the owners' personality and give a personal touch. For instance, displaying family photos or mementos from trips. A shared hobby can be useful in this case as well. If the newlyweds like to read books, organizing the showcase or open shelves with books by favorite authors can bring out a different aesthetic. Hatil offers versatile shelves for both books and showpieces. The minimal yet elegant shelf price in Hatil can vary depending on the length, functionality, color, etc. Usually, the price is within 20,000 BDT to 65,000 BDT.  Therefore, the price is near at hand.  
Creating a new home is a long-term commitment. Blending both the partners' individualistic style and making the space ideal for a living requires a lot of planning and hard work. Instead of buying any cost-efficient furniture that comes up first, researching the qualities, price range and deciding on a specific style is crucial for furnishing. To achieve this purpose, investing in the right furnishing is a must.