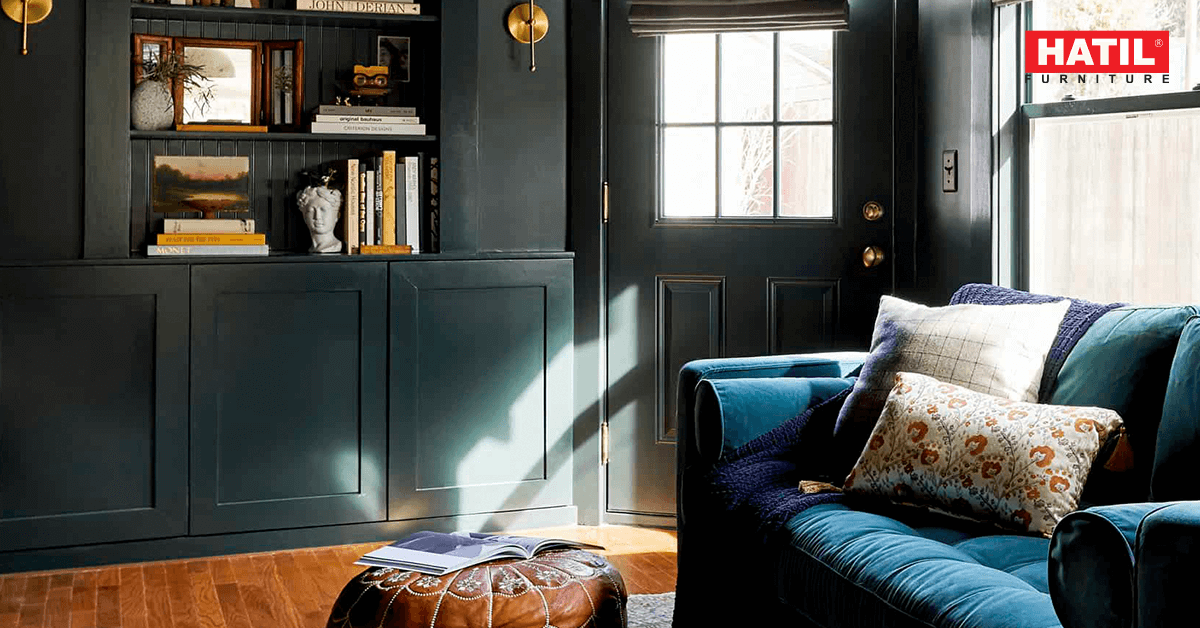 Decorate Your Room Like Your Favourite Fictional Character
When I was a little girl, pre-schooler to be specific, I wanted to live in a pink Barbie themed doll-house. Once I grew up a little and realised that doll-houses were not that feasible in real life, I wanted to at least have a Disney princess themed room. My obsession with princesses and fairies was easily replaced by Harry Potter in high school and by F.R.I.E.N.D.S in college. While I kept getting older and my obsession with fictional characters kept evolving, my dream of having a themed room in my house stayed with me. 
If you're someone who has dreamt about having your own themed room but didn't quite go for it because it seemed too complicated and overwhelming, then you're not alone. Decorating a themed room can be a little tricky and expensive at times. But with the right planning and design ideas, you can easily create your dream room without spending a fortune. In today's blog, we are listing down some of the most beloved characters of all time and what their themed rooms could look like. 
Harry Potter
Harry Potter was a big part of every child's life during the '90s to early '00s. This series left such a great influence on its fans, that almost every other potterhead kid grew up wanting to have a Hogwarts styled room of their own. Since the aesthetics of Hogwarts houses can be adapted in both colorful and bright, and dark and mysterious ways, a Harry Potter inspired room can work out perfectly for kids and adults both. 
You can go with one of the four colours of the Hogwarts Houses- red, green, yellow or blue as the base color for your room. For example- for a Ravenclaw themed room, you can paint the walls blue and add white accessories to other furniture of the room to create a contrast. You could also take the opposite route by keeping the walls white and adding blue in accessories like curtains, sofas, bedsheets, rugs etc. 
Traditional dark liquor finish furniture would go perfectly with the dark academia aesthetic of Hogwarts. You could also add string lights and radium moon and stars on the ceiling of your room to incorporate that magical vibe of Hogwarts.
 You can also work with a mix of all the four colours. In that case, you can keep the walls white and hang the flags, posters and props of your favourite houses.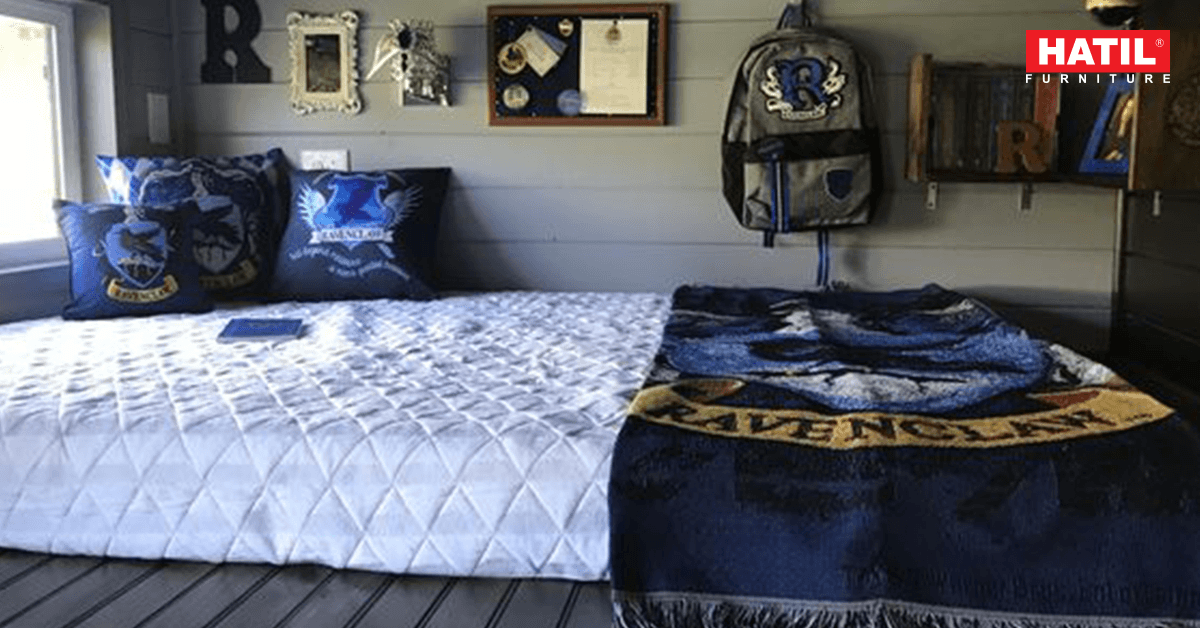 Dark blue themed room inspired by Ravenclaw house from Harry Potter.
Feluda
A Feluda inspired room is more on the simpler side. In this case, the walls could be white or off-white paired with white or light coloured curtains. You can create a statement wall by decorating a plain white wall with Feluda posters and artworks. There could be a traditional wooden bookshelf like Rossini-128 in one corner of the room along with a reading table and chair. Antique lamp shades could be used to light up the space. Brown or neutral coloured rugs and cushions can be used to decorate the room.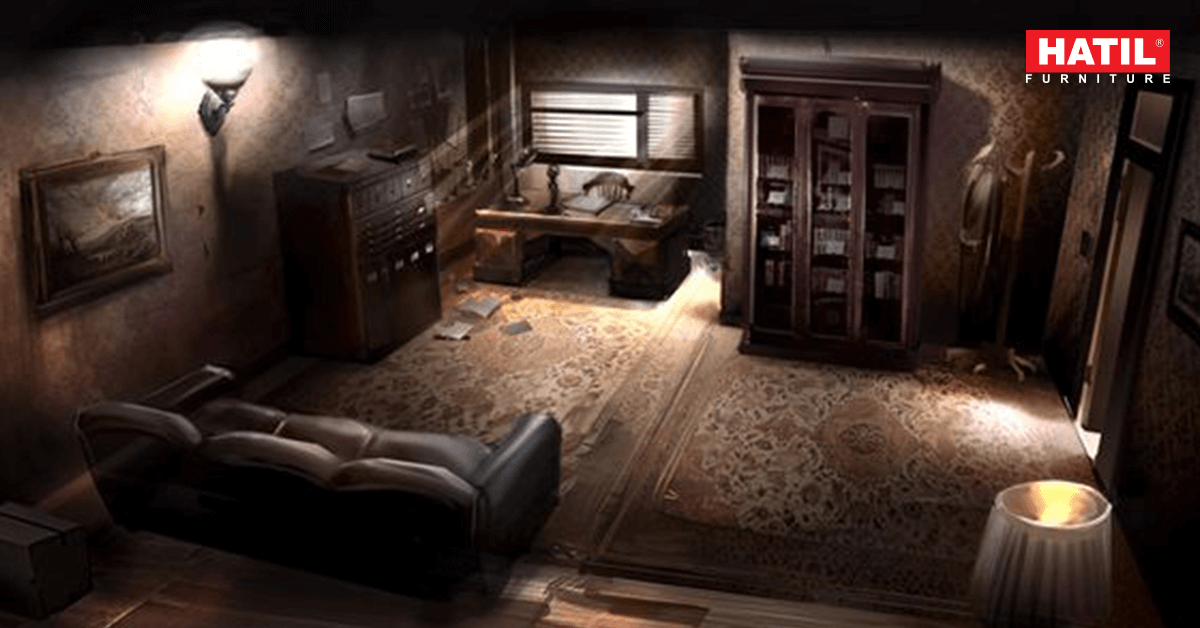 A Feluda inspired study or home office could look something like this.
Phoebe Buffay (F.R.I.E.N.D.S)
For someone who's as quirky as Phoebe, the room needs to be full of fun colorful elements. For walls, you can go for a pale yellow colour which was the color of Phoebe's room as well. If you want to keep the walls white, you can opt for yellow or any warm coloured curtains, cushions and bed covers to accessorize the room. If you have enough space, you could add a sage green coloured couch, sofa or an accent chair like the one in Phoebe's living room. Printed cushions, colourful carpets, warm lamp shades, quirky artworks on the walls are everything that represents Phoebe. For final touches, you can hang posters and props of the series on the walls. And to add the final cherry on top, add a guitar in a corner of the room and voila! Your Phoebe Buffay inspired room is ready. 
Phoebe Buffay inspired room should be bright, colorful and full of fun accessories.
Shubhro
Shubhro is undoubtedly one of the most iconic characters of Humayun Ahmed. If you're an avid fan of Shubhro, you would know that nothing represents Shubhro better than a minimally decorated room with white walls, white or light coloured curtains and abundance of natural light. You can color the ceiling of the room in sky or baby blue colour to bring the calm feeling of the clear sky in your room. Traditional liquor finish furniture would look perfect with this kind of room. You can keep a reading table and chair set like Dennis-101 and Olivia-101 from Hatil beside the window or by your bed and accessorize it with a simple lamp shade. Pair it with a small bookshelf full of your favourite Humayun Ahmed books to add finishing touches and you're done!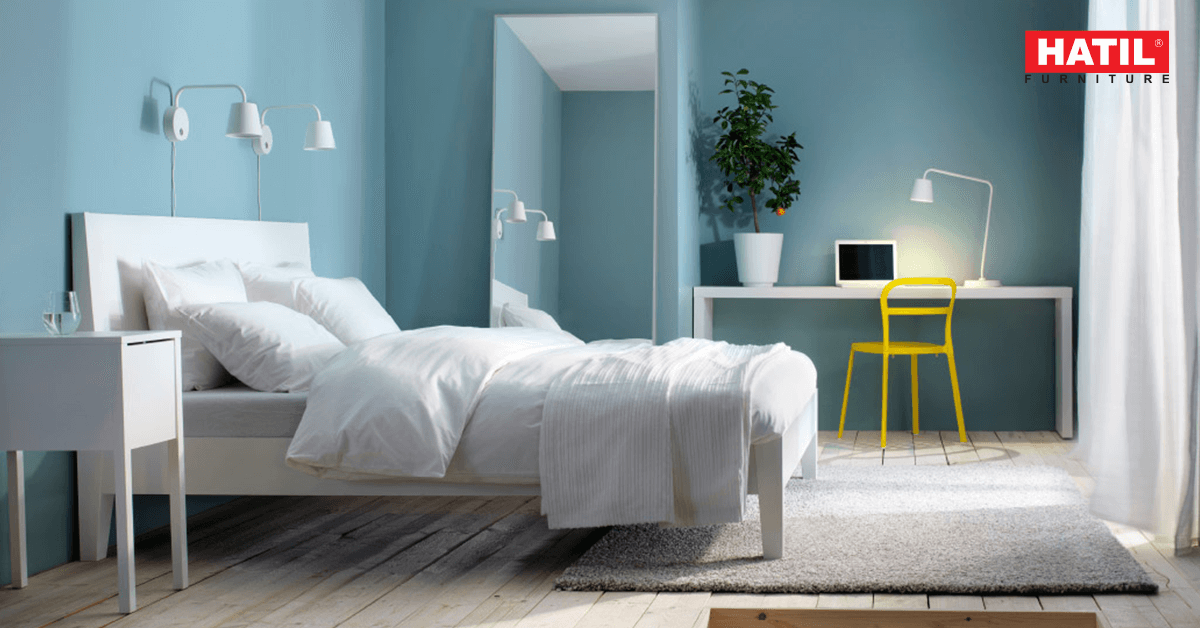 How minimal and peaceful we imagine Shubhro's room to be.
Regina George, Cher Horowitz or Poo(ja) 
Regina George from Means Girls, Cher Horowitz from Clueless and Pooja from Karan Johar's Kabhi Khushi Khabi Gham are 3 characters that all of us either absolutely adore or wholeheartedly detest. But nonetheless, these characters are iconic in their own way. If your teenage self was a fan of any of these characters, take this as a sign to give your room an iconic makeover. The colour palette for the room could be pastel pink and white. You could also go with any pastel color of your choice. Flowy white curtains, fluffy rugs and lots of cushions were some of the staples of this kind of room.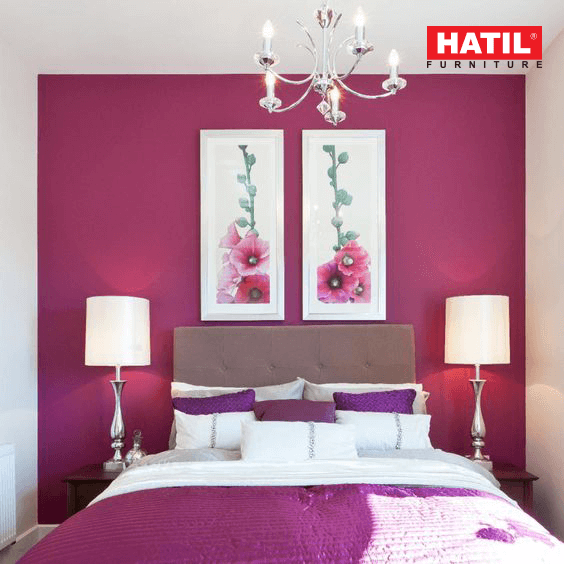 Modern interpretation of '90s luxury pink bedrooms.
But the room wouldn't be complete without a large closet and a full sized mirror. For this, you could check out Hatil's best-seller wardrobe with mirror Bradshaw-141. A white couch or accent chair could be added and decorated with printed cushions and sheets. You could also make a statement wall by decorating a plain wall with polaroid pictures, posters, string lights etc. 
Let us know which fictional character you'd like to decorate your room like.