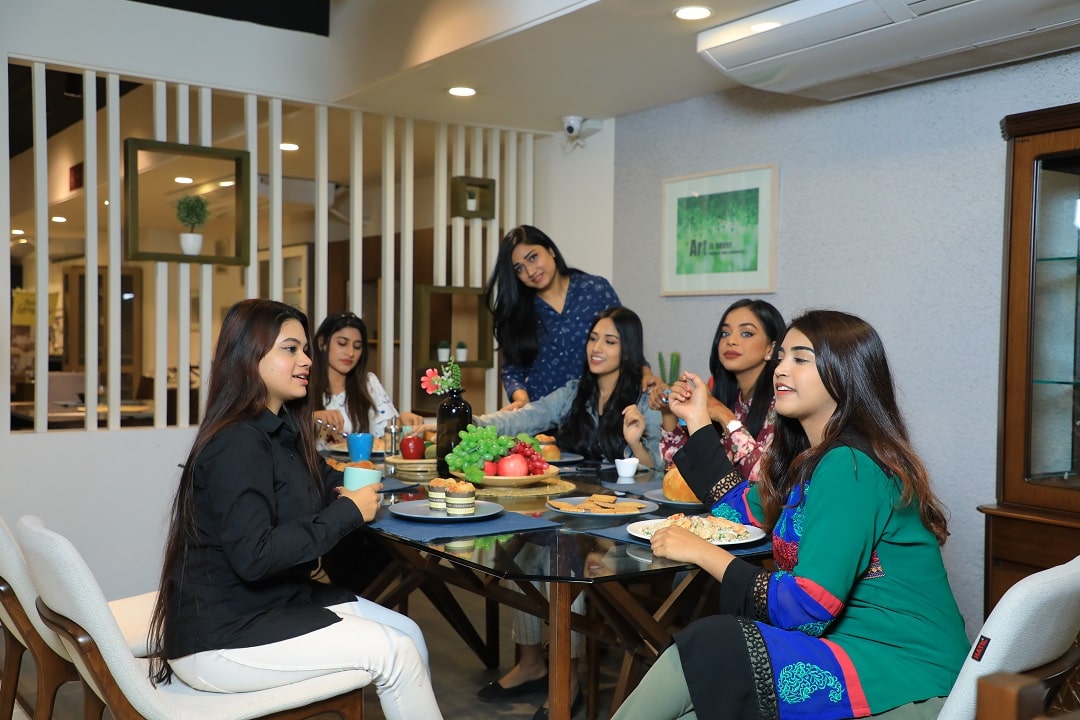 Dining Table: HATIL Dining Table Designs and Prices
The most luxurious homes are usually those that are furnished with one of the most prominent furniture manufacturer's goods.
HATIL furniture deserves a standing ovation for producing the best product in the business and providing the most modern design that customers need.
The furniture is both attractive and sturdy, earning them a reputation in Bangladesh.
HATIL guarantees that the premium products are created with greater attention to detail and under stricter control than those produced in bigger quantities and sold by other ordinary manufacturers. The higher quality of HATIL's furniture ensures that it stands out and lasts.
Best 5 Dining Table Designs of HATIL
1. HATIL Dining Packer-183, Bagel-199 and Hummus-183 (4 Chair, 1 Bench and 1 Table with 2 NTM Glass)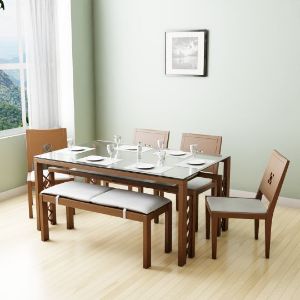 HATIL introduces the Packer-183, Bagel-199, and Hummus-183, a dining table set featuring a glass surface and a sleek seat, as part of a unique and sophisticated range.
This collection of dining table set is not only visually appealing, but it does have a strong structural presence.
The table is topped with clear glass and has crossed edges. The seats are embraced with a symmetrical shaped flower in the center, which matches the elegant bench wonderfully.
The Hummus-183, packer-183 and bagel-199 are not just visually appealing, but they are also structurally sound.
It is not only ecologically sustainable, but also UV radiation protected, since it is manufactured from kiln-dried foreign beech wood.
2. HATIL Dining Comet-192 and Hibiscus-199GR (6 Chair and 1 Granite Table with Top)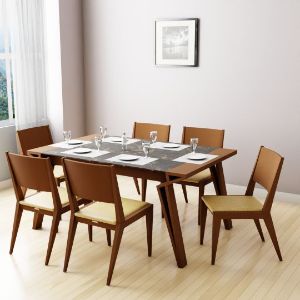 This set contains six gently reclining seats in a lovely vintage lacquer appearance that mixes in smoothly with most color schemes that comes with a rectangular shaped table. It is made from top grade kiln-dried architected wood veneers. Attract additional visitors to your house, knowing that this set will be ready to greet them.
The most cost-effective alternative available!
It's difficult to find economically affordable furniture that speaks to your tastes – fortunately, HATIL's Hibiscus and Comet dining set has both the features and more! Featuring this beautiful seven-piece dining set, you can create a room that is uniquely attractive, while also impressing your visitors.
Make your dreamed dining room a reality!
The Hibiscus and Comet dining set is an outstanding demonstration of refined elegance. Such dining area set is something you can absolutely spend on, since it was created solely with HATIL's enthusiasm and ability in crafting greater quality furniture items.
3. HATIL Dining Gordon-128 & Lime-128 (4 Chair and 1 Table with NTM Glass)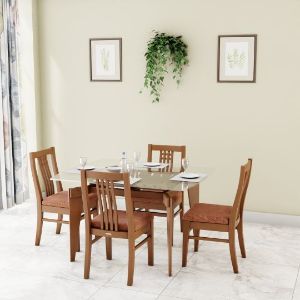 HATIL furniture's dining room table setup with a glass surface is exceptional in both style and craftsmanship. This table set can simply blend in alongside with your other furniture and create your home appear wonderful thanks to its vintage hue and excellent style.
A non-tempered Glass 216-114. one Lime 128 dining table, and four Gordon 128 dining chairs, make up this dining table set more elegant and affordable.
Veneered architected wood and Kiln-dried beechwood are used to construct the table and chairs. Textile upholstery is used on the chairs, and the padding of the chair is plush and pleasant. The fabric may be chosen from a variety of alternatives.
4. HATIL Dining Riverton-114 and Almond-106-(Antique) (8 Chair and 1 Table with 1 TM Glass)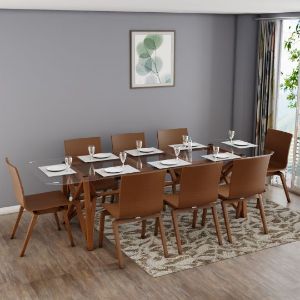 One of the mottos HATIL follows is to gratify customer's need with the maximum level of tranquility and eye-catching components.
Which is why the Riverton-114 and Almond-106 dining tables with glass tops are all here to feed your desire for high-end furniture with a modern style.
The table's leg handles are crossed sectioned and mix beautifully with the angled tip-toe cutout styled chairs.
This furniture's strong and ancient construction is achieved via the use of ecologically sustainable and Ultra violet ray protected elements such as kiln-dried international Beech wood. It not only offers a lot of room, but it does have a lot of fabric choices.
5. HATIL Dining Cumin-179 and Marmot-179 (6 Chair and 1 Table)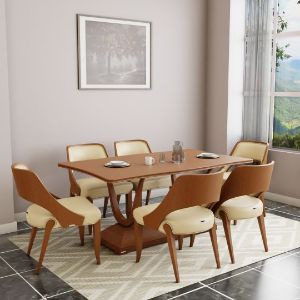 HATIL's dining table collection with a hardwood top is quite elegant in terms of design and color. A Marmot 179 dining table and six Cumin-179 chairs make up this entire table set.
It features an antique hue UV and PU lacquered finish from Italy. It's comprised of veneered engineered wood and kiln-dried beechwood.
This set is built of high-quality components and has a flawless finish. Fabric upholstery is used on the chairs, and the padding of the cushion is plush and pleasant.
These chairs are ergonomic design intended to give the finest back support possible, reducing the risk of back injury. This type is strong and long-lasting enough to last for many years.
Why Is HATIL The Most Popular Brand?
HATIL has developed a reputation for being current, intelligent, and cost-effective throughout the years, making them the finest of all.
The majority of customers were happy with HATIL's superb furniture quality and originality in design, which helped HATIL to dominate the furniture business from the front line.
HATIL furniture has been using the most well-known Japanese corporate Quality Management concept known as "Kaizen" to provide the highest possible quality for its customers.
The ideology emphasizes continuous development of business, which includes personnel.
Conclusion
HATIL furniture began as a concept and has since evolved into a leading brand in the furniture business. Simultaneously, it has successfully entered the worldwide market, establishing itself as Bangladesh's top furniture brand.
For advertising or promotional activities, the company does not rely heavily on discounts. HATIL furniture earned renown and became the top furniture brand in the business because to their extensive marketing promotional campaigns and events.