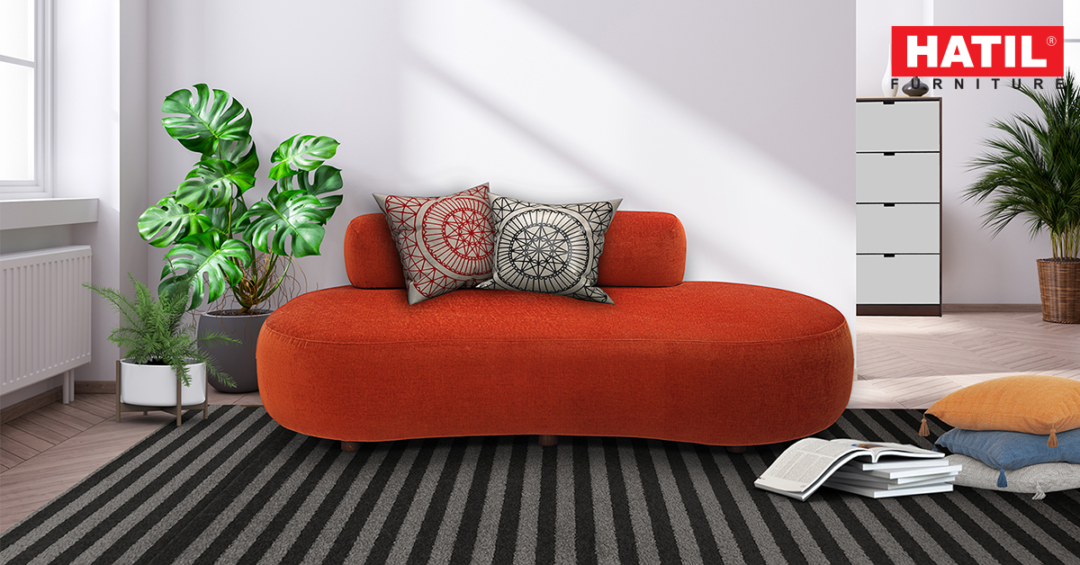 Fabric and Prints for A Cozy Home
Home is a place that should be comforting and relaxing, keeping us away from all the worries and stresses of life. No matter how large or small your home is, making it comfortable and cozy can result in an uplifted mood which will make you more productive and efficient.
Sofa with bright coloured fabric with leafy patterned back cushions can make your living space feel warmer 
An important part of creating a comfortable house is using the right materials. We often underestimate the differences that can be made by adding well chosen fabrics. Fabrics are very effective elements for turning your interior space into a cozy one. Soft furnishings can transform the look and feel of a space or an entire property. The style of your chosen fabric should complement your current décor, but also represent your own personal style. Some of the notable cozy fabrics are cotton, wool, polyester, plush velvet and linen. If you incorporate these fabrics with prints like chevron, floral, abstract or even geometric patterns, it can give you that cozy atmosphere you want. 
Let's look into how you can choose different fabrics and prints for your cozy home! 
Bedding
Neutral colors for bedding with patterned throw pillows and layers of blanket can create a soothing atmosphere in your bedroom
Look for sheets that are non-toxic natural materials like 100% cotton. They'll be soft, have lasting power, help regulate your body temperature and keep you healthy. Always try to choose white or neutral colors as they're soothing, they'll go with any color scheme in your bedroom. And they feel luxurious as well. But you can also use warm-toned bedsheets. Don't go for overwhelmingly big patterns. Try simple patterns or designs with your warm-toned bed sheets. In case of purchasing pillow covers, choose easily washable materials like silk or cotton. You can use blankets which will add an extra layer of comfort to your bed.
Furniture
Once you start using fabrics in your furniture like sofa and divan, they will automatically feel more cozy and warm. You can choose a warm-toned scheme for your furniture to keep them well coordinated. A large bold pattern might work better in a larger room, while a more muted or smaller one might be a better choice for a smaller space. The best thing about Hatil is that you will find various options of fabrics and prints for your furniture. Suppose if you want to choose furniture with upholstery fabric, they will show you different colors and prints for that particular fabric. 
Grey cushioning with abstracts prints are a great match for neutral aesthetics
Chevrons, abstracts and geometric patterns are the most trendy fabric prints for furniture recently. These prints with upholstery fabric can increase the cozy factor of your room. For example, Angelina-179 comes with four different ranges of fabrics and prints.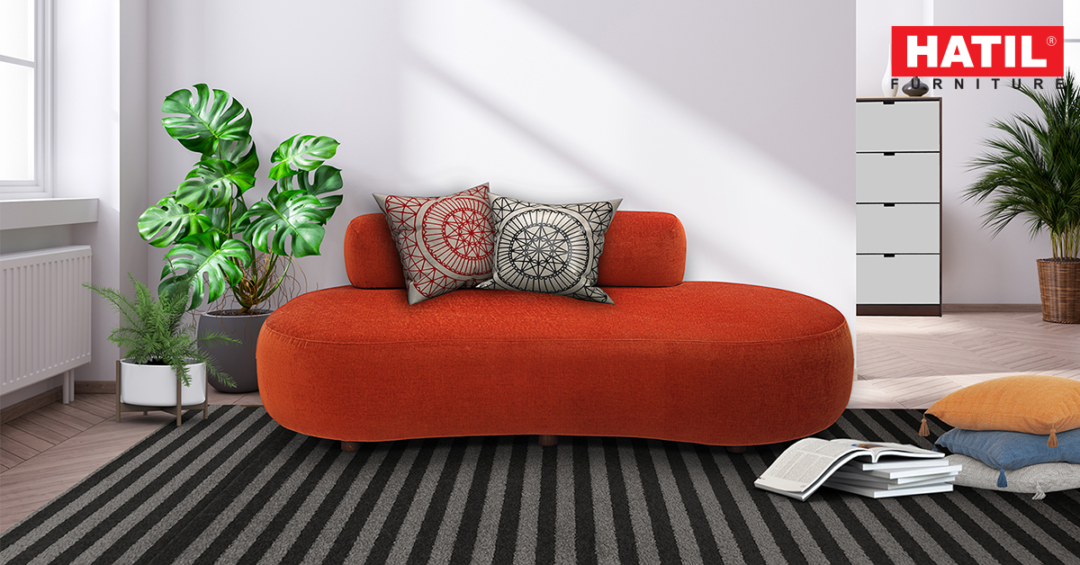 Divan with warm-toned materials and geometric patterned back pillow can make a great cozy pair
You can also choose floral patterns, geometric designs, or even mix and match them according to your own taste and aesthetics. Clyde-108 comes with different fabrics and prints including an orange cushioning with a geometric patterned back pillow.
Textured fabric for your sofa can also be a factor for the coziness 
If you're a neutral lover and don't want to use patterns, you can also go for upholstery fabrics with textures. They can also serve the same purpose. Cloudberry-254 is made with imported fabric upholstery with soft and durable cushioning that can make your living area cozy without having any dramatic prints or colours.
Curtains
Colors, patterns, and designs of curtains can matter a lot when it comes to choosing bedroom curtains, factors to consider go beyond aesthetics. As a fully synthetic fabric, polyester does have a range of advantages. They are very budget-friendly and come in a huge range of designs, too. Most importantly, they are very sturdy and long-lasting. Choose warm-toned colors which won't block out the light coming out of your windows. You can use big or small patterns as they don't really matter in case of curtains. But it's always suggested to keep it simple for the sake of coziness.
Which fabric or pattern is your favorite? Share with us your favorite picks in the comment section below!