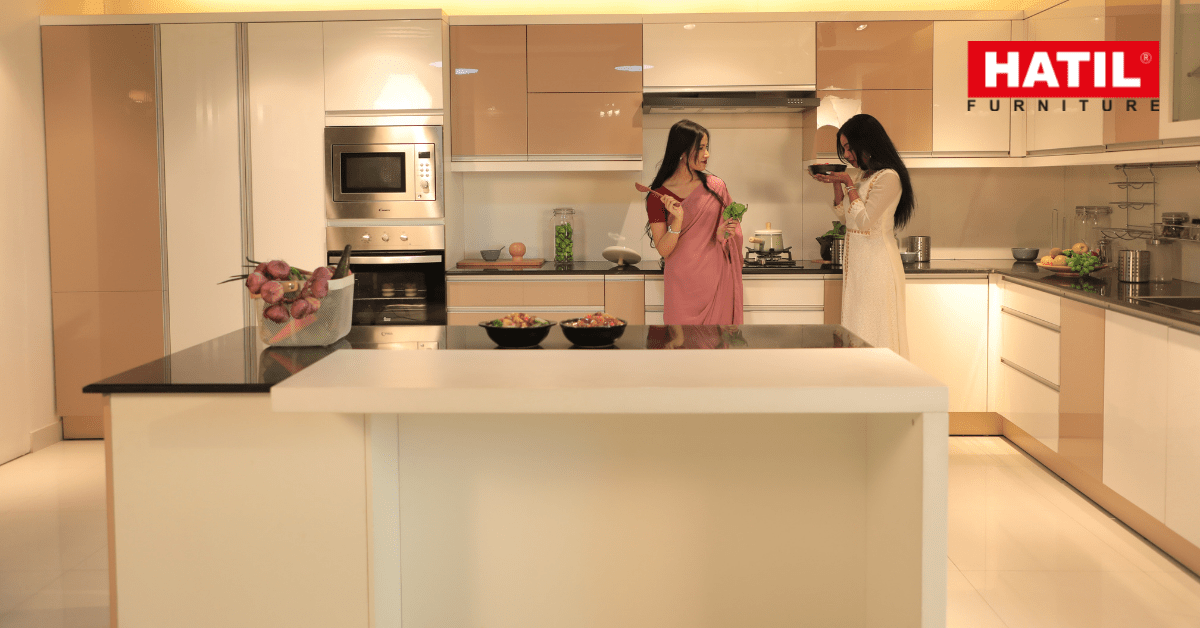 Kitchen Cabinet Design In Bangladesh – HATIL Kitchen
When you ask someone how you make storing and organizing kitchen equipment make good, the majority of the time, that person will tell you to opt for some good kitchen cabinets, because kitchen cabinets make your kitchen look sleek and attractive. When it comes to choosing kitchens in Bangladesh, it does not make much difference now and you may want to know which are the best kitchen cabinet design in Bangladesh. These are the built-in furniture installed in your kitchen so that it is easier for you to store food and other goods. Upper cabinets are mostly used to store dishes, glasses, and other dinnerware and plates. Simultaneously, the deep kitchen cabinets or the ones that are situated below are used to keep pull-out garbage bins, pan storages which are vertical, drawers, and organizers.
Kitchen cabinets in Bangladesh are an integral part of the household kitchens, and in some ways, they act like a savior too. Firstly, when it comes to spices, we use a variety of them, and thus they need to be stored properly in a dry place. This storing of spices is made much easier by these cabinets, and as these stay organized, the chances of these jars tripping and breaking are very low. These kitchen cabinets in Bangladesh make sure that you have easy access to your spices and condiments, utensils and plates, etc. and this is because as these stay in one particular place, you do not have to look over and over for them. So, in sort, installing these kitchen cabinets will save you a lot of time always, and will help you when you are cooking at haste.
Types Of Kitchen Room Design Bangladesh
Shaker
This is the most common style of cabinets, and it consists of five pieces of flat panel, which create a frame with four of the pieces where the fifth or the single panel works as a flat center panel. If you are looking for a budget-friendly or low-budget simple kitchen design in Bangladesh, the designs of shaker cabinets are quite simple, so you can choose it for your kitchen room. 
Louvered 
In here, you would see horizontal kitchen cabinets, and these make your kitchen look very stylish and attractive, but do comparatively a lot more money.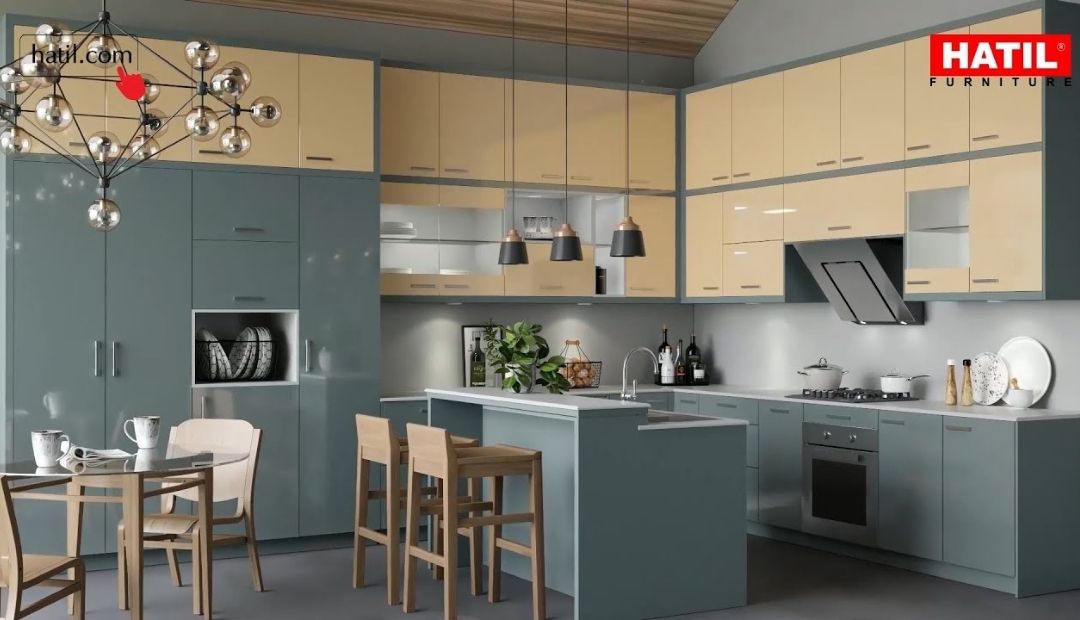 Flat Panel Or Slab 
These are the type of kitchen cabinets you should go for if you are looking for a minimalist look to add to your kitchen. They are affordable and get the work done well.
Inset
As the name suggests, inset cabinets have an inset door inside your cabinets' frame, unlike the typical cabinet doors which have the frame outside. In order to install these, correct measurement is the one and the only key.
Distressed
If you want to amp up the look of your kitchen by adding cabinets that give off an antique and vintage look, then you should go choose this type of cabinet. These will, however, cost you 15 to 20% more than the usual expenses.
Beadboard
This type of Kitchen Room Design in Bangladesh is made with vertical rows of planks. These are perfect if you want your kitchen to look a lot more dynamic and sleek.
Thermofoil
These kitchen cabinets are made from medium-density fiberboard. It is then wrapped in a particular type of plastic coating and baked under high, intense heat so that the whole thing gets sealed.
This whole process makes thermo foil cabinets a lot more affordable, durable and long-lasting.
Custom
If you are unable to find a kitchen cabinet that suits both your likings and budget, then you should go and customize the design of your kitchen cabinets in Bangladesh.  Your local designer or craftsperson will help you, and through his guidance, you can give your kitchen the look that you have desired it to have all along.
Materials Used To Make Kitchen Cabinets In Bangladesh 
You will find a lot of options when you go to choose the material you want your cabinet to be made in. Among the most common and used materials, there are the following.
Hardwood
Hardwood is the most commonly used material for making kitchen cabinets in Bangladesh. It comes from a natural source and is extremely durable. The designs made with hardwood are unique and beautiful, and they last long too, so your kitchen cabinets would not require changes often.
Plywood
If you are going to choose plywood, then you should know that it is very flexible. It is sturdy and durable, so will be a very good option for cabinets. Moreover, it is easily repairable, so you can reuse it many times, and will save you money too. It is a very affordable option.
Medium Density Fibreboard
This is a very durable option, which is resistant to warping and thus expansion as well.
Other than these materials, there are particleboard, wood veneer and laminate too. All of these options have their equal benefits and features, so you can choose the one that fits your requirements well.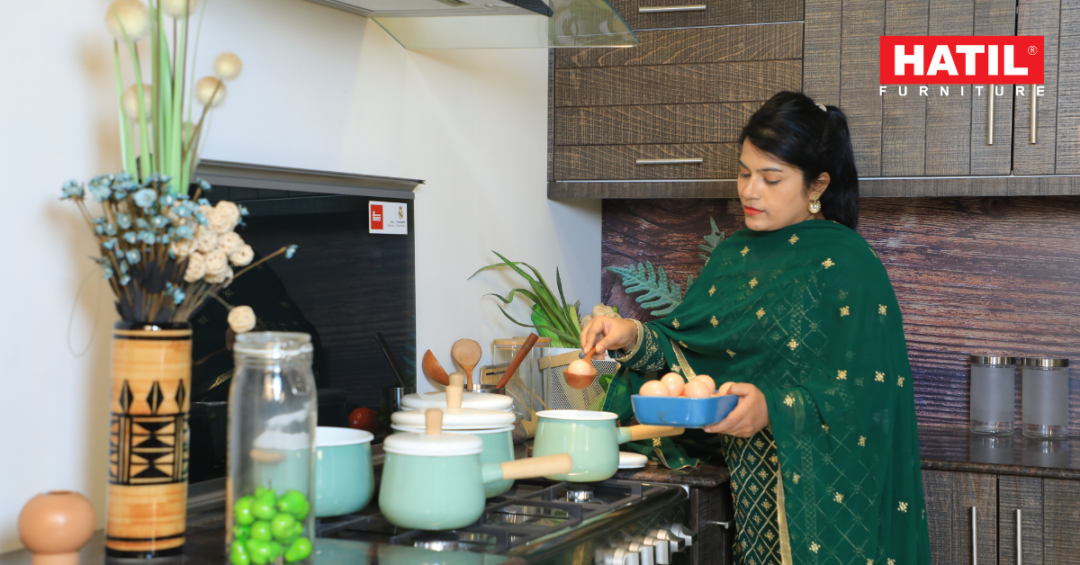 Hatil And Their Kitchen Cabinets In Bangladesh
Hatil is one of the very best brands in Bangladesh which provides you with high-quality furniture for all kinds of places and all kinds of rooms too. It is a pioneer in making furniture that is durable and goes with the style of the current situation, simultaneously making sure all of its customers are satisfied and happy with its service. Thus, needless to say, Hatil has a great range of options of kitchen cabinets for you to choose from and make your decision from.
What Are These Cabinets Made From? 
Most places use pure wood, but when it is done, the furniture has higher chances of getting damaged due to temperature changes, such as expanding in higher temperatures. When this happens, it makes the cabinets less durable and sturdy, so it lasts for less amount of time, wasting some of your expenditure. Thus, Hatil used engineered wood for making their furniture.
What Are The Pros Of Using Kitchen Cabinets From Hatil? 
It is extremely reasonable. The models that Hatil manufactures are very stylish and modern, and will fit perfectly in your house. Hatil does not compromise in quality as well, so it is ensured that you are getting the best of the best furniture.
The designs that Hatil produces are grouped, and it is more than likely that you will find whichever vibe you want your kitchen cabinets in Bangladesh to give off. They have a huge variety of options, and each one of them has been carved beautifully with the best material.
Let us say, you like two designs, but only bits and pieces from the both, and want to incorporate them in one single kitchen cabinet. Hatil gives you the option to do it. So, you can customize according to your wish and capacity.
The kitchen cabinets in Bangladesh from Hatil are extremely durable. They are strong, sturdy and have been tested to ensure that they can withstand rough situations. It is rather obvious that you are going to use these cabinets most of the time, and they will have to go through hot temperatures and smoke, so basically they will be in tough, vulnerable situations. But these situations are very less likely to wear these cabinets out, meaning they are very durable and user friendly.
Lastly, they come with warranty. Not only this gives you assurance, but if anything happens to your cabinets during the warranty period, then they will get your cabinet fixed.
Buying Guide
Given below are a few things that should be taken care of when you are shopping for kitchen cabinets in Bangladesh.
When you are going to buy a kitchen cabinet, it will be a lot helpful for you if you have an outline of your kitchen, preferably a sketch. This will help the sales associates help you choose the right cabinet for your kitchen.
The right measurement is the key. You should always measure out the space you want your cabinet to be fixed in properly. Otherwise, there will be a huge disaster and your whole expenditure would get wasted.
You should have an approximate idea of how much materials will go inside these cabinets. In this way, you would be able to decide how many shelves you need, and how strong do these have to be.
If you have a tight budget, then you should know a few tips and tricks of where to spend and where to cut. Frameless cabinets require a lot less labor and thus less money too. A lot of designs are available in the frameless mode, and you can make your decision wisely.
There are two types of overlay, where the partial overlay means some part of the cabinet would be exposed. So, you have to choose wisely according to your stuff.
Conclusion
In conclusion, kitchen design Bangladesh are a very important and useful part of the household, and if the decision is made wisely, then you can win yourself the potluck of kitchen cabinets. Replacing these kitchen cabinets is difficult, and if done, they are likely to cost you a lot more than what you paid for, so please choose the model wisely. Check the pros and cons of both, weigh them out and then make the decision.
Happy kitchen cabinet shopping!