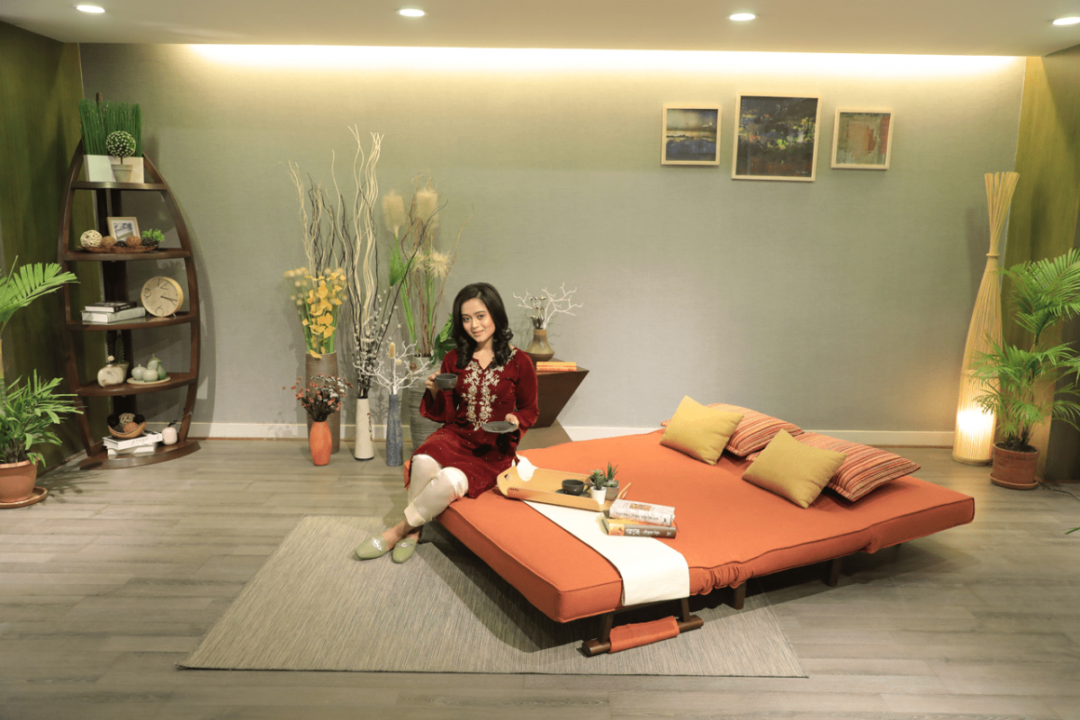 Sofa Cum Bed (3 in 1) – HATIL Furniture
We ponder over our wants and needs when we adorn our homes with furniture. Furniture items not only fulfil the purposes of the bare minimum necessity – but also represent our fine taste. We look forward to the most exquisite and comfortable aspects of our abode when we come home from a long, exhausting day. Every man or woman dreams of their ideal house be it newlyweds or old families moving into a new living arrangement; this is where the perfect furniture plays the most vital role.
The interior of your home can make or break your heart. Your bed or even your sofa is that pleasant thought you have so that you can relax and let go of your body and all the stress no matter what work you were engaged with before. That gives birth to the ideal combination of both – a sofa cum bed. Hence, it is a matter amidst furniture in Bangladesh that should be taken care of with great attention.
What is a sofa cum bed?
Both sofas and beds religiously cater to your needs and leave no stone unturned to meet your maximum satisfaction when it comes to good quality furniture in Bangladesh. Multifunctionality is the key to any furniture because it can be used for multiple purposes. One of the most desired furniture items is a bed along with a sofa too. A new apartment will require a bed to sleep in and a sofa to rest or entertain guests. What if there is a marvelous creation of a sofa that works as a bed as well? Would it not be very convenient and fascinating?
Worry not, exemplary invention of the furniture industry comes in the form of sofa cum bed sets. Yes, you heard it right! Furniture companies provide you with sofas that can be unfolded or somehow easily changed to beds at the comfort of your own home! A sofa come bed is the central attraction of your house. It is generally a sofa or a couch that beneath its seating cushions, conceals a metal-frame and a lightweight mattress that can be opened up or unfolded to convert the sofa into a bed.
Types of Sofa Cum Bed Offered by HATIL
HATIL comes up with a wide variety of sofa cum beds, among the highest appealing furniture in Bangladesh. Pretty much every type of these furniture items is available here. These come in exclusive designs suiting your requirements perfectly. Some of the most notable examples are Niger-305, Detroit-271, Fusion-302, Theremin-303, Salamander-244. Hatil's 3-in-1 sofa bed can be easily converted from a sofa to a bed, and sometimes even to a storage unit. The storage feature can be used to keep bedding, linens, and other items out of sight when not in use.
The different types of sofa beds include:
2-Seaters, convertible sofa beds for small apartments
3-Seaters, best for slightly bigger rooms that can be converted into large, relaxing beds for guests
Corner, best for making space and to accommodate in your living room
Storage Sofa Bed, the prime furniture item for multitasking whose storage inside it can be used to keep a large variety of things from books to bedding
They are accompanied by mattresses so that you can position them the way you want. Imagine you have more guests than you could have anticipated staying over at your house, HATIL's immaculately manufactured sofa beds would have served the purpose spectacularly. Moreover, most of these are accompanied by cushions so that you do not have trouble bringing in pillows and the lushest, smooth, and comfortable fabric upholstery.
What is the standard size of a sofa bed?
Sofa beds are a bit different in size compared to regular beds. The right size of a sofa come bed depends on the space you have. For a small amount of space, twin sofa sleepers are the most ideal. It is compact and feasible. However, if you have a large room, then you can opt for any other size. The mattresses play a colossal role in this matter.
Sofa cum bed mattresses quite often vary in size compared to their counterparts which are the regular mattresses. The main difference between these two types is the depth (height) of the mattresses. A sleeper mattress is typically shorter; meaning closer to the floor so that it can be easily pulled out beneath the sofa. Their height difference is not massive but you must consider the fact that some bed sheets designed for that of the regular mattresses might not fit on a sofa bed/sleeper. Here are the standard sizes:
Queen Sized Sofa Bed Mattress: 60″w x 72″d
Full-Sized Sofa Bed Mattress: 52″w x 72″d
Twin Size Sofa Bed Mattress: 38″w x 72″d
Hence, it would be a wise decision to keep their dimensional differences in mind before making your purchase.
Which is the best sofa bed to buy?
The question " what are the best sofa cum beds?" arises more than often. Once again, size and the space of the room is a significant factor here. A coil-spring mattress will be convenient for small apartments. If the sleeper is for the occasional stay overs for guests, look for a more comfortable seating experience, for example, a memory foam mattress. There are numerous types of sofa cum beds with different mechanisms. These mechanisms are:
Clic-clac
These frames allow the back to be pushed forward a little to unlatch the locking mechanism. After this, you can fold it down to turn it into a bed.
A-frame
It unfolds in a shape like an "A" on a flat surface. It is done by pulling out the front and the sofa back to come up with a bed and a mattress.
Lift And Pull
The sofa's seat has to be lifted at an angle close to the vertical angel which will release the lock. Then you have to pull it down so that the bed is made upon a flat surface.
Folding
This is useful for the long run. The mattress can be folded out from below the cushions and put up into a comfortable bed.
A comfortable piece of furniture is the most suitable for any living arrangement. You should also keep the budget in mind – HATIL offers the best sofa cum beds in the most suitable price range. A basic futon-style or click clack sleeper will be the best for you to buy if you are looking for the lowest price but the highest-quality sofa in that budget. The other factors that determine the best sofa cum bed for you consist of placement, and cleaning, and so on.
Is Sleeping On A Sofa Cum Bed Bad for You?
Sleeping on a sofa bed can be very convenient, you can crash on it now and then. It is even good for a daytime nap when you are drowned in stress. Sleeping on a couch or a sofa bed may even be good for you if you have a cold if your head and chest is held high in a comfortable position. The higher the head and the chest is above the legs, the better it is for you when you feel feverish or if you catch a cold.
However, doing so every day may have some repercussions healthwise if the quality of the bed is not good enough or when it deteriorates with time. It may result in back pain and muscle aches. It gets worse when the mattress starts to lose its shape. Fortunately, you do not have to worry about that if your purchase is from HATIL! That is because we ensure the best product is manufactured for you. Otherwise, sleeping on a sofa cum bed is not bad for you.
The Importance of Sofa Cum Bed in a Small Bedroom
Are you stuck in a small bedroom and wondering how you can make it look prim and pristine? Wall beds often take up a lot of space and make your room look very clumsy. Clustered spaces often do not have much room for any other furniture or decorations. You do not have much space to walk, think clearly, and simply have the peace of mind that you need.
Well, sofa cum beds are the perfect fit for small bedrooms. You keep the sofa as it is throughout the day, sip your coffee, do your work, pace around to steam off the stress, and convert it into a bed just when you need it. The importance of a sofa cum bed in small spaces is a perfect alias to the word "divine". Guests can sit on it with ease too. It helps you in more ways than you can fathom.
Final Words
In conclusion, a sofa cum bed is a fine and necessary addition to your household. Now you have a detailed understanding and overall perspective on pretty much everything about sofa beds. The number of pros outweigh the cons. Renowned companies such as HATIL is known for its dedication to its customers, impeccable standards, fascinating design, and exemplary quality – making this company the to-go place to buy furniture in Bangladesh. No wonder HATIL is the leading furniture brand of the nation and you should check in their showrooms or website to choose your desired 3 in 1 furniture (sofa cum bed). However, you should also check other furniture stores or sites to see what is more convenient for you.