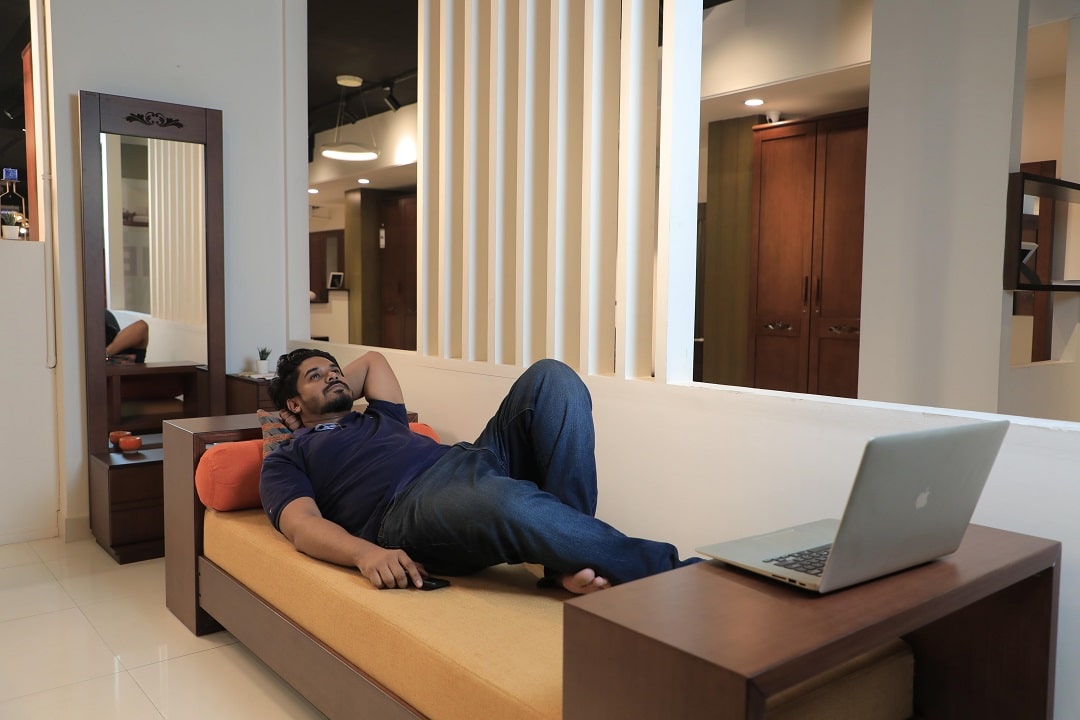 Divan Designs and Pricing – Best Designs of 2023
A divan is a sophisticated addition to any home decor. On the one hand it enhances the beauty of the house and on the other hand it gives you a new place to relax. Although divans are not new inventions, they have been around for centuries, but modern divans add a lot of versatility.
HATIL, the best furniture brand in Bangladesh, has created for you the best design divans in the world, which comes with much more contemporary and budget friendly price. Here are HATIL's excellent divan designs.
HATIL's Divan Designs
1. HATIL Divan Flamenco-105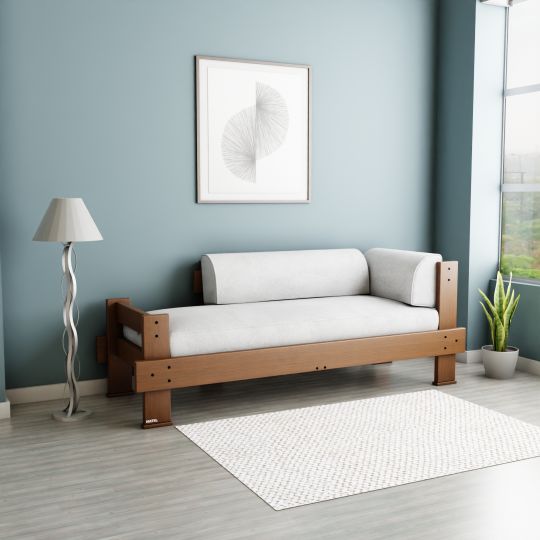 HATIL Divan Flamenco-105
The design of the Flamenco-105 is the rustic of your dreams, created for the open space living room. There is a headrest cushion for the comfort of your neck and head, and complete with a cushioned backseat to provide more extra comfort, a simple cushioning design is best for long periods of sitting.
If you are a tall person, don't worry, your legs may hang on the edge of your seat if you think of resting on it for a long time. However, with the extended length of any of our divans, this should not be a problem.
The Divan Flamenco-105, the popular Divan set is designed with functionality in mind but also adds a more modern and homely feel. Durable Antique Finish – made with Italian Ultra Violet (UV) and Polyurethane (PU) lacquer. High quality and imported hardware fittings give a new look to the traditional design and exhibit a simple yet rigid outlook.
The Flamenco-105 assures you of its quality with its soft fabric and quality cushioning. The fabric gives the upholstery material a smooth touch. You can choose your preferred fabric from the options provided by HATIL.
2. HATIL Divan Bermuda-110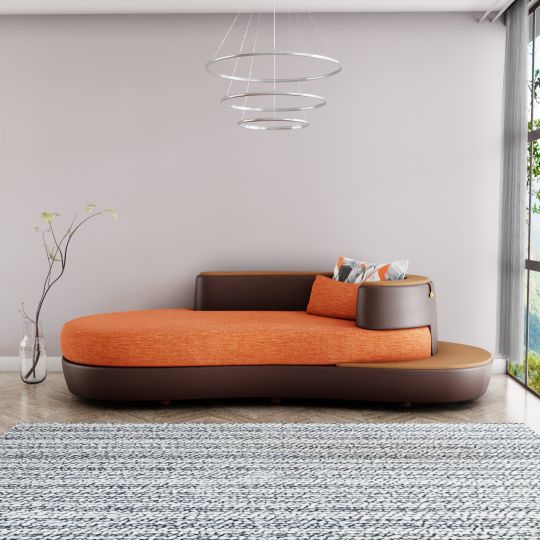 HATIL Divan Bermuda-110
A divan can do your job to transcend the luxurious feeling in your home or to surprise family and friends with the interior decoration. Bermuda-110, this elegant furniture is going to be a perfect piece of furniture to highlight the whole look of your living room. A rich wooden base takes place with a stylish and minimalist feel.
From top to bottom has a strong and chic feature, the progress of the Bermuda-110 complements every style and furniture setup. After a tiring day at work, getting a good night's sleep or spending time with your loved one over a cup of coffee will become more of a favorite, and this charming divan is truly an inviting presence in your home.
In addition to the great arm rest, a completely comfortable foam cushion, the Bermuda-110 provides comfort to its users. An attractive outline with a wooden base gives Devon flawlessness. There's more to fascinate you, it doesn't compromise on comfort, the seats are soft but strong, while the cushioned back pads welcome you to lie down and relax.
A modern structured divan with traditional color grading blends seamlessly with any type of furniture. A contemporary approach to design allows the Bermuda-110 to blend in with every given space.
3. HATIL Divan Siesta-106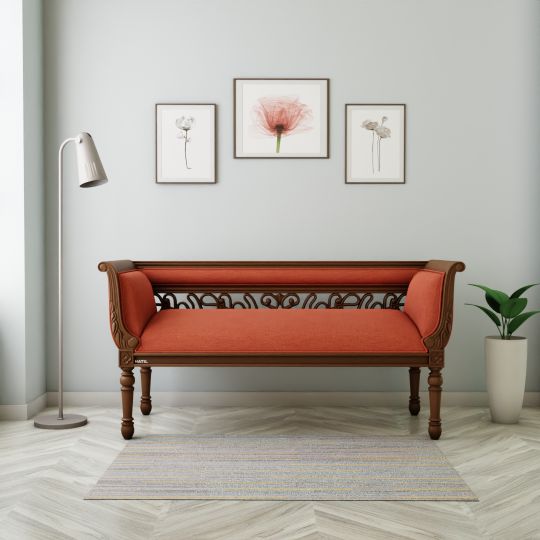 HATIL Divan Siesta-106
Siesta-106 adds a fresh look to any living room. The soft fabric upholstery and imitation mid-century tights make this divan both comfortable and great. This fabric divan shows flexibility and configuration, which is perfectly suited to every environment.
With a perfect round armrest, a deep secure backrest, beautifully crafted seat cushions, wooden legs according to the traditional design, this classic divan has all the traditional highlights you can expect. With a solid wood outline, stationary pads and light or dark colors, it is a strong and flexible choice for contemporary furniture.
The Siesta-106 is a smooth divan that provides a comfortable place to take a rest, a mid-evening nap, or any time. Adjusted to support square edges, it can be the ideal choice in a living room or visitor room.
4. HATIL Divan Clyde-108
Hatil Divan Clyde-108
The Clyde-108 is immediately an elegantly crafted classic divan set that is admirable with the addition of mid-century flair. Made with an interior frame of solid engineered wood, the Clyde-108 does not compromise with the possibility of being made as solid furniture.
The texture covered by the upholstery creates an inviting atmosphere in your living room. The Clyde-108's cushions have been made extremely comfortable to use. The cushions offer a satisfying backrest which can be chosen for comfort in lazy time.
A delicate yet sturdy wooden frame makes the Clyde-108 more acceptable. While having a cup of coffee and enjoying your favorite TV show at bedtime or on a lazy afternoon, Clyde-108 will give you some comfort.
Engineered wooden frames are 7 times more durable. Its fabric material makes cleaning quite easy so you don't have to worry about extra hassle.
5. HATIL Divan Louisiana-109
HATIL Divan Louisiana-109
The Louisiana-109 offers an accessible structure for both a divan for sitting and comfort in the living room, a piece of furniture for use as a complementary bed. The style and fitting design of the Louisiana-109 is ideal for living rooms and guest rooms. This is a contemporary invention of divan furniture. It has a divan design with surrounding backrest.
There is ample storage space divided by a wooden board with a backrest. You can store books and essentials in this place. Attached wooden boards can be quite effective when enjoying breakfast on a lazy holiday morning. The concept of this divan with storage is additionally effective for managing space constraints.
This divan can assure you that it will give you enough comfort and give you a comfortable bed feel. You can use it against a wall or next to a window – it's simple and its neutral design allows you to add cushions of your choice and decorate it as you wish.
The perfect texture of the fabric gives a flawless inviting visibility. Cotton padded cushions offer a comfortable backrest, most suitable for comfort. The use of vintage furnishings has elevated the overall quality of Louisiana-109. The durability of the furniture is ensured by the use of engineered wood in the wooden frame. Engineered wood offers much more durability than any other wood furniture.
Read also: The Story of Divan
Conclusion
HATIL has revolutionized the furniture industry in Bangladesh in three decades, starting as a timber company. With two state-of-the-art factories and 70 outlets, HATIL has become a household name in Bangladesh. HATIL is always ready to help its customers with national and international showrooms, ecommerce platforms, a virtual shop and nationwide shipping services.
So if you want to see sofa design, chair design, wardrobe design and wooden cupboard design with premium quality mattresses, choose HATIL without a second thought.