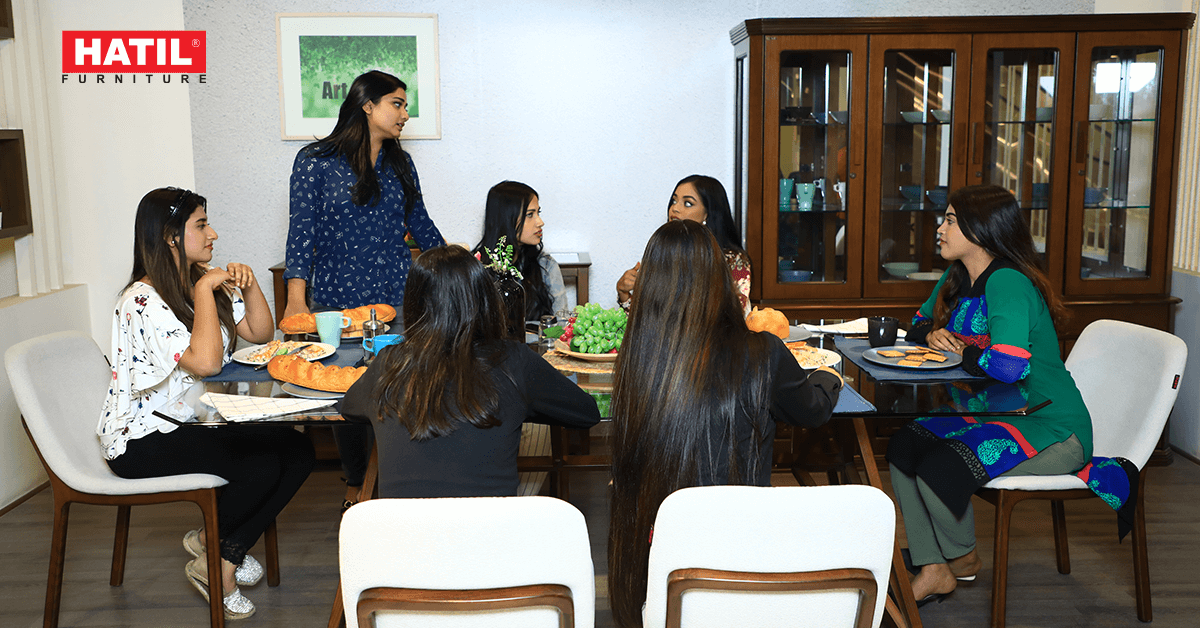 The Tale of Dining Space in Winter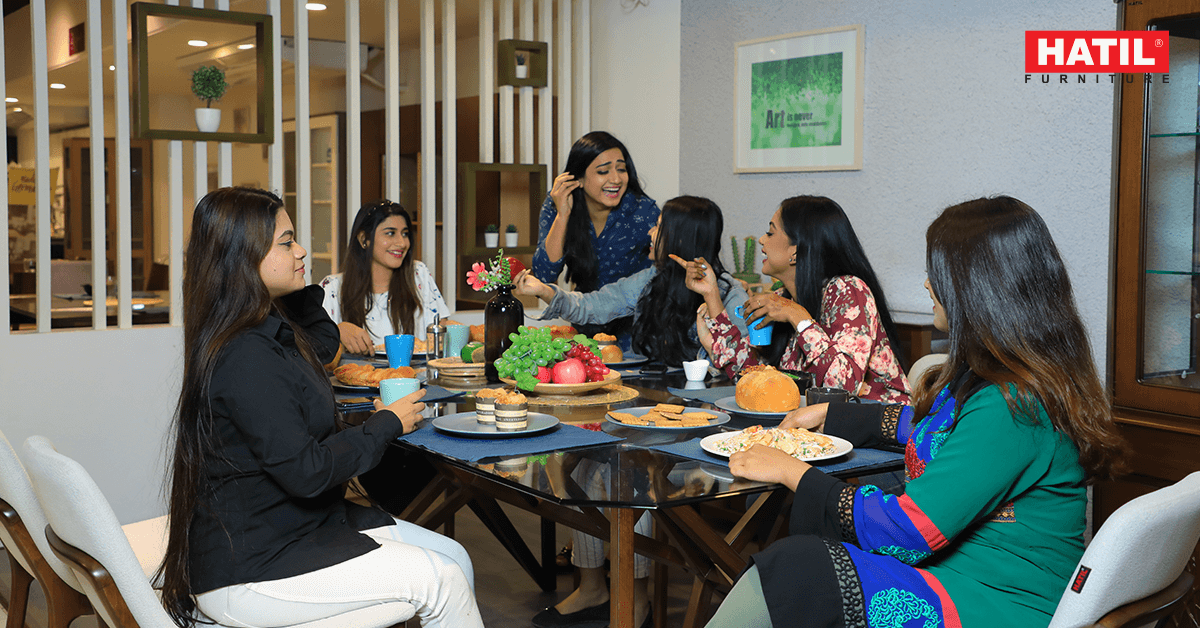 As we near the end of this year, the cold winter is finally starting to settle in. During this season most people attempt to complete their remaining work for the year and spend time with their loved ones. Students who lived away from home return after finishing their academics for the year. Weddings can be seen on every street you turn as winter is the unofficial season for weddings in this country.
From being with loved ones back at home to creating new bonds of love, this time of the year brings a very warm feeling to our homes during this cold harsh winter. And especially in our living rooms and dining spaces as these are the places where families get together to create everlasting memories. Arranging a dining space for all your loved ones to enjoy a warm meal is not always an easy task. 
If you're looking to grab a new dining table this winter, we are here to help you pick the perfect dining table for your home.
Going for Traditional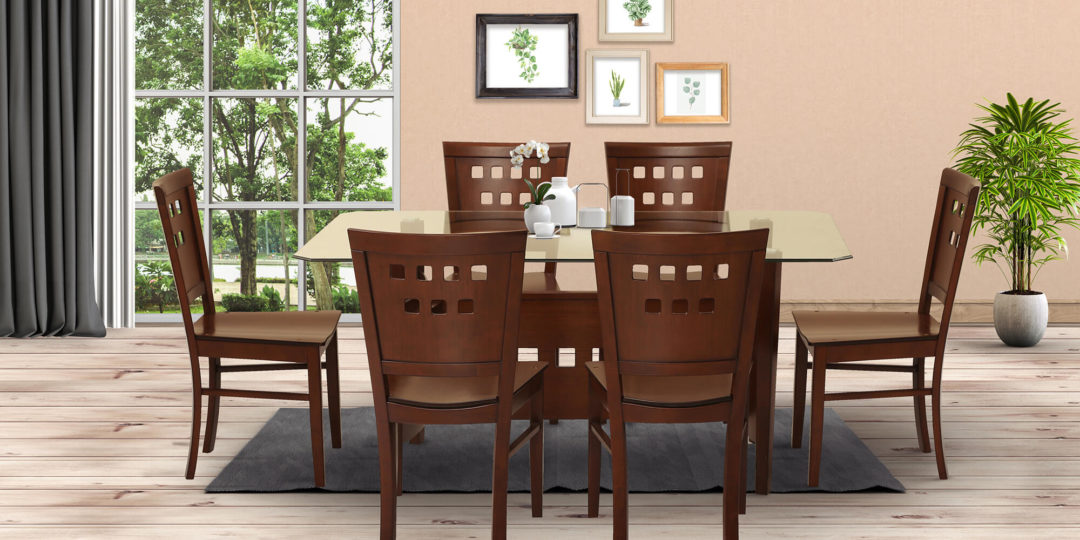 The Halley-143 & Lisbon-143 is perfect pick to add more elegance to your room.
Simple, yet classy and comfortable these are what traditional dining table sets offer. Dining table sets like Hatil's Halley-143 & Lisbon-143 is suitable for most traditional dining spaces in our country. It has a beautiful octagonal clear glass top and smooth antique finish on the table and chairs. The chair seats are slightly curved for a more comfortable sitting position and the six seated design is ideal for most dining spaces. It may not be the most eye-catching but the set will fit in superbly with most wall colors, delivering a chic look. Cleaning the set is also a simple task as it does not have any fabric hence no washing will be needed, simply dusting the table properly will keep it looking like new. 
Hatil's Halley-143 & Lisbon-143 with its glass top and remarkable design has a price tag of only 89,400 BDT. This set is sure to bring a smart and elegant feel to your dining space. 
Big & Bold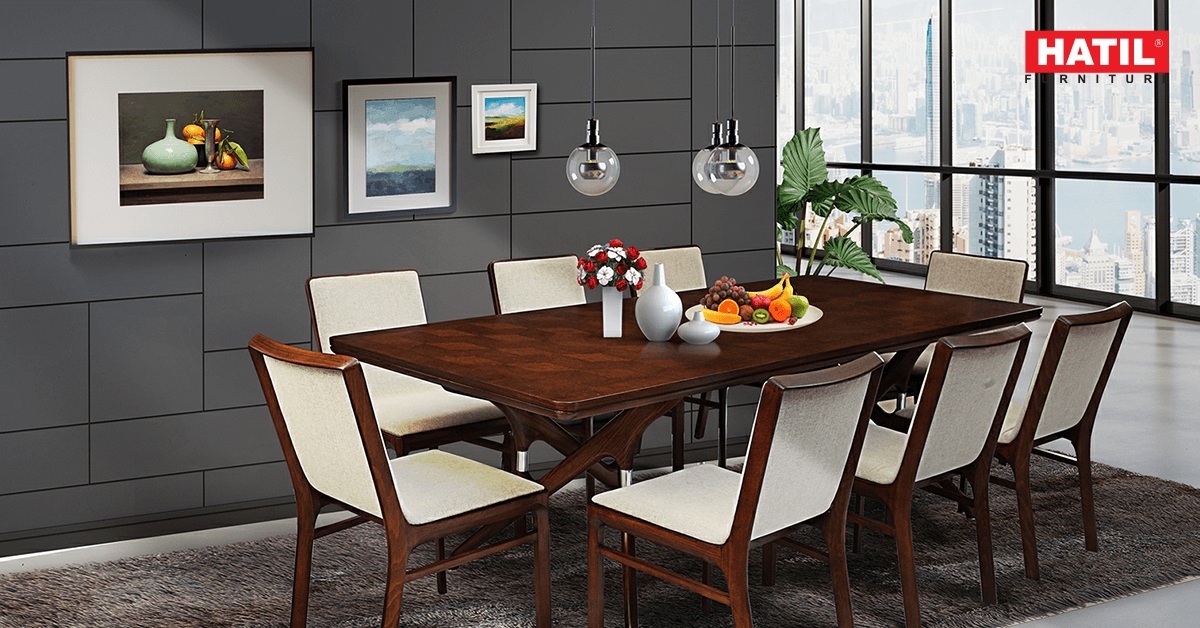 If you're looking to make your dining table stand apart the most while comfortably fitting all your family and guests, Hatil's Joel-177 & Sushi-177 dining table set checks all the requirements. This set comes with a stunning wooden top made from imported Beech wood. Both the table and the chairs have a polished antique finish giving it a glamorous look. This set includes eight dining chairs with soft and comfortable cushioning, which means even a large family will be able to share a meal together quite easily. Cleaning the set will be a little bit of work as the cushions have to be dry washed, but the table itself is easy to clean. Decorating a table of this size with some candleholders on top will be sure to add to your rooms' charms.
The Joel-177 & Sushi-177 comes in at only 139,500 BDT making it one of the more expensive dining table sets available at Hatil. But the eight seater spacious and comfortable design alongside its sophisticated and elegant looks makes it deserving of the high price tag. This set is our top pick for opulent houses with large dining spaces.
The Perfect Fit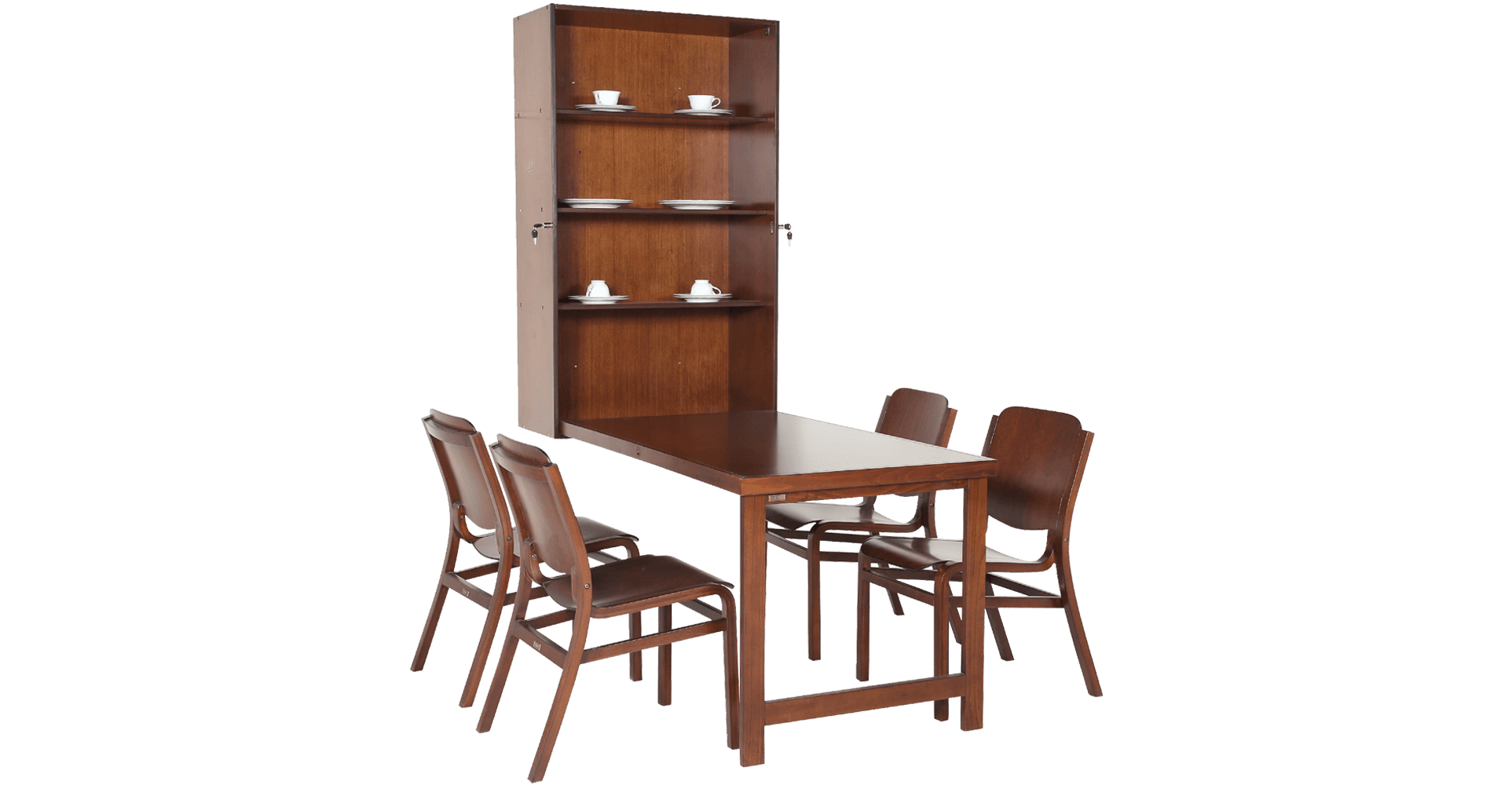 One of the problems one might face while buying a new dining table is finding space to set it up. If you don't have much space in your dining area, utilising what space you have properly is very important. Something like Hatil's Seasame-101 & Yogurt-101 is perfect to get the most out of your dining space. This set from Hatil's SmartFit line of furniture includes a dining table and a three shelved dinner wagon in the same place. The set comes with 4 beautifully lacquered wooden chairs and a smooth lacquered antique finish on the table and dinner wagon too. The dinner wagon must be hung on the wall at a specific distance from the floor so the table feet can comfortably reach the floor when the table is folded out. It's extraordinary wall hanging & foldable design helps greatly to save space. 
The Seasame-101 & Yogurt-101 is priced at 63,600 only, making the dining set smart and useful yet affordable at the same time. This dining table set takes less space and serves both the purpose of a dining table and a dinner wagon at the same time.
Smart and Simple
With the right set of furniture you can keep your space looking simple and minimalistic without it feeling bare or incomplete. Hatil's Irving-155 and Sofia-155 is as uncomplicated as dining tables get. The set features a simple rectangular wooden table with thick-cut edged pillars and offers both 4-seated and 6-seated designs for you to choose from. The chairs have a sleek and slim design while still offering plenty of support for your back. The beautiful wood grain texture is noticeable throughout the set and the lacquer in the antique only enhances it. Adding this dining table set  to your house is sure to bring a pleasant minimalistic feeling to your dining space.
The Irving-155 & Sofia-155 comes in Hatil's showroom at only 64,850 BDT. You can visit Hatil's website to find your nearest Hatil Showroom or you can also order from Hatil's online showroom and have it delivered to your doorstep.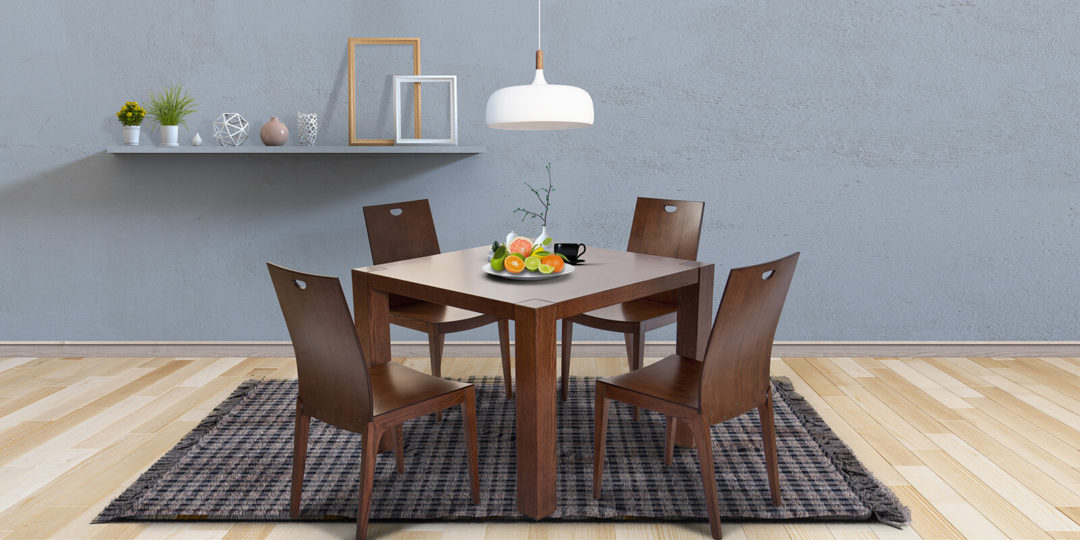 The Irving-155 & Sofia-155 is our top pick for smart and minimalistic dining spaces.
We hope these suggestions will help you choose the perfect dining table set for you to make this winter's meals a bit more special. To find your perfect dining table set, browse our range of exceptional dining table sets from Hatil.